Ronde Barber scored a lot of touchdowns during his NFL career, none of them on offense. In fact, he finished his 16-year run with the Tampa Bay Buccaneers with more non-offensive touchdowns than every other player in league history except for Devin Hester, Deion Sanders and Rod Woodson. Sanders and Woodson are in the Pro Football Hall of Fame; Hester could eventually join them if voters put enough stock in his unparalleled kick-return abilities.
The majority of Barber's touchdowns were interceptions, of course, although he also took four fumbles back to the house. He added a score on the return of a blocked punt in the later stages of his career, as well. But before Barber ever took an interception the distance, he scored for the very first time on a…punt return?
If you don't remember Ronde Barber as a return man, don't worry, he wasn't. He did log two returns in 2006 when the Buccaneers occasionally put two men deep to counter directional punting and he got the secondary job due to his good hands. Before and after that year, however, Barber logged exactly one punt return in 15 seasons, on which he just happened to score.
The reason for this, as would often prove to be the case in Barber's career, is that he just happened to be in the right place at the right time. It was November 29, 1998 and the Buccaneers were playing the Chicago Bears at Soldier Field, in a game they would go on to win fairly handily. However, the Bucs were actually behind, 14-7, late in the second quarter when the defense forced a punt from the Chicago 18. Linebacker Jeff Gooch broke through the protection to get a hand on Mike Horan's kick, causing it to be shanked short and off to his right. Barber spotted it first, scooped it up at the 23-yard line and weaved his way to the end zone.
Because the kick still crossed the line of scrimmage, Gooch's play was considered a deflection, not a block, and the punt was still exactly that, a punt. When Barber picked it up he became the punt returner, and soon he had the first of many, many touchdowns to come. How many? Read on.
Below you will find entries 40 to 21 as we continue our Buccaneers' 100-1 countdown, which celebrates the NFL's 100th season and highlights some of the Bucs' best moments in their own 43 years. This section of the countdown also includes a shared accomplishment by Lee Roy Selmon and Simeon Rice, a memorable game against the Packers that Brett Favre would probably like to forget and a couple more records set by Derrick Brooks.
20. Number of 100-yard receiving games recorded by Mike Evans in his first five seasons, the most by any player in franchise history
19. Overall pick in the 2017 draft in which the Buccaneers selected Alabama's O.J. Howard, making him the first tight end the franchise had ever drafted in the opening round
18. Number of multi-sack games recorded by both Simeon Rice and Lee Roy Selmon during the regular season as a Buccaneer, tied for the most by any player in franchise history
17. Point scored by the Buccaneers in a shutout road win over Philadelphia on Sept. 8, 2003, as the defending Super Bowl champions made the most of their Week One Monday Night Football spotlight, handing the Eagles a loss in the regular-season debut of Lincoln Financial Field
16. Full sacks recorded by Warren Sapp in 2000 – he put up a career-high 16.5 in total – marking the only time in Buccaneers history a player has reached that plateau
15. The number of consecutive games in which Josh Freeman threw at least one touchdown pass, in a stretch dating from Oct. 10, 2010 to Sept. 18, 2011, setting a Buccaneer record that has yet to be surpassed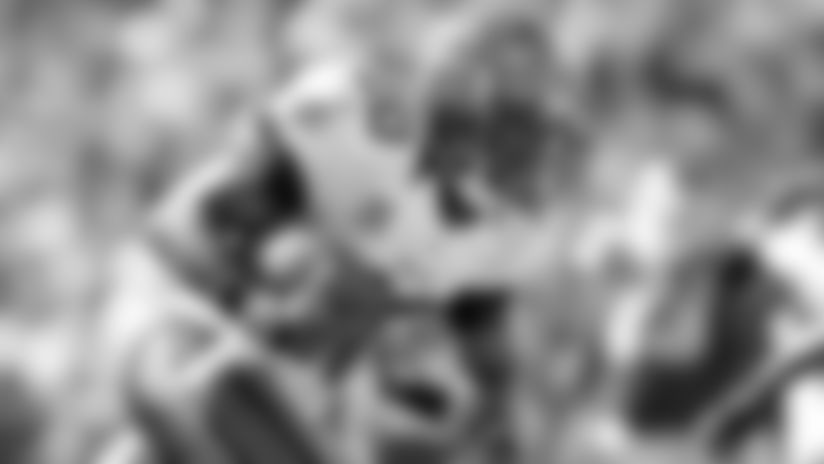 14. Non-offensive touchdowns scored by Ronde Barber during his career, the fourth-most in NFL history behind only Devin Hester (20) and Hall-of-Famers Deion Sanders (19) and Rod Woodson (17), and a list that includes eight interception returns, four fumble retuns, one punt return and one runback of a blocked punt
13. The number of people, with the upcoming induction of Ronde Barber, who have been selected to join the Buccaneers' Ring of Honor at Raymond James Stadium since the inaugural election of Lee Roy Selmon in 2009, who was followed by John McKay, Jimmie Giles, Paul Gruber, Warren Sapp, Derrick Brooks, Mike Alstott, Doug Williams, John Lynch, Malcolm Glazer, Jon Gruden and Tony Dungy
12. Number of head coaches to helm a Buccaneers game, beginning with John McKay in 1976, who has since been followed by Leeman Bennett, Ray Perkins, Richard Williamson, Sam Wyche, Tony Dungy, Jon Gruden, Raheem Morris, Greg Schiano, Lovie Smith, Dirk Koetter and – beginning his run in 2019 – Bruce Arians
11. The number of Pro Bowl appearances made by Derrick Brooks, the most for any Buccaneer, as Brooks was selected every year from 1997-2006 and again in 2008, his final NFL campaign
10. The number of interceptions snared by Ronde Barber during the 2001 season, marking the only time in team history that a player has hit double digits in that category in a single campaign
9. The number of defensive touchdowns Jon Gruden challenged his team to score at the beginning of the 2002 season, a total the Bucs would reach but not until the closing moments of the Super Bowl, when their fourth-pick six of the playoffs added to five in the regular season (four by Derrick Brooks) to hit the mark
8. Number of times Tampa Bay's defense both sacked Brett Favre and forced a Packer fumble during a Monday Night Football 24-22 victory at Raymond James Stadium, an outcome that memorably snapped a six-game winning streak in the head-to-head series for Favre and Green Bay
7. Total number of passes that Doug Williams completed in the first playoff game and first playoff victory in franchise history, a 24-17 victory over Philadelphia in which Ricky Bell rushed for 142 yards and the Buccaneers ran on 55 of their 70 plays.
6. Consecutive games in which RB Earnest Graham scored a touchdown during the 2007 season (Nov. 4 to Dec. 16), a still-standing Buccaneer record
5. Number of consecutive seasons to start his NFL career in which Mike Evans has surpassed 1,000 receiving yards, allowing him to join A.J. Green and Randy Moss as the only players in league history to accomplish that feat
4. The number of rushing touchdowns scored by Doug Martin during a 251-yard ground performance at Oakland on Nov. 4, 2012, resulting in new (and still-standing) Buccaneer single-season records in both categories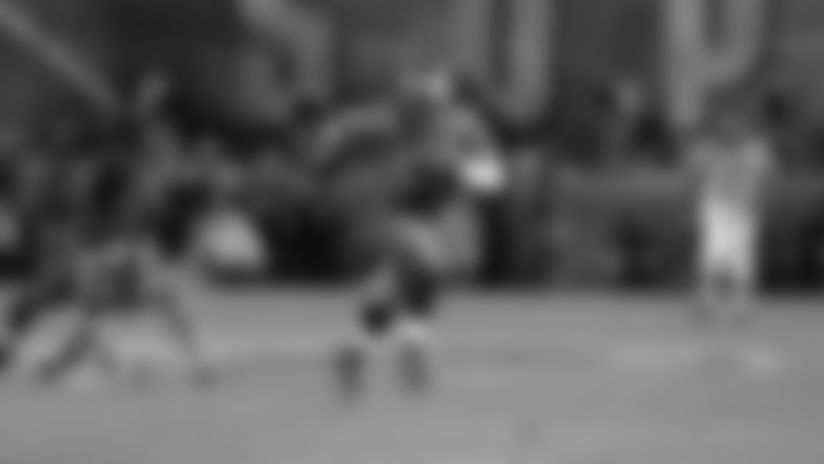 3. Interceptions returned for touchdowns by Tampa Bay's defense against Oakland in Super Bowl XXXVII, an all-time and still-standing Super Bowl record (no other team has more than one pick-six in any Super Bowl appearance)
2. Number of rushing yards allowed by the Buccaneers against the Miami Dolphins on Nov. 11, 2013, the fewest in a single game in team history and tied for the seventh-lowest total allowed by any team since the 1970 merger
1. The number of victories the NFL's 27th franchise had as of 5:10 ET on Dec. 11, 1977, following Tampa Bay's 33-14 win in New Orleans, which capped a franchise-opening 26-game losing streak and started a rapid ascension to playoff prominence just two years later