The Tampa Bay Buccaneers have selected six defensive backs in the last three NFL drafts, and all six are still on the roster as the team heads into the 2019 offseason. Does that mean they will be free to ignore the secondary in the next draft, which is but a day away? Almost certainly not.
In reality, that "run" on defensive backs in recent years is more in line with the norm than an anomaly. When the Buccaneers used all of their picks on offensive players in 2014 (in itself a franchise first), it marked the first time in 20 years that the team had finished a draft without taking a defensive back. Tampa Bay also skipped the secondary in 2015, marking just the seventh time in 43 drafts that the team had done that. If anything, the picks over the last three years were needed to recharge the Bucs' defensive backfield, and that job may not be done yet.
In the final days leading up to the this year's draft, we are examining six positions in which the Buccaneers might reasonably be expected to have interest this year, three on offense and three on defense. We'll look at the available prospects, the Buccaneers' recent history of drafting at the position and the team's existing depth at that spot. At the end, Carmen Vitali and I will each suggest one good fit for the Buccaneers from this year's pool of prospects.
Here is the schedule of the positions we are analyzing in this six-part series:
Today we're focusing on the defensive backs. This year's opening round may not be heavy on DBs, which could be crowded out by a huge pool of coveted defensive linemen, four potential first-round quarterbacks and some intriguing offensive linemen to sort through in the back half of the frame. However, there is good depth at both cornerback and safety and those players have a good chance to dominate Day Two.
NOTE: All of the information and opinions offered below belong to the authors and are not meant to reflect the thoughts or strategies of General Manager Jason Licht, Head Coach Bruce Arians or any members of their respective staffs.
Occasional mock drafts in January had LSU cornerback Greedy Williams going in the top 10, often specifically to the Buccaneers at pick #5. If the evolution of the mocks since that time is an accurate reflection of what actual NFL teams think, the overall assessment of this year's crop of defensive backs isn't nearly that bullish.
NFL.com has assembled the mock drafts of seven of their analysts on one page, and the defensive backs are scarce. The highest pick spent on any DB in those seven drafts is number 14, and four of the seven don't have one gone until at least pick 20. No draft has more than one safety in the first round, and taken together the analysts average just under four DBs in their 32 first-round slots. The last time any NFL draft had fewer than four defensive backs taken in the first round was 2011, and the last time the first DB taken was at the 14th pick or lower was 2009.
In other words, it doesn't look like the Buccaneers would be taking a defensive back unless they traded down, though the trade option is definitely on the table. Still, there are some secondary pieces worth considering on Thursday night.
Among the cornerbacks, which in most drafts are valued higher than the safeties, the players who seem most likely to land in the first round are Williams, Georgia's DeAndre Baker and Washington's Byron Murphy. Williams ran a 4.37 40-yard dash at the Combine, and that's definitely a notch in his favor, especially because he also has the 6-2 height to match up with bigger receivers. So too is the fact that he would likely fit best in a press-man coverage, which is what the Buccaneers will emphasize under new coordinator Todd Bowles. Perhaps most important, he's been productive, with eight interceptions over the past two years; in recent seasons, the Buccaneers have struggled to find that kind of playmaker in their secondary.
The 5-11 Baker isn't as tall as Williams but he's solid and always competitive and he too could thrive in press coverage. He also has good instincts, rarely gave up big plays for Georgia and has the quick feet that are essential for a cornerback in the NFL. He has drawn comparisons to Buffalo's Tre'Davious White, who was an instant hit at the pro level. Murphy is about the same size and speed as Baker but might be a better fit in a zone defense or in the slot. He was productive at Washington and is also an instinctive defender with good feet.
Temple's Rock Ya-Sin has seen his draft stock improve over the course of the offseason, to the point that he might also sneak into the first round if there's more of a run on corners than expected. He's cut like his nickname would suggest and very athletic, if a little raw. Kentucky's Lonnie Johnson could be a Thursday night consideration as well.
The Buccaneers would likely have to trade down several times before they had the safety position in their sights, or they could swing a late deal that gets them another first-round pick at the bottom of the first round. If so, Mississippi State's Jonathan Abram seems to be solidifying his spot as the top-rated safety. He might be best employed closer to the line of scrimmage, as he's a very good hitter with lesser-developed coverage skills. He could even be a safety-slash-nickel-linebacker sort, of which Arians and Bowles have made good use in the past. Other potential first-round safety considerations are Florida's Chauncey Gardner-Johnson, Delaware's Nasir Adderley and Alabama's Deionte Thompson, but I'll let Carmen address those players below.
Well, Scott provided me a good jump-off point to start talking safeties in Chauncey Gardner-Johnson and Nasir Adderley. I want to throw Darnell Savage in there too, despite the fact that Ian Rapaport called him a 'virtual unknown.' Who he was referring to that doesn't know Savage is unclear. I got to see the latter two prospects at the Senior Bowl and both impressed. Adderley played at FCS Delaware but wasted no time proving his place among the country's best talent in Mobile. Savage, out of Maryland, was the practice player of the week for defensive backs during Senior Bowl practices. They've both been in the round-one conversation, along with Gardner-Johnson, like Scott said. I don't think it's likely they last past the second-round. Of the three, I think either Adderley or Gardner-Johnson would be the best fit for the Bucs given their size. Both are well over 200 pounds and the way Adderley was hitting at an all-star practice when he couldn't go full speed makes me think he'd be a great addition to come down and hit some people at the line.
As far as the corners go, again there's a pretty significant amount of depth in this draft. Guys like Clemson's Trayvon Mullen, Penn State alum and Tampa-native Amani Oruwariye and Northwestern's Montre Hartage come to mind. I think both Mullen and Hartage could be a good fit at the slot corner role that is so vital to defenses now. The Bucs could conceivably be in that nickel package 70 percent of the time, spending less and less time in their base defense given the personnel offenses elect to put on the field. Especially with tight ends being utilized more and more as receivers, it's very common to get four-wide sets that demand a counter of five defensive backs.
Mullen played on one of the best defenses in the country but was largely helped by Clemson's ridiculous defensive front, from which there will be multiple players drafted, potentially in the first round. When your front four are able to get pressure up front, that helps absolve the secondary of a lot of responsibility. Still, at 6-1, 199 pounds, Mullen could hold up on the inside where he's likely to get a little more action chasing after slot receivers. Hartage is a try-hard guy who has battled through injury during his Northwestern career, but he has an eye for the ball. He garnered an East-West Shrine Game invitation and had an interception in the game itself as well as a great week of practice. Oruwariye, while a Tampa native and therefore a great story, is probably better suited as a true outside corner so the Bucs could look for him to still be available in the later rounds to get some depth behind Hargreaves and Davis.
I know we're kind of clumping defensive backs together but the needs at the safety and corner position, I think, are a little different. As far as cornerback goes, the Bucs have second-year player Carlton Davis and a now-healthy Vernon Hargreaves who Head Coach Bruce Arians says will be utilized primarily at outside press corner. That's a similar role to what he played in college and will hopefully allow him to take a big step forward in not only staying healthy by staying outside but going up against the league's elite talent. Davis was thrown into the fire last season and held his own, especially playing an off-coverage scheme when he was used to press in college. He'll also be looking to take a step forward in his sophomore season playing a more familiar scheme on the outside. The team also has Ryan Smith, David Rivers and De'Vante Harris to help on the outside but the Bucs will probably still need some depth while their real question mark remains at nickel corner. That will need to be addressed at some form or another and with the cornerback depth in this draft, the Bucs could probably afford to wait until the middle rounds.
Another question mark remains at the safety position. The Bucs have Justin Evans, Isaiah Johnson and Kentrell Brice rotating in that free safety spot, currently. There is talk of moving M.J. Stewart to safety. He was a jack-of-all-trades in college and can certainly handle the role but getting a strong safety in particular is probably a good idea. Tampa Bay also has Jordan Whitehead, who the team drafted in the fourth round last year, and while he throws his body around and plays extremely physically, he may be a bit undersized for the strong safety role in the Bucs' new defense given that the strong safety often acts as a kind of hybrid linebacker. The team picked up Deone Bucannon in free agency, who should help there as well but I think both nickel corner and safety will be positions to keep an eye on for the Bucs to address, perhaps on Friday.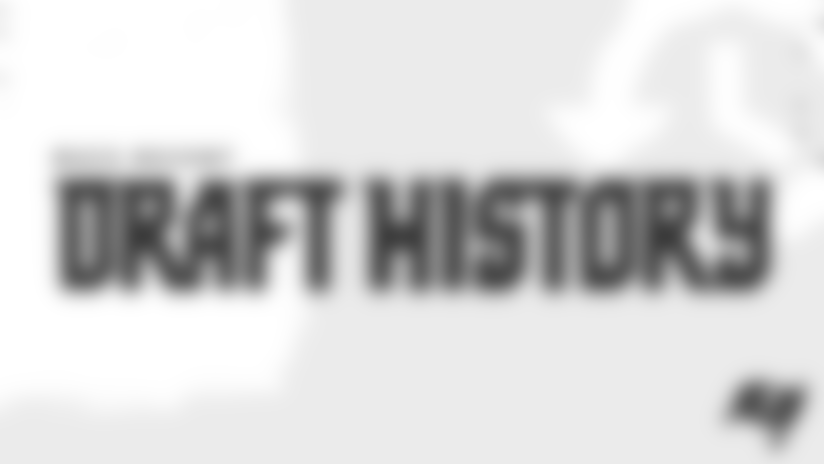 I mentioned the raw numbers in the intro: No defensive backs selected in Jason Licht's first two years as the general manager, followed by a total of six of them over the next three drafts. Now on to the details.
There is one first-round pick in that half-dozen, Florida cornerback Vernon Hargreaves in 2016. Hargreaves could be due for his first big season if the confidence new Head Coach Bruce Arians has in him is warranted. Hargreaves had a typical rookie season in '16, most notable in that he played nearly every snap and saw action both on the outside and in the slot. His next season was marred by injury and stretches of ineffectiveness, but he looked like he was poised for a bounce-back in 2018 before a shoulder injury brought that season to a quick close.
Arians believes Hargreaves is a good fit for the Bucs' new defense under coordinator Todd Bowles, which asks its corners to play a lot of press-man coverage and is just very aggressive overall. In fact, Arians believes he has a good pair of starting press corners in Hargreaves and 2018 second-round pick Carlton Davis. Davis was pressed into a lot of action in his rookie year and saw steady improvement, and he too seems better suited for the Bucs' new defense.
The Buccaneers drafted two cornerbacks in the second round last year but the other one, M.J. Stewart, may be headed for a position change. The Buccaneers are likely to see how he fits at safety this offseason, though he could still factor into the slot corner competition, which is wide open. The Buccaneers also spent a Day Three pick on a corner in the 2016 draft when they took Ryan Smith out of North Carolina Central in the fourth round. Smith was first tried as a safety but moved back to his original position in 2017 and has since had several long stretches as a starter. He is also an excellent special teams performer.
At safety, the Buccaneers used a second-round pick on Justin Evans in 2017 and a fourth-rounder on Jordan Whitehead last year. It's possible those two will lock down the position for years to come, though the Bucs have added several safeties in free agency this offseason. Evans is a very athletic safety and he had a promising rookie year though last season was shortened by injury. Whitehead is a bit undersized for the position but still hits hard and he got a lot of useful exposure on defense in the second half of his rookie year.
All six of those players could factor into the Bucs' defensive plans in 2019 but the secondary, and cornerback in potential, is a difficult position at which to build long-term depth. The recent investment in defensive backs shouldn't stop the Bucs from keeping that position in mind when the draft starts on Thursday.
Carmen Vitali: Trayvon Mullen, Clemson
I really like this guy for the nickel corner role, which I think is the Bucs' biggest need in the secondary currently. It would mean taking him in the second round because I don't think he lasts beyond that. The issue is that offensive line is another position that the Bucs could address in the second round, too. It probably just comes down to who is the best available among the Bucs' identified positions of need. You take the best available player in the first round, in my opinion, but the second round is your chance to get a really good player at a position of need. Ideally, the Bucs somehow pick up another second-round pick and address both offensive line and slot corner. A girl can dream, right?
Scott Smith: David Long, Michigan
Forget the first or second round – the Bucs need to tap into their third-round magic at defensive back again. Ronde Barber. John Lynch. Donnie Abraham. Even Super Bowl hero Dwight Smith. The team added a few options at safety in Kentrell Brice and Orion Stewart, so I'm going corner here. I like Michigan State's Justin Layne but think he'll go in Round Two, so I'm staying in the state and grabbing this very competitive Michigan corner. He's still on the board because he doesn't blow anybody away with his measurables, but neither is he particularly deficient in any of them. He's just a solid player who likes to mix it up at the line and maybe he could give the Bucs an immediate option in the slot, where they are currently undecided.
Story By: Scott Smith and Carmen Vitali