NFL Draft Week has officially arrived and the countdown to the Arizona Cardinals being on the clock is down to just four days. Not long after the Cardinals – or potentially, a trade partner – send in the first pick of the first round on Thursday night, attention will fall on the Tampa Bay Buccaneers, who currently hold the fifth spot.
In the final days leading up to the this year's draft, we are examining six positions in which the Buccaneers might reasonably be expected to have interest this year, three on offense and three on defense. We'll look at the available prospects, the Buccaneers' recent history of drafting at the position and the team's existing depth at that spot. At the end, Carmen Vitali and I will each suggest one good fit for the Buccaneers from this year's pool of prospects.
Here is the schedule of the positions we are analyzing in this six-part series:
Today we're focusing on the offensive line, a position at which the Buccaneers have not spent a first-round pick in 13 years. Tampa Bay's pass protection was reasonably good in 2018 but the running game ranked near the bottom of the league. A new coaching staff led by Bruce Arians will try to get more out of a line that has invested heavily at three spots in recent years with left tackle Donovan Smith, left guard Ali Marpet and center Ryan Jensen. However, adding some new young talent to the mix would help, too.
NOTE: All of the information and opinions offered below belong to the authors and are not meant to reflect the thoughts or strategies of General Manager Jason Licht, Head Coach Bruce Arians or any members of their respective staffs.
There are two potential offensive line needs the Buccaneers could address early in this draft. One would be to land an eventual replacement at either right or left tackle, a prospect that could be the solution for one end of the line or another for a decade. Possibly, that player could begin his career on one end of the line but eventually end up on the other. Right tackle Demar Dotson is heading into the final year of the contract he signed in 2016, with the Buccaneers picking up their team option for 2019 a month and a half ago. Left tackle Donovan Smith just signed a new three-year deal that kept him out of free agency.
The Buccaneers could also try to address the most immediate need on their line at right guard. There isn't a pure guard prospect this year that is valued as highly as Quenton Nelson, last year's sixth-overall pick, was leading up to that draft. However, some of the top-ranked tackle prospects are versatile enough to play guard and could conceivably settle in at that spot or start their career there and later transition to tackle when the need at that spot is more pressing.
Florida's Jawaan Taylor and Alabama's Jonah Williams are widely regarded as the top two O-Line prospects this year, with Taylor more often showing up in the top 10 of mock drafts. If the Buccaneers do decide to stay put at the fifth pick and take a lineman, they will likely have their choice of the first one off the board.
Other potential first-round picks on the line include Cody Ford of Texas and Dalton Risner of Kansas State, a couple of those aforementioned players who might end up at guard or tackle. Greg Little of Ole Miss and Washington State's Andre Dillard, also potential first-round picks, are more likely to stick at tackle and are thought to have left tackle potential in the NFL. If the Bucs did want to draft directly to one of interior-line positions – which would likely only happen in the first round if they chose to trade down first – they could target Boston College guard Chris Lindstrom or North Carolina state center Garrett Bradbury.
Taylor played right tackle for the Gators and thus could be an option for the Bucs to bookend Smith with another young blocker for the long haul. He has the size (6-5, 312) and strength to immediately help the Bucs' rushing attack, an area in which he excelled at Florida. If the Bucs drafted Taylor and wanted to immediately get him on the field they could try him at right guard first. His long arms and decent foot quickness suggest he could become a strong pass-blocker in the NFL as well.
Williams answered questions at the NFL Scouting Combine about where he thought teams would want to slot him in on their lines. Well-known for his work ethic and dedication to the game, he said he would play wherever he was asked but felt like his best position was tackle, the job he handled quite well at Alabama last year. The main knock on Williams is his supposed lack of "ideal" arm length, which could make it harder for him to handle speedy, long-armed edge rushers. However, he is fluidly athletic, quick and excellent on the details.
Risner and Dillard are two prospects who have seen their draft stock rise since the end of last season, beginning with Risner's strong week at the Senior Bowl. Both could be attractive options for the Buccaneers if they trade back.
Admittedly, the three guys I'm going to highlight probably fit in during the second or third rounds rather than value picks later down the line. The Bucs' biggest question mark on the offensive line is the right guard position, as Scott mentioned. They also have an aging right tackle in Demar Dotson, which makes the probability of taking either a guard or tackle in the second or third rounds pretty high.
Interior-wise, Texas A&M's Erik McCoy is being touted as one of the best centers in the draft, behind the aforementioned Lindstrom but McCoy could also kick out to guard at the NFL level. He's used to playing against top-tier talent, facing off with both Clemson and Alabama last season and holding his own. He's got a 6.0+ grade on NFL.com, meaning he should become an instant starter, especially after a great Combine performance in which he ran a 4.89 40-yard dash at 303 pounds. He also has a 31-inch vertical, because that's fair for a guy who's already 6-foot-4. At guard, he'd provide quite a bit of size but whether he's better on the left or right side remains to be seen.
Dru Samia is another interior lineman who I first noticed at the Senior Bowl. The Oklahoma product became just the 10th freshman in program history to earn a starting tackle spot in 2015. He made the switch to right guard in 2017, starting every game but one in 2017 and 2018 combined. That versatility fits in well with the Bucs' needs and his 6-foot-5, 303-pound size is anything but limiting. His offensive line won the Joe Moore Award for the best in the country while protecting Kyler Murray in 2018. He didn't give up a sack all season. Before he was tasked with protecting Murray, it was Baker Mayfield he kept clean. He didn't let up a sack in 2016, either. The main knock against him is his ability to move laterally, according to The Draft Network. The positive there is lateral movement is limited on the interior of the line which is why he projects to probably be utilized at guard at the next level.
There's something about Wisconsin offensive linemen and tackle David Edwards is no exception. There are six former Wisconsin O-linemen in the league, currently, and four of the six play offensive tackle. Edwards will look to be the fifth or sixth with teammate and fellow tackle Michael Deiter coming out this year, too. The thing that sticks out the most about Edwards is his size. He's 6-foot-7 and weighs 319 pounds and because of it, is probably best at the tackle position – right tackle, specifically, which is where he made his home at Wisconsin. In 2018, the Wisconsin offensive line was the best in the Big Ten at opening up running lanes, a point of emphasis for the Buccaneers going into 2019. He likely won't last past the second round, though, so the Bucs would have to jump on him quick.
As I mentioned earlier, the Bucs have their biggest question mark on offense at right guard. It was a spot that Caleb Benenoch had held down for the majority of last season, with rookie Alex Cappa getting looks there, too. Bruce Arians and his staff have said previously they think Benenoch would be better suited at the tackle position, so he'll presumably reinforce the right side behind Dotson in 2019. There is an opportunity for Cappa, a small-school product from Humboldt State, to take a big step forward into a starting role in his second season, but the question mark if he can do it still lingers.
That's why an interior offensive lineman may make the most sense for the Bucs to go after but I think it's unlikely they do so in the first round. That would leave guys like Dru Samia and Erik McCoy, both of which would be great pickups to add competition to that right guard spot. Samia especially with his experience at both right guard and tackle would probably be the best insurance. Either way, the Bucs need to find a way to solidify the run game as Arians' offense requires at least the threat of the run to be successful. With the risks Arians asks his quarterback to take in waiting for deep shots to develop, pass protection will also be crucial in 2019, and the responsibility for all of it falls heavily on the offensive line.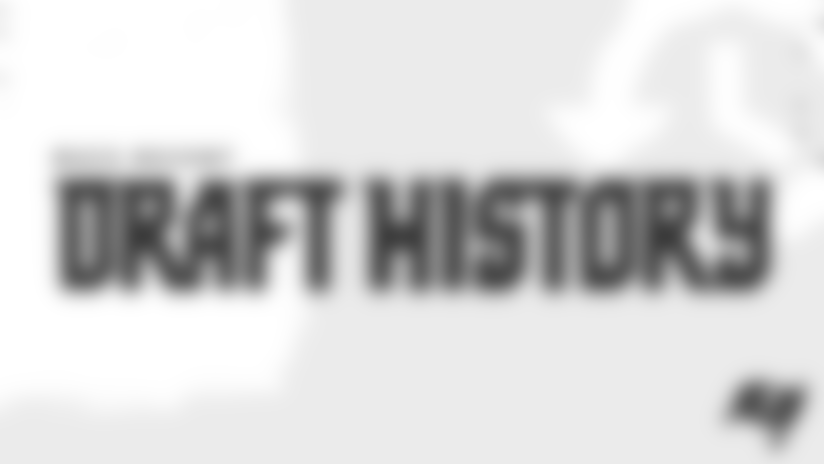 As we alluded to above, it's been quite some time since the Buccaneers have used a first-round pick on an offensive linemen, the last being guard Davin Joseph in 2006. The last time Tampa Bay tried to address the critical tackle position in the first frame of the draft was 2001, and that one actually cost the team first and second-round picks because it traded up seven spots to get Kenyatta Walker.
That said, the Bucs have paid attention to the position on the second day of the draft during the tenure of Jason Licht, who has overseen the team's last five drafts. Most significantly, Licht selected both Smith and Marpet in the second round in 2015; both were instant starters (though Marpet has been moved to different spots on the line twice) and both now have lucrative second deals as cornerstone players for the Bucs. Licht even traded up to get Marpet, at the expensive of a 19-spot swap of picks in the fourth round.
A similar scenario unfolded a year ago when Licht sent a sixth-round pick to Minnesota in order to move up from the top of the fourth round into the lower level of the third round before selecting lineman Alex Cappa. Like Marpet, who played his college ball at Division III Hobart, Cappa was a promising small-school prospect out of Humboldt State. Cappa was primarily a versatile reserve as a rookie as he began the difficult process of adjusting from Division II ball to the NFL. He will get an opportunity in his second year to compete for the starting right guard position, the one open job on the front five.
The Bucs have also used a trio of Day Three picks on offensive linemen over the past five years, an investment that has resulted in a total of 55 games started, including 16 last year by Caleb Benenoch at right guard. The Buccaneers selected Benenoch in the fifth round in 2016 and he has since made starts at both tackle and guard. Licht indicated earlier this offseason that the team expected to move Benenoch back to tackle, where he found some success at the end of the 2017 season. Kevin Pamphile, a 2014 fifth-round selection, opened 33 games over four seasons in Tampa, including most of the 2016-17 seasons at left guard, but then departed to Tennessee via free agency last year. The Bucs' other sixth-round pick in 2014, guard Kadeem Edwards, was on the roster as a rookie but has yet to appear in a regular-season game despite time spent with Jacksonville and Dallas.
The Bucs' lack of a first-round investment in the offensive line for the last dozen years could prompt them to end that drought in 2019, and several well-regarded prospects figure to be available to them with the fifth pick. However, Donovan Smith was selected just a few picks into the second round four years ago and appears to have the left tackle spot locked down for the foreseeable future. In addition, the team has put significant assets into the line in recent years, including the big free agency deal given to Jensen a year ago and the second-day selections of Smith, Marpet and Cappa. Tampa Bay also signed Earl Watford in free agency to give them another competitor for the right guard spot.
Carmen Vitali: Dru Samia, Oklahoma
I alluded to it above but I really think Samia makes the most sense given where he's likely to fall in the draft. I just don't see the Bucs going after an offensive lineman with so many defensive prospects on the board to choose from in the first round. Even if the Bucs were to trade down from their fifth spot, the pool of talent that would still be available to them on the defensive side of the ball leads me to believe the offensive line won't be addressed until later.
It should be addressed quickly, though. That's why I'm thinking second round and I'm thinking Samia will be there. He has experience at both right guard and tackle at Oklahoma, protecting both Kyler Murray and Baker Mayfield in his career. He went two full seasons without giving up a sack. If you can protect 5'10 mobile quarterbacks in college, I have a hard time believing there is anyone you'd have difficulty with in the NFL.
Scott Smith: Jawaan Taylor, Florida
I've suggested later-round picks at running back and linebacker in recent days, based on the idea that the team could choose to address those positions after the first round (particularly if LSU LB Devin White isn't the pick at #5). I'm not going to get tricky here; if the Buccaneers decide that this is their biggest position of need, the one spot at which they need to assign their top draft asset, than they have a very good shot at getting the best one on their board. If their board is like those of most NFL analysts, that would be Taylor, and his versatility could give the team a way to put him on the field right away with a possible position switch at a later date.
The incredible depth of defensive linemen in this draft – which we'll examine at greater length on Monday – is the reason the Buccaneers are in position to take the first serving off the O-Line buffet. Whether or not the Arizona Cardinals take Oklahoma quarterback Kyler Murray, the picks in front of Tampa Bay in the first round are likely to be dominated by defensive linemen. If any teams do trade in front of the Buccaneers' pick, it would probably be to nab another quarterback, which only makes that number-five position better.
Story By: Scott Smith and Carmen Vitali