The regular season is here, and with it comes the first Coach of the Week winner, presented by Tampa Electric. Dunedin High School Head Coach Mitch Disney is Week One's honoree and along with a tour of AdventHealth Training Center and lunch at the facility, he and his assistant coaches were also presented with a $2,000 grant from the Tampa Bay Buccaneers Foundation for the Falcons football program.
Disney and the Dunedin High School Falcons snapped a 43-game losing streak to open their season this year against Keswick Christian and they are now 3-0 following this past Friday's win over Tampa Christian. Excited from that first win of the season, it was then that Disney's players found out their coach had also won the Buccaneers High School Coach of the Week.
"At first, I think they were still kind of on the high of the win because it broke such a long losing streak but, in their faces, they were really excited," Disney recalls. "Every time I mentioned this, I never said _I._ I said _we_ won this. When I found out we won, I sent it to my principal and said _we_ won. So, I told the kids this is a team award. Our staff has done a lot but if [those] guys don't buy into it, it won't matter. The kids have been great."
It actually took Disney's mother to tell him he won the award, originally. He said he was in the middle of teaching when his phone wouldn't stop ringing. Eventually, a staff member at the school got wind of it and everyone started voting for their coach from there. This also came after finding out he was nominated for the award in the first place somewhat by accident.
"It's funny, the irony is I didn't find out I was nominated until one of the other nominees shared it," Disney said. "I was like, 'Oh, wonder who else is on there?' and then I'm like, 'Oh! I'm on there.' By then, of course I told my principal and he said they were going to tell everybody. The Dunedin community was all over that. We found out the day of the game we just played. It was cool to find out on a Friday but now it was like, wow we better not lose this game then.
"They announced it during the game, too," Disney laughs. "I was like can you wait until we're up by some points?"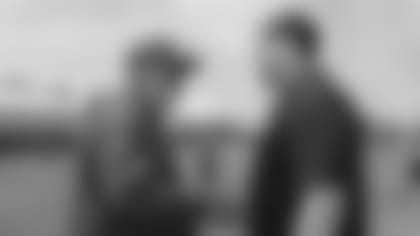 Disney said he and his assistant coaches thought immediately of what the honor – and the grant – could do for the program. The county only grants the football team $1,500 to cover expenses for the season. It's up to the students and staff to raise the rest. Fortunately, Disney says they have a wonderful community around them that helped raise over $20,000 in the last 18 months. The $2,000 grant from the Tampa Bay Buccaneers Foundation will help go toward new helmets, shoulder pads and rain gear for the coaching staff.
If you know a coach that should be nominated, visit the Buccaneers website to nominate the next Buccaneers High School Coach of the Week, presented by Tampa Electric.