On Saturday, Buccaneers players Carlton Davis, D'Cota Dixon, Ali Marpet and Donovan Smith joined forces with a variety of community leaders, including mayors, senators, police officers, and educators during the Safe & Sound Hillsborough's Moving Forward Community Discussion and Planning Forum in Tampa. The invite-only event, hosted in Ybor City in response to the worldwide protests for the Black Lives Matter movement, provided the players the chance to voice their opinions about racism and police brutality and discuss actionable solutions to address the continued racial injustices members of the black community face.
"Going there and hearing from different teachers, different elected officials, the Mayor, different police officers, it was just good to hear feedback from everybody and come up with a plan based on how everyone was feeling," said Davis.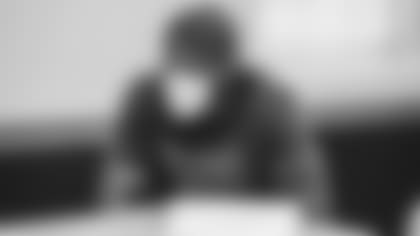 In adherence of social distancing guidelines, and to ensure every opinion was heard, the participants broke off into a variety of small groups to focus their discussions. For instance, Davis collaborated with Major Calvin Johnson from the Tampa Police Department, Judge Barbara Twine Thomas, 20-year veteran teacher in Hillsborough County Public Schools April Cobb and Earlishia Oates, an advocate for many local social and educational issues.
"It was huge to know that the players wanted to come and be a part of it," said Freddy Barton, Executive Director of Safe & Sound Hillsborough. "We all know that they took on social justice aggressively and they really want to tackle the tough issues, but to be willing to come in and be part of that conversation to not just talk about what's wrong but talk about what we can do to move forward, it's huge."
Marpet helped lead productive dialogue with Tampa Mayor Jane Castor, Janelle McGregor of the City of Tampa Community Partnerships, Andre Hill, Sr. of the Urban Progress Alliance and local business owner Gaston D. Merideth of Chef Gaston's Culinary Services. The purpose was to gain different perspectives from all over the community and engage in solutions-focused conversations. As Marpet would attest, enacting much-needed change will take efforts from all angles.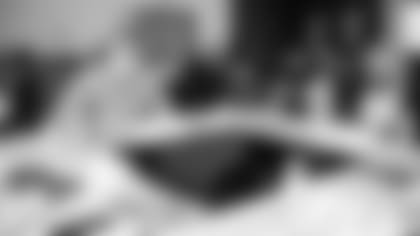 "It's such a multi-faceted issue and there are a lot of different ways to tackle it," Marpet said. "There's certainly a macro approach with policy change and laws being passed, and then from a micro-perspective, where you're engaged with members of the community in more of a grassroots way."
Whether tasking school board officials with improving the education system or challenging local government to initiate policy change, the players were inspired and encouraged by this immediate approach to begin holding community leadership accountable.
"Safe & Sound is doing a good job outlining things we want to hold decision makers to and policies we think are important," said Marpet.
Davis, Marpet and Smith, and along with punter Bradley Pinion, currently sit on the Buccaneer Social Justice Board, a leadership committee for the team's Social Justice Program. Launched in 2018, the program's goal is to enact meaningful change in the Tampa Bay community with regards to police relations, criminal justice reform, racial equality, workforce development and youth empowerment while supporting the larger, league-wide effort towards social justice. They have been vocal leaders among their teammates and in the community through the initiative and its efforts and are now paving the way for how the Buccaneers themselves can get more involved in solving issues of race and injustice within Tampa Bay.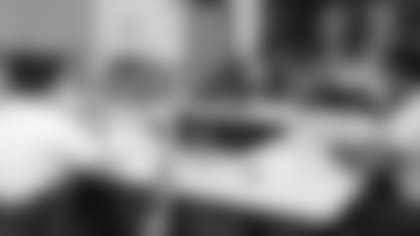 "Our kids look up to these players, they are larger than life," said Barton. "For these larger-than-life individuals to tackle the issues of social justice and inequity, and to say that the most important thing you can do is leave the world in a better position – that you fight for those who don't have a voice, that you vote, that you take an active role in bettering your community, that you stand up for justice – having these larger-than-life individuals say that is critical for our youth to know that there's hope out there."