This past Tuesday during the Bucs' visit to Abe Brown Ministries in Tampa as part of the Bucs' Social Justice Program, a group of players found themselves in class with Ready-4-Work-Hillsborough, a program that helps ex-offenders with employability training as they attempt to re-assimilate into the work force after being incarcerated.
Khadijah Lee is one of these clients and a graduate of the program. She got up to deliver a speech she had written while incarcerated. She told her story of growing up and watching her mother struggle with addiction. She endured years of sexual abuse by a family member and found herself on her own at a very young age before being sent to prison. Since being released, Lee completed the Ready4Work program and is now working in a public defender's office here in Tampa. She wakes up every morning at 4 a.m. to take multiple buses in order to get her daughter to daycare and get to work on time – only to do it all again in the evenings.
Immediately following the visit on the bus ride back to AdventHealth Training Center, the players in attendance huddled in the back of the bus, talking about the effect Lee's story had had on them and what they could do to help.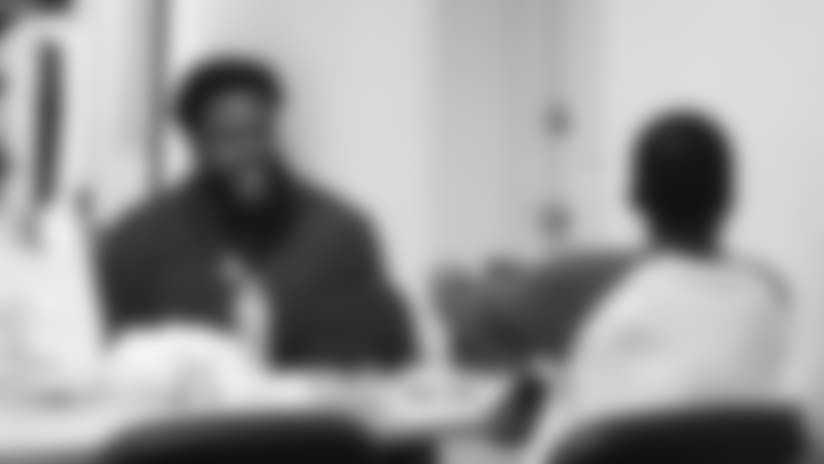 "After we heard Khadijah's story, we were asking questions and I just thought about how we could potentially help her," left tackle Donovan Smith said. "Someone who wakes up at 4 o'clock in the morning, taking five buses just to take her kid to school and get to work on time takes a lot of dedication and hard work. Going through everything she went through, it was very inspiring so we just came up with an idea of getting her Uber credits and/or a car that way she can get going."
That's exactly what they did.
On Friday, Lee was invited to AdventHealth Training Center for a tour and to watch practice. As the players came off the field, they surprised Lee with a $500 gift card to Uber so she can save some time during the day in the immediate future. Then came the big reveal. Through individual donations, Bucs players were able to chip in $10,000 to Abe Brown Ministries to go towards a car. Through the Bucs' Social Justice Fund, the Tampa Bay Buccaneers Foundation matched that amount to bring the total up to $20,000 toward a new set of wheels, and a new way of life, for Lee.
"If we all were judged by the one bad thing we did, a lot of us probably wouldn't even be here," the Bucs' Smith said of why they wanted to help and how his perspective has changed. "I'm talking to the top of the top of people so it just speaks volumes to them for getting their life turned around and staying the course and focused and staying true to what they believe in. That's getting a second chance and doing it right."
One of the players contributing to Lee's second chance was wide receiver Mike Evans, who wasn't on the initial visit to Abe Brown Ministries. Evans has a history of charitable donations, often done under the radar and spur of the moment.
"Basically today, we were discussing it on the bench while the offense was out," Smith explained of how Evans got involved. "Mike was sitting there and he heard and he just felt inclined to pitch in, which speaks volumes to him. He wasn't even there on Tuesday with us but it meant a lot."
It meant a lot to Lee too, who was in tears while telling the players how much she appreciated their gesture on Friday. She said the biggest thing it means to her is more time spent with her daughter.
"This does a lot," Lee said. "My whole day is just riding the bus, so it'll take a lot of time just from that. It'll give me time to focus on things that I actually want to do. Picking my daughter up from daycare not early in the morning or late at night, I can have more time with her. I can get a lot more things done and be more independent."
It all came about because Lee was brave enough to share her story. It's something she's not entirely comfortable doing, either. But she feels that inspiring others can be her way of paying it forward.
"It's a little scary," Lee said of opening up to people about her background. "But I feel like people need to know that if you continue to keep trying and keep having hope, something will happen and something will change. Something will come along your way and a door will open. A big one was opened for me today."
"We're all here some way shape or form to bless other people and help other people," Smith said. "If you're able to, why wouldn't you? We're very fortunate in what we do and we're able to help someone out who really needs it. Anytime you can be a blessing, make sure you can take advantage of it."