The Tampa Bay Buccaneers had never scored 50 points or more in a game before their stirring 55-40 win over the Los Angeles Rams on Sunday. Unsurprisingly, the Buccaneers covered a lot of uncharted territory on their way to that previously undiscovered land.
First of all, the basics. Though the Buccaneers came very close to once again matching their unofficial trademark score of 48 points – which they've already done four times, including the postseason – Ndamukong Suh's game-clinching defensive score put them past that for the first time. Here are the highest scoring games in franchise history:
1. Buccaneers 55, Rams 40, at L.A. Coliseum, Sept. 29, 2019
2t. Buccaneers 48, Saints 40, at Mercedes-Benz Superdome, Sept. 9, 2018
2t. Buccaneers 48, Raiders 21, at Qualcomm Stadium, Jan. 26, 2003*
2t. Buccaneers 48, Saints 21, at Raymond James Stadium, Dec. 23, 2001
2t. Buccaneers 48, Falcons 10, at Tampa Stadium, Sept. 13, 1987
6. Buccaneers 45, Eagles 17, at Lincoln Financial Field, Nov. 22, 2015
The Buccaneers got to those 55 points with seven touchdowns and two field goals. Those seven touchdowns also tied a franchise single-game record, previously only achieved in the 48-10 win over Atlanta noted above.
As one would expect, those are also the only two games in Buccaneers history in which their kicker has attempted seven extra points. Because Donald Igwebuike, Tampa Bay's kicker in 1987, missed one of his PATs in that aforementioned win over Atlanta, rookie Matt Gay is the first kicker in franchise annals to make seven extra points in a single game.
Gay also joins Chandler Catanzaro as the only kickers in Buccaneers history to attempt nine placekicks (field goals plus extra points) in one game. Catanzaro did so in last year's 48-40 win at New Orleans in Week One, with six successful extra points and three field goal tries. But Catanzaro missed one of his three field goal attempts, so Gay is the first kicker in franchise history to be perfect on nine or more placekick attempts in a single game.
Gay's two field goals were at opposite ends of the spectrum, one hitting from 58 yards and the other chipped in from 21 yards. Gay's first field goal tied for the third-longest ever for the Buccaneers. Coincidentally, it joined another memorable kick in franchise history that also occurred at the L.A. Coliseum, even though this Sunday's game marked the Bucs' first visit to Los Angeles and that venue in 26 years.
That means two of the three longest field goals the Bucs have ever had in a road game have been at the Coliseum. At the time, Husted's 57-yarder was the longest in team history.
Longest Field Goals Made, Buccaneers History
1. 62 yards, Matt Bryant, vs. Philadelphia, Oct. 22, 2006
2. 59 yards, Chandler Catanzaro, vs. Cleveland, Oct. 21, 2018
3t. 58 yards, Matt Gay, at L.A. Rams, Sept. 29, 2019
3t. 58 yards, Kyle Brindza, at Houston, Sept. 27, 2015
5t. 57 yards, Connor Barth, vs. Washington, Sept. 30, 2012
5t. 57 yards, Michael Husted, at L.A. Raiders, Dec. 19, 1993
One of the driving forces in the Bucs' record scoring outburst was third-year wide receiver Chris Godwin, who set or tied personal bests in all three categories with 12 receptions for 172 yards and two touchdowns. Godwin's 12 catches tied for the most ever by a Buccaneers wideout in a single game, and was just one short of the team record for all players. Godwin is the first Buc with a dozen catches in a game since 2007.
Most Receptions, Single Game, Buccaneers History
Godwin had nine receptions for 125 yards and two touchdowns by halftime against the Rams, which earned him another spot in the franchise record books.
Most Receptions, Single Half, Buccaneers History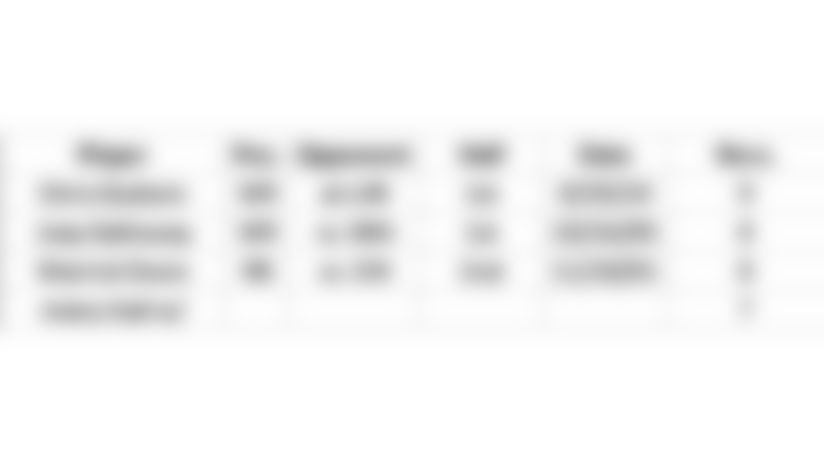 This is the second week in a row that the Buccaneers have had a player reach the century mark before halftime. Against the Giants in Week Three, Mike Evans had 140 yards in the first half on his way to a total of 190. Both are among the best single-half receiving performances in franchise history.
Most Receiving Yards, Single Half, Buccaneers History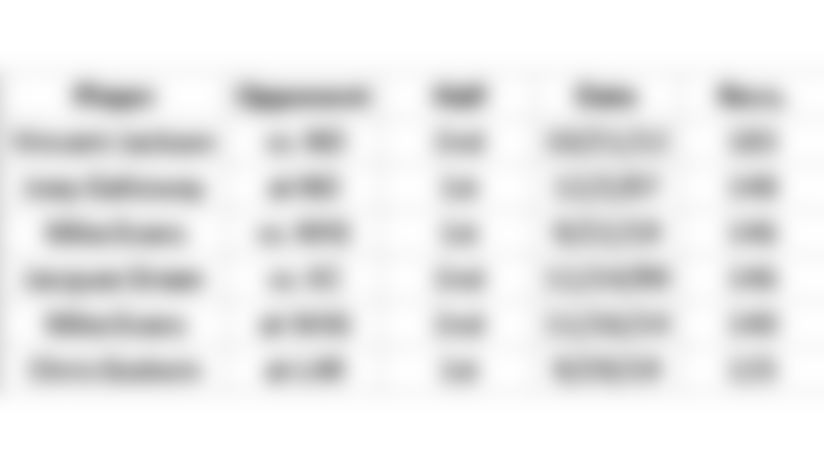 Evans now has two games in his career with at least 170 receiving yards and at least two touchdown catches. Godwin joins him as just the fourth player in team history to reach both marks in a single outing. Here are those four players and five games, in chronological order:
1. Charles Wilson, 176 yards and 2 TDs, vs. L.A. Rams, 12/11/94
2. Antonio Bryant, 200 yards and 2 TDs, at CAR, 12/8/08
3. Mike Evans, 209 yards and 2 TDs, at WAS, 11/16/14
4. Mike Evans, 190 yards and 3 TDs, vs. NYG, 9/22/19
5. Chris Godwin, 172 yards and 2 TDs, at LAR, 9/29/19
Given the rarity of that combination feat, it's remarkable that Evans and Godwin did it in back-to-back games. And that's true not only of the Buccaneers but of NFL history as a whole. Prior to this season, no pair of teammates had ever recorded games with at least 170 receiving yards and at least two touchdown catches in consecutive weeks. Evans and Godwin weren't the first, but they are just the second ever. Kansas City's Sammy Watkins had 198 yards and three touchdowns in the Chiefs opener at Jacksonville this year, and then Watkins' teammate, Demarcus Robinson, had 172 yards and a pair of scores at Oakland in Week Two.
Evans and Godwin are currently tied with six other players for the NFL lead with four touchdown catches each in 2019. Tampa Bay is the only team with two players on that eight-man list. The 2019 Buccaneers are just the seventh team since the 1970 AFL-NFL merger to have two wide receivers each reach four touchdown catches within the first four games of their team's season.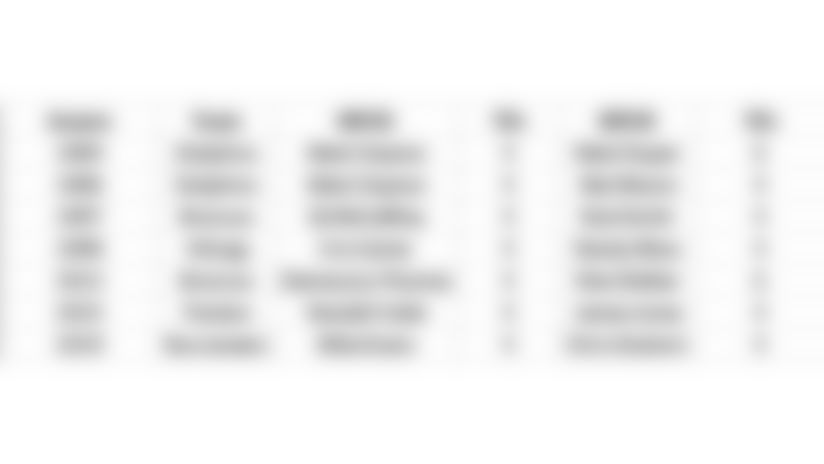 All 12 of Godwin's receptions against the Rams produced first downs, including the two touchdown grabs, because touchdowns are counted as first downs achieved by the NFL, even if a first-and-goal situation is less than 10 yards. That's the first time in team history that a player has recorded 12 first downs on receptions in a single game. It also hasn't happened often in NFL history.
Players with 12+ Receiving First Downs in a Single Game, NFL History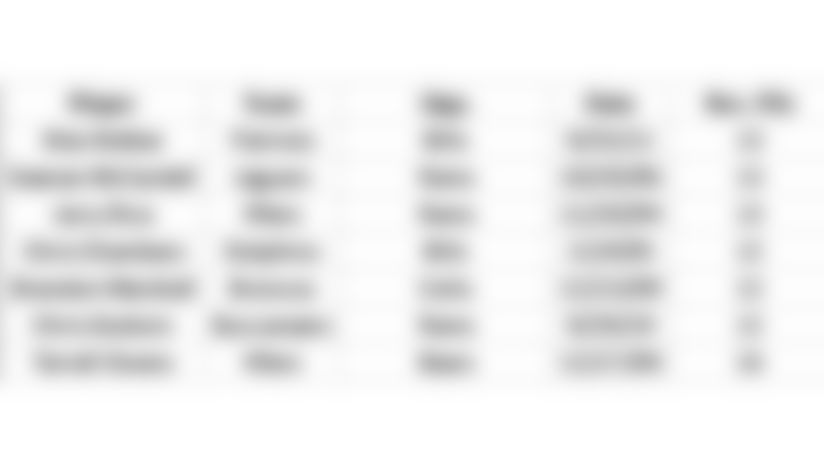 Godwin's two touchdowns came on passes of three and nine yards and were part of a fantastic afternoon in the red zone for the Buccaneers' offense. Tampa Bay lost to the Giants by one point in Week Three in large part because they got only one touchdown out of five trips into the opposing red zone. Against the Rams, the Buccaneers got five touchdowns in six tries, reaching the end zone each of their five times inside the 20 and then finally settling for a field goal on their final offensive possession.
The Buccaneers' Communications Department has game-by-game red zone numbers for each contest dating back through the 1997 season. In that span, the Buccaneers have only scored five touchdowns on red zone possessions in a single game three times. Those three games were:
1. vs. Minnesota, 11/3/02: 7 red zone trips, 5 touchdowns, 1 field goal, 38 points
2. at Philadelphia, 11/22/15: 6 red zone trips, 5 touchdowns, 1 field goal, 38 points
3. at L.A. Rams, 9/29/19: 6 red zone trips, 5 touchdowns, 1 field goal, 38 points
Here are some additional items of note regarding the Bucs' offense against the Rams on Sunday:
- TE Cam Brate caught a 13-yard touchdown pass on the first play of the fourth quarter, at the time giving the Buccaneers a 38-20 lead. It was Brate's first score of the season but the 24 receiving touchdown of his career. That ties Brate with David Moore for the seventh-most touchdown catches in team history.
- Mike Evans also scored in the fourth quarter on a 67-yard touchdown pass from Jameis Winston, the Bucs' longest play of the season so far and the third-longest catch of Evans' career. It was also Evans 44th career TD grab, and while he still trails former Bucs running back James Wilder by one on the team's all-time touchdown list, he has caught Wilder in pure scoring thanks to his three two-point conversion receptions. All told, Evans has scored 276 points; the only non-kicker in team history with more is Mike Alstott, with 432.
- Jameis Winston threw four touchdown passes against the Rams, marking the fifth time he's had four or more in a single game. Paired with his three-TD outing against the Giants in Week Three, he has now thrown for three touchdowns or more in consecutive games for the first time in his career. Winston's passer rating of 120.5 against Los Angeles marked his ninth career game with a rating of 120 or better.