Goodwin sits opposite me, in an uncharacteristic button up shirt and dress pants. It's his first day here at AdventHealth Training Center and he's about to meet the Tampa Bay media for the first time as the Assistant Head Coach and Run Game Coordinator. There's nothing in his office – yet. But that would change quickly. No sooner than he changed into his Buccaneer red and pewter (both pullover and shorts) did plays and notes appear on his whiteboard in the coming days. Coaches roll in and out of his office fluidly, something that seems commonplace for this new staff.
Goodwin's office also sits just a couple over from Head Coach Bruce Arians, a man he's called a father figure. After BA initially retired after the 2017 season and staff changes made in Arizona, Goodwin spent his first offseason since getting into the profession not in the daily grind of being a full-time football coach. The former offensive lineman (and offensive line guru) used that opportunity to spend time with his family of course, and travel… to other NFL teams so he could soak up more knowledge. He was also an analyst for the University of Arizona in Tucson last season, learning the intricacies of the college game and reconciling them with how they could be used at the NFL level – and more importantly, in his next opportunity.
That opportunity came when BA was hired a few weeks ago here in Tampa Bay. Now, he has a new team to get to know. While he does that, you can read on and get to know him, starting in the beginning…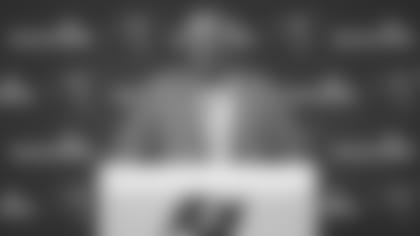 You grew up in South Carolina - when did football start for you?
Originally, growing up, I was this hoop player. I thought I was going to be Charles Barkley. Everyone told me I looked like him a little bit, as well. But I never got over 6'3, instead of getting taller, I got fatter [chuckles]. So, I didn't play football until my junior year of high school. Only two years of high school and got recruited to the University of Michigan. I guess I was athletic enough and quick enough and all that good stuff. I made the grades, so that's where I went.
[If you spend any amount of time listening to Goodwin, you'll notice his witty, dry and often self-deprecating sense of humor. He's extremely charismatic and easily commands a room. See his introductory press conference below for proof.]
You started your coaching career there, too.
Yeah, I was a GA (graduate assistant) at Michigan. I was a student assistant because I went on medical my junior year, so I was there hanging out with the coaches for two years as a student assistant. Spent a year as a GA and wound up winning a national championship and Charles Woodson won the Heisman Trophy. Then, my first job was 1998 at Eastern Michigan University, which is literally five miles from Ann Arbor. Didn't have to go very far, relocate or anything. Spent two years there then coached four years at Central Michigan under Mike DeBord, who's also one of my mentors.
[Mike DeBord recently signed on to be the offensive coordinator for the Alliance of American Football's San Diego Fleet. With over 37 years of coaching experience, DeBord was the offensive coordinator and associate head coach of the Indiana Hoosiers before he initially retired. He and Goodwin first overlapped at the University of Michigan, when Goodwin was playing and coaching.]
I talk to him all the time. He's been a great help to my career as well as Lloyd Carr.
[Lloyd Carr was Goodwin's head coach for much of his time at the University of Michigan, giving him his first taste of the coaching life while he was still a student. Carr retired from coaching in 2007 after 39 years in the profession.]
How important is it to have those mentors in your career?
It's huge because, you know, through my experience of coaching, you take a little bit of everybody with you. From Lloyd to my high school coach, to Lovie Smith, to Chuck [Pagano] and obviously BA, who's been a huge mentor to me, almost like a father figure. You just have to take those things and process it and hopefully one day I can use all that information as a head coach myself.
[Goodwin first coached with BA in Pittsburgh with the Steelers. BA started as the wide receivers coach, where Goodwin was the offensive line coach and quality control coordinator.]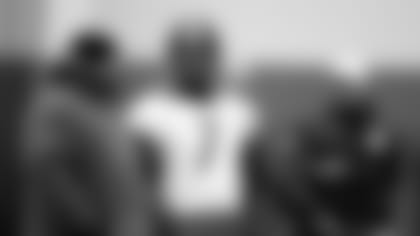 Hopefully. It will always be. I don't know why you want to coach if you don't want to be a head coach one day.
There was a season of All or Nothing with your staff under BA on it and while it gave an unprecedented look into what your world is really like as a coach, that had to be pretty intrusive.
It's pretty funny because all of the meeting rooms had cameras and microphones, so if I didn't want them to hear what I was saying or have them spying with the video camera, I would look up at the camera and give the cut sign [motions with his hand across his neck] or if I didn't want them to hear what I was saying, I would just unplug the microphone.
It was fun, though. Every now and then, when I had some free time, I would go in and sit in the control room. They had a control room set up in the facility and they had all the cameras, so I would just go sit there. I think one time, I was listening in on the quarterback, Carson [Palmer], meeting with the receivers and it was just funny to hear other guys coach other guys. I enjoyed it. I just hope they didn't get me with any foul language.
[All or Nothing is an Amazon Prime series that featured the Arizona Cardinals for its first season. It follows a major sports franchise for an entire season, showing the inner workings of what goes on behind the scenes.]
Being the run game coordinator and having an offensive line background, you're in a system with some aggressive play calling. As an offensive line, how do you want your guys to account for that? What's your philosophy?
Well, one thing about calling plays for BA, because he's let me do it in preseason a few times, he wants to be aggressive. I'm more subtle. I'm going to try to pound your face in and then maybe take a shot later, where BA is like, hey, if you don't risk it, there's gon' be no biscuit. You gotta take chances if you want so many splash plays per game, you get chunk yardage. That's what I've learned from him. That's what you gotta do and it takes that. It's going to be hard to go out there and go 80 yards or 75 yards every time so as much as you can cut the field down quickly, the more points you can probably score in a game.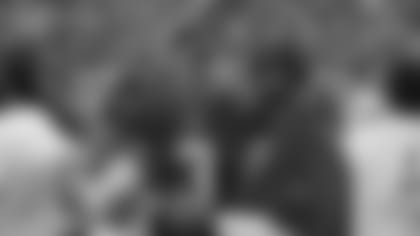 Well, if you have the run threat, too…
Oh it's awesome. I love it. There've been times when he'll go 'what do you want?' I'll tell him and then he goes, 'that's what you always want' and we go back and forth.
Eh, a little bit. One of the things I've been blessed with, having this year off, is I helped out the University of Arizona this past fall and just learned some of the nuances of the college game now. So, I may bring in some of that stuff, as well.
How has this past year been for you? Take me through what it's been like.
Never had a year off. So, it was refreshing and not refreshing at the same time. You wake up every morning, I got to the point early in the year where I just wake up, work out and watch TV. I watched The View every day. That was funny. Wendy Williams and either Today or Good Morning America. I did kinda get into Ellen a little bit, too. That's what I did the first half of the year. I actually lost some weight, so praise God for that. Probably about OTA time, me and Coach [Rick] Christophel started to travel. We hung out in Pittsburgh for a little bit and we actually hung out here for a few days in the spring. We came here for one of the Phase II days and we hung out for the whole weekend of rookie mini-camp.
Did you also get to spend some more time with your family, too?
Yes. I got to see my son play soccer. My daughter was a cheerleader for the basketball team at the high school and junior varsity football. My oldest daughter is in college, so at one point I did go travel just to see her and hang out for a day or two.
That's something you guys really don't get to do usually.
No, no. All my kids know is me being gone. So, it was refreshing for them and probably not good for the whole household because daddy's home and that's not how we do things around here [laughs].
Well, I've noticed coaches are creatures of habit and usually need a routine. What did that routine become to get yourself ready for the next opportunity?
Well, first thing I did was bought myself a laptop and I started typing things: ideas, thoughts, things I wanted to try in the future. What I did towards the end at the University of Arizona analyst job was just watch NFL film, see what the new trends are, what's different and just kinda jotted some of those things down. That's what I'd been spending my time doing and then hoping and praying BA got back into coaching [laughs]. Working on this offense as far as how I would install it and refresh some of my stuff that I've had over the years that I hadn't touched in a while.
What do you know about this offense and these players here?
I've been good friends with Coach Warhop. He's one of my mentors. Butch Barry was my GA and played for me, so I coached him. I worked with Todd Monken, with Mike Bajakian, so there's a lot of guys. They speak highly of the players here, their work ethic. They say the sky's the ceiling for these guys.
[One thing you'll pick up on in this series is just how connected the coaching world is. Not only have these guys worked with coaches that were here in Tampa Bay, due to the nature (read: loyalty) of BA, most of them have already worked together in the past, as well.]
Have you explored Tampa at all yet?
Not really. When Coach Christophel and I were down here last time though, Coach Bajakian took us to the place where you order your tacos by checking off a little sheet.
Yeah, that's it. It was in a really nice area. That's the only place I've been to.
Well, I'm really excited for you guys to be here.
Glad to be here. Excited. Going from one sun to another sun. Just a little bit more humid. I grew up in South Carolina, so I'm well aware of that.
[We'll see come training camp.]