Tuesdays are players' days off during the season. They've watched the game film from the previous week on Monday to evaluate their performance. They are about to start a new week of practice on Wednesday. Therefore, Tuesday is a chill day meant for rest.
Buccaneers quarterback Jameis Winston had another plan for his offday: unveiling his second 'Dream Room' at Twin Lakes Elementary in Tampa. Part of his Dream Forever Foundation is bringing creativity and innovation to today's youth using technology and the way the foundation aims to do that is by opening 'Dream Rooms' in various schools throughout Hillsborough and Pinellas counties. Each room is equipped with iPads, 3D printers, robotics kits and much more to encourage kids to dream big in the field of technology.
"What I love is the technology," Winston said of the rooms. "I think about how I use my iPad to watch film, to take notes, to do everything. Inspiring these kids to be creative and get into technology will allow them to have these dreams at a young age and apply for these (STEM) jobs that are vacant in today's society. There are actually more jobs available in the technology field, cyber security, engineering, that our kids just aren't applying for because they don't experience it at a young age."
The room was brought to life by generous donations to Winston's foundation, as well as a matching grant of $10,000 from the Tampa Bay Buccaneers Foundation. It came on behalf of the $1 million Social Justice Matching Fund set up to help further players' philanthropic efforts in areas like youth empowerment. A perfect parallel for Winston's efforts on Tuesday.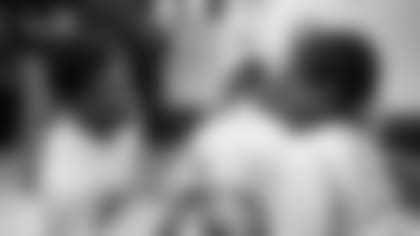 A select group of children who had perfect attendance records were the first to experience the room along with Winston, himself. After a Q&A segment in which children introduced themselves one-by-one before asking the Bucs quarterback a question, they were turned loose on all the equipment the room offers. Some kids opted to try out the robotics kids, others went straight to the computers. Winston spent time with each as he made his way around the room, and the multipurpose furniture brought in by NorvaNivel, which is a company aimed at creating safe spaces for children to learn.
"I think that's what we stand for in the NFL is being great servants to our community, giving back to these kids and trying to create a platform that shows them we are here for them and we want to encourage them and provide them with opportunities and resources that we did not have when we were young," Winston said. "I know I didn't have these type of resources, so if I can give them something that I didn't have that I know would have made me a better student, I'm going to do that."