This will be the second-straight year that Mike Evans will don his very own foundation's logo for the NFL's My Cause, My Cleats initiative. And this year, Evans isn't alone, with teammate Tanner Hudson getting in on the action.
"It means a lot that he has my back like that," Evans said of Hudson's support. "He told me earlier there was a possibility he'd wear my foundation cleats, so it means a lot. My bowling event is coming up, too. My foundation just trying to help out where I can. Get kids to college and help families that suffer from domestic violence. That's what my foundation focuses on. Trying to raise money to help."
With the holiday season in full swing, so are Evans' efforts with his foundation. He'll be hosting his annual 'Catch for Christmas' events, starting with that aforementioned celebrity bowling tournament on December 9. The 'hard' gray and red cleats with a M1K3 logo on them are Evans' favorite cleats yet.
"His logo looks pretty cool," Hudson said of his own cleats that bear the same logo and general color scheme. "He's one of the best superstars that you could ask for so to be able to support him was something that I wanted to do. With his name and how big he is and how much he can do for a community with his foundation, to be able to help in any way feels really special."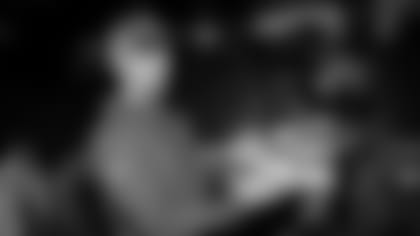 The impact Evans and his foundation has made in both Tampa and his hometown of Galveston, Texas is significant. The goal of the Mike Evans Family Foundation is to support, empower, encourage and motivate today's youth with an understanding that no goal is unattainable. The foundation supports scholarships to send students in financially disadvantaged situations with good grades to college. This past year, he gifted a $40,000 endowment to his alma mater, Texas A&M, as well as a $25,000 donation to go towards scholarships for students in need at the University of South Florida.
Another branch of the foundation also helps victims of domestic violence. Evans and his wife, Ashli, regularly visit women's shelters both in Tampa and in Texas. The cause is deeply personal for Evans, who dealt with the effects of domestic violence as a child growing up. It spurred his passion for helping people that's evident in all his efforts through his foundation and on his own.
"I just wanted to help, ever since I was a kid," Evans said. "I've always been a giving person. That comes from my mom and I was blessed with people to help me out. A lot of people helped me, and my mom had people helping her – so, some people just need an extra push in life and now I want to be the one to give that to them."