STORY HIGHLIGHTS
After a trade, the Bucs were able to add two offensive linemen in Round 5: G Kadeem Edwards and T Kevin Pamphile
Edwards was a four-year starter at LG for Tennessee State while Pamphile manned left tackle for Purdue in 2012 and 2013
For the first time in franchise history, the Bucs have started a draft with five straight offensive players

The Tampa Bay Buccaneers spent the first two days of the 2014 NFL Draft picking up players to which their quarterbacks can throw the football. On Day Three, they added players who will give those quarterbacks time to throw.
The Buccaneers did not have a fourth round selection to start Day Three but were able to double their fifth-round picks by trading a 2014 seventh-round pick (#221) and a 2015 fifth-round pick to the Buffalo Bills. The team then used pick #143 on Tennessee State guard Kadeem Edwards and #149 on Purdue tackle Kevin Pamphile.
That continued the Buccaneers' offensive theme in the 2014 draft, as their three picks on Thursday and Friday were Texas A&M wide receiver Mike Evans (#7 overall), Washington tight end Austin Seferian-Jenkins (#38) and West Virginia running back Charles Sims (#69). This marks the first time in the franchise's 39 years of drafting that it has started a draft class with five straight picks on offense.
Edwards is a huge blocker (6-4, 315 pounds) with potential to match his size. With his frame and impressive wing span, Edwards can be a force in the running game and has the agility in his feet to develop into a strong pass-blocker as he makes the jump from the FCS to the NFL.
Edwards started for four most of seasons at Tennessee State, appearing in 45 games with 41 starts. He manned the left guard spot for the Tigers and last year helped them to their first playoff berth since 1999 while earning second-team All-America honors from the Associated Press. A first-team and academic first-team choice in the Ohio Valley Conference in 2013, Edwards led the conference with 126 knockdown blocks. He played his prep ball in Sanford, Florida, earning Class 6A All-State honors and helping Seminole High to a state championship.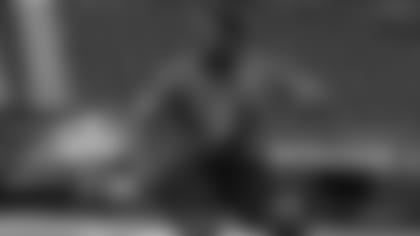 Tennessee State's Kadeem Edwards earned second-team All-America honors from the Associated Press last fall
Edwards is the first player drafted out of Tennessee State since running back Javarris Williams in 2009. He is just the second player the Buccaneers have selected from that school, following a 1988 11th-round pick of wide receiver Frank Pillow.
At 6-5 and 310 pounds, Pamphile is another enormous presence on the line, though his top strength lies in pass blocking due to his quick feet and short-area quickness. A former defensive tackle who converted to offense after arriving at Purdue, Pamphile is another player who will have an opportunity to develop under Buccaneers Offensive Line Coach George Warhop.
Pamphile started at left tackle for the Boilermakers for the past two seasons after moving to offense in 2011. He made 21 starts during that span, including all 12 games in 2013, during which he did not miss a single snap. He was limited by a foot injury to just six games during his one campaign on defense, in 2010, assisting on one tackle. He came to Purdue after playing just one season on the gridiron at Miami Central High School while starring as a junior and senior on the basketball court.
Pamphile is just the third Purdue player to hear his name called by the Buccaneers on draft weekend. Tampa Bay can only hope that this pick works out half as well as their last Boilermaker selection: 1996 second-round choice Mike Alstott.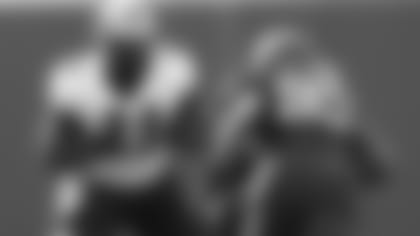 Purdue's Kevin Pamphile started two seasons at left tackle after converting from defense in 2011
Though the Edwards and Pamphile picks didn't happen until Day Three, they do represent the first draft resources the Buccaneers have spent on the offensive line since taking Illinois tackle Xavier Fulton in the fifth round in 2009. The last time the Bucs nabbed two offensive linemen in the same draft was 2007. By focusing on skill-position difference-makers early, the Buccaneers signaled that they believed this year's draft – considered one of the strongest overall in many years – was particularly deep along the offensive line. When that depth carried several of their coveted prospects into the fifth round, the Bucs made an aggressive move to trade up and grab them both.
Barring another trade, Tampa Bay's 2014 draft will end with the ninth pick in the sixth round, #185 overall.