Tampa Bay Buccaneers' outside linebacker Shaquil Barrett said his team's defensive effort wasn't good enough on Sunday against the New York Giants, and given that the Buccaneers came up a point short on the scoreboard, that is fundamentally true. Barrett thus might find it difficult to enjoy his own stunning performance in Sunday's game, but it's worth breaking down anyway as it put his name in the record books for not only the Buccaneers but the National Football League.
In fact, with his 4.0 sacks against the Giants, Barrett tied an all-time NFL record, one that had gone unmatched for 35 years. That incredible output on Sunday pushed Barrett's sack total on the season to 8.0, which ties the league record for most sacks* through a team's first three games.
(* Applicable for all the following notes, sacks became an official NFL statistic in 1982.)
Most Sacks Through a Team's First Three Games of a Season, NFL History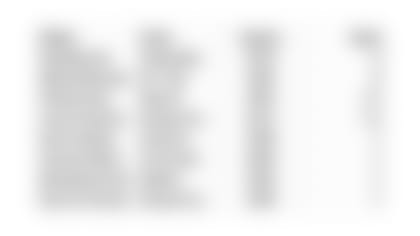 Barrett is the first player in Buccaneers history to have consecutive games with at least 3.0 sacks, as he recorded 3.0 in the team's Week Two win at Carolina before his four-sack outburst against the Giants. He is the 16th player in NFL history to accomplish that feat, and the first since Detroit's Ezekiel Ansah did it against Cincinnati and Green Bay on December 24 and 31 of 2017. No player has ever had three consecutive games of three or more sacks, giving Barrett a chance to make history next Sunday against the Los Angeles Rams.
Barrett tied the Buccaneers' single-game sack record, matching the 4.0 that Marcus Jones recorded against Detroit on Oct. 19, 2000, which was later matched by Simeon Rice at Washington on Oct. 12, 2003. Given the chart above, he obviously broke the franchise record for most sacks through a season's first three games, though it would be more accurate to say he obliterated the previous mark. Warren Sapp had 5.5 sacks in the first three games of the 2000 season, and the only other Buc to reach 5.0 in such a span was Santana Dotson in 1992.
Barrett's mark on the Bucs' record books isn't limited to the first three weeks of any given seasons. His sack total so far is the highest that any Tampa Bay player has ever had in a three-game stretch at any point in a season.
Most Sacks in a Three-Game Stretch, Buccaneers History*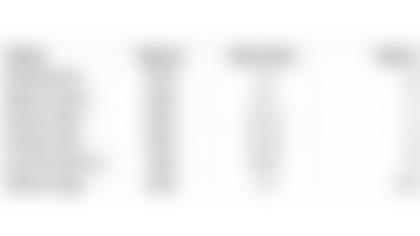 (* For individuals who had overlapping three-game streaks in the same season, only the highest three-game total was included.)
Two of Barrett's four sacks caused fumbles, both of which were recovered by the Buccaneers. That ties a Tampa Bay single-game record for forced fumbles, last registered by Lavonte David at Arizona on Oct. 15, 2017. It also made Barrett the first player in the NFL to have four sacks and two forced fumbles in a single game since Adrian Clayborn did so for Atlanta on Nov. 12, 2017.
Barrett will head into Week Four as the NFL's overall sack leader.
Most Sacks, NFL, 2019 Season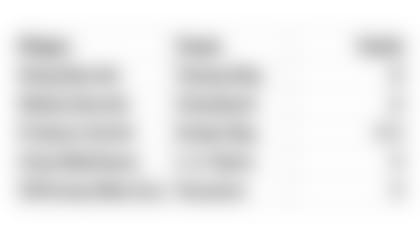 Clayborn's big-play counterpart on the other side of the ball was Mike Evans, who put together a game unlike any before in franchise history. With his eight catches for 190 yards and three touchdowns, Evans became the first player in Buccaneers annals to have at least 150 yards and at least three touchdown catches. He was the first Buc with three scoring grabs in a single game in 34 years, dating back to tight end Jimmie Giles' team-record four-TD game at Miami on Oct. 20, 1985. The only other three-touchdown-catch outing in team history was recorded by Morris Owens, also against the Dolphins, on Oct. 24, 1976.
Evans' yardage total was the second best of his career and the fifth-highest total in team history. He now owns three of the top six single-game marks ever for the Buccaneers.
Most Receiving Yards, Single Game, Buccaneers History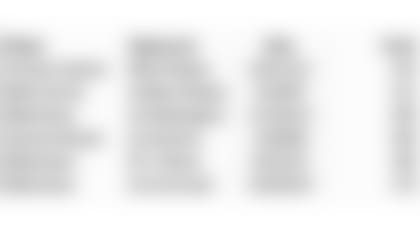 Evans had all of his touchdown catches and 146 of his receiving yards before halftime of Sunday's game. That made him the first Buccaneer to ever grab three scoring passes in the first half of a game, and his yardage total was the third highest in a single half in team annals. It was the second most ever before halftime.
Most Receiving Yards, Single Half, Buccaneers History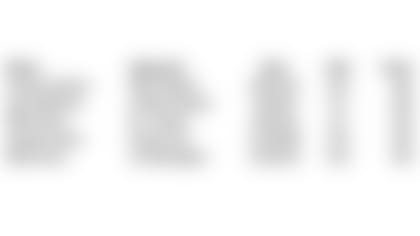 Evans' receiving yardage and touchdown catch totals only added to the Buccaneer career records he already owns in both categories (6,382 yards and 43 touchdown catches), but he is also now very close to moving up the team's chart for overall career touchdowns. Mike Alstott still has a comfortable lead on the field but Evans may soon surpass James Wilder. Including one score on a fumble recovery in the end zone, Evans has now found the end zone 44 times in just 80 career games.
Most Total Touchdowns, Buccaneers History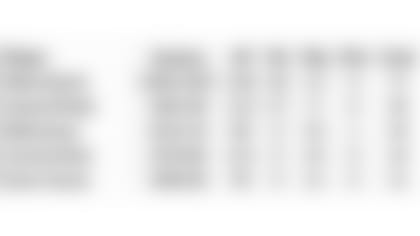 Of those 43 touchdown passes Evans has caught, 26 have been thrown by Jameis Winston. That makes Winston and Evans the most prolific touchdown-pass combination in franchise history. There are three different duos featuring a total of six players who have hooked up for at least 20 touchdown passes for the Buccaneers.
Most Touchdowns, QB/WR Duo, Buccaneers History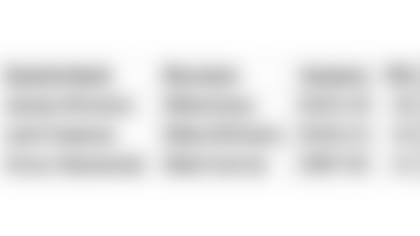 Evans accounted for exactly half of Winston's 380 passing yards against the Giants. That produced the 22nd 100-yard receiving game in Evans' career and the 17th 300-yard passing game in Winston's career. Both are team records.