The Tampa Bay Buccaneers are now two-thirds of the way through an unprecedented season-opening gauntlet that sees them oppose three teams with a combined 37 wins last year. So far, they've been up to the challenge. After opening the season with a 48-40 win in New Orleans over last year's NFC South champs, the Bucs took down even bigger game in Week Two. The Philadelphia Eagles, who went 13-3 in 2017 and won the NFC East, brought the Lombardi Trophy with them to Raymond James Stadium on Sunday. (Symbolically, of course.)
The Buccaneers defeated the Eagles, 27-21, giving the champions of Super Bowl LII their first loss since they took that trophy from the New England Patriots last February. That marked just the fifth time in franchise history that Tampa Bay has beaten the defending Super Bowl champs. The other four instances occurred in what proved to be very good seasons for the Buccaneers.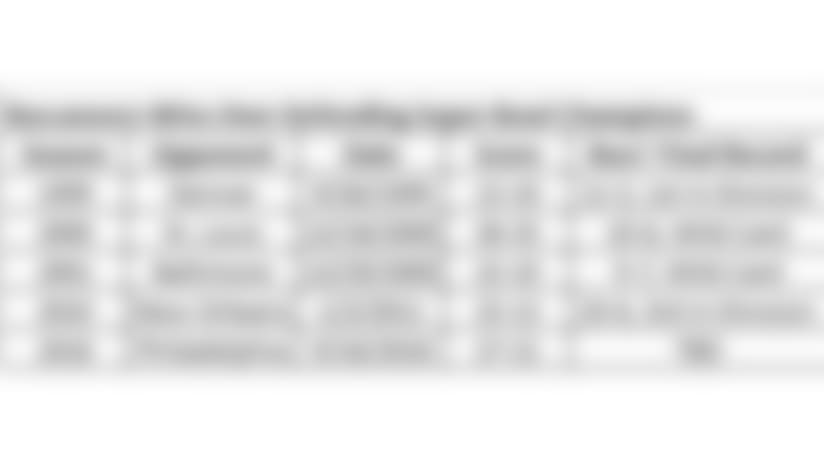 Overall, the Buccaneers are now 5-18 all-time against defending Super Bowl champs, though they are 5-8 in the last 20 years. This was the third year in a row that the Buccaneers had a visit from the defending champions within the first four games of the season. They lost to Denver in Game Four of the 2016 campaign, 27-7, and narrowly missed pulling one out against New England in Game Four of last year, losing 19-14.
Wins over the Saints and the Eagles have the Buccaneers at 2-0 for the first time since 2010. With 87.5% of the regular season still ahead, that start in no way guarantees the team a postseason berth; in fact, the Bucs did not make the playoffs in that 2010 season, though they did win 10 games. Those Bucs lost a third-level tiebreaker to the Green Bay Packers, who would go on to win the Super Bowl.
However, this is the first time in the Buccaneers' 43-season history that they have opened a season by beating two teams that were in the playoffs the previous season. It's also the first time the Bucs have opened a season by beating two teams that had winning records the previous season. Here are all eight times Tampa Bay has started a season 2-0, and the teams they beat:
Overall, the Buccaneers had a .549 winning percentage in the first seven seasons in which they've started out 2-0, compared to a .453 mark in the 18 seasons they've started 1-1 and a .245 mark in the 17 seasons they've started 0-2.
However, it's fair to point out that this is only partially predictive because we're counting the results of the first two games in each of those percentages. If we look only at how those teams fared after their respective two-game starts, the 2-0 teams went on to go .485 the rest of the way, compared to .446 for the 1-1 teams and .282 for the 0-2 teams.
Overall, the Buccaneers have 10 previous playoff campaigns. Four of them occurred after 2-0 starts, five after 1-1 starts and one after an 0-2 start. That one season that went from 0-2 to the playoffs needs an asterisk; a players' strike in 1982 wiped seven games off the schedule and prompted the league to seed the top eight teams in each conference for a "Super Bowl Tournament." The Bucs finished 5-4 and were the seventh seed.
The Buccaneers have gotten off to their first 2-0 start in eight years on the strength of a prolific offense that currently leads the NFL in total yards per game (482.5) and net passing yards per game (405.0). Kansas City leads the league in scoring, averaging 40.0 points per game, but the Bucs are second at 37.5 points per game.
All of those figures represent the best two-game start in franchise history. Here are the top five Buccaneer seasons in each category, as well as how those teams finished and where those final totals ranked among Tampa Bay campaigns: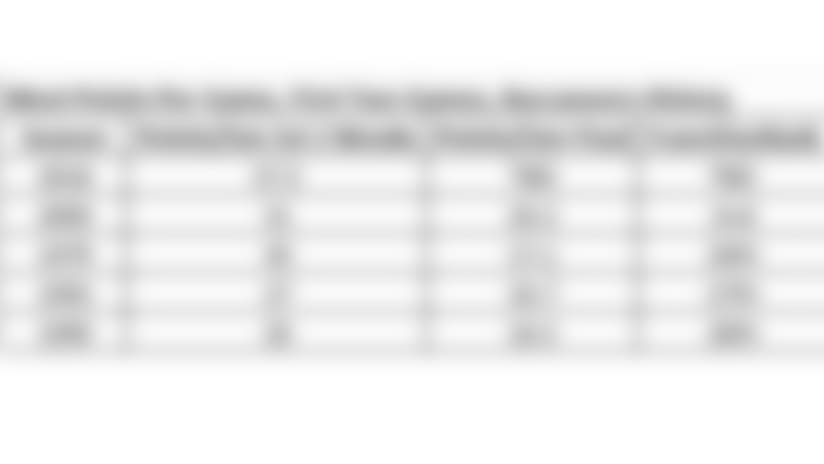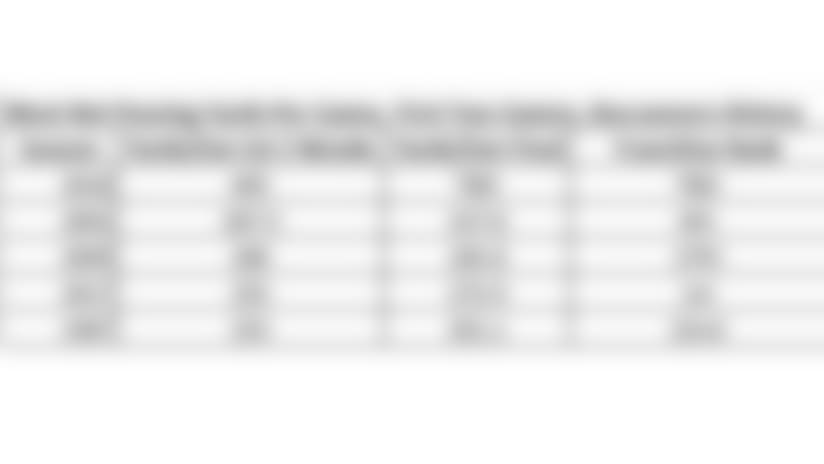 Of the three categories, passing yards after two games seems to be the most predictive of final-season results, but none of the three charts are particularly strong in that manner. That's a reminder that it's a long season, though that does nothing to diminish what the Bucs' offense has accomplished so far.
In fact, the Bucs' two-game start is impressive not just in relation to its own history but, from a yardage standpoint, the NFL as a whole. The Bucs' 965 total yards are tied for the 11th-most in league history by any team through its first two games of a season. Even more impressive, Tampa Bay's 810 net passing yards are the fourth-highest total ever for a team in its first two games of a season. The 2018 Bucs are the first team to have at least 800 passing yards and at least eight touchdown passes after just two games played. Below are the only five teams ever to eclipse 800 net passing yards in their first two games of a season.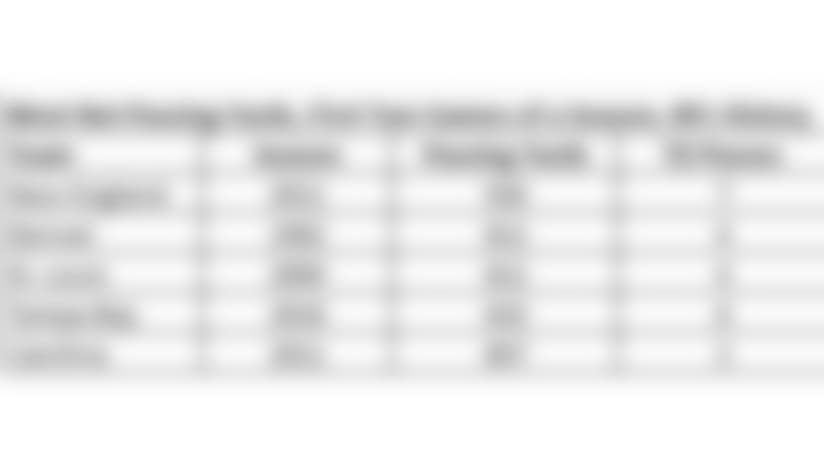 As we noted on Sunday, DeSean Jackson tied Jerry Rice on Sunday with his 23rd touchdown catch of 60 or more yards. It was his first entry onto that list as a Buccaneer, but Jackson has been making nothing but big plays since the 2018 season began.
Jackson has nine catches for 275 yards through the first two games, leading the entire NFL in that latter category. He is also tied for second behind Cincinnati's A.J. Green with three touchdown receptions and he's second to Seattle's Will Dissly with an average of 30.6 yards per reception. As is made clear by that tie he has with the NFL's greatest receiver ever, Jackson is very good at getting open downfield.
So far, Jackson is catching passes farther down the field than any other player in the NFL. His average yards at the point of reception is 22.67, which ranks first in the league.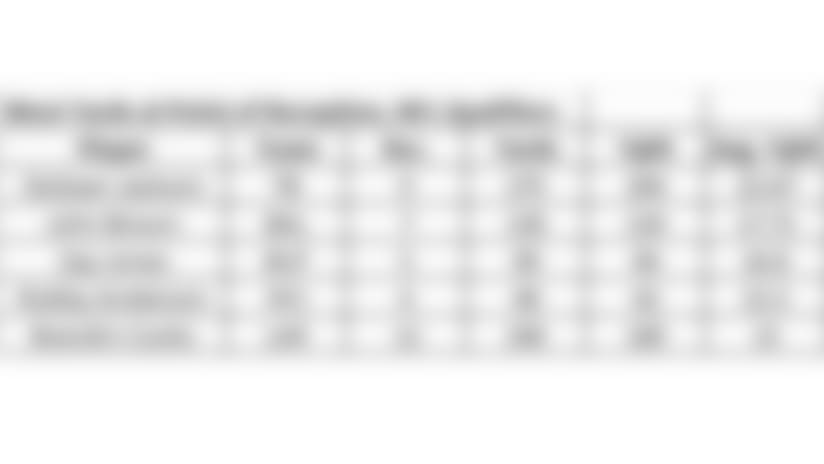 Jackson leads the NFL in receiving yards despite ranking tied for 89th in targets. Ryan Fitzpatrick has yet to throw a pass intended for Jackson that has fallen incomplete – the two have hooked up for nine catches on nine targets. There are nine players in the NFL who have been targeted at least five times and have caught every targeted pass, but only three of them are wide receivers, and Jackson has the most targets of anyone on the list.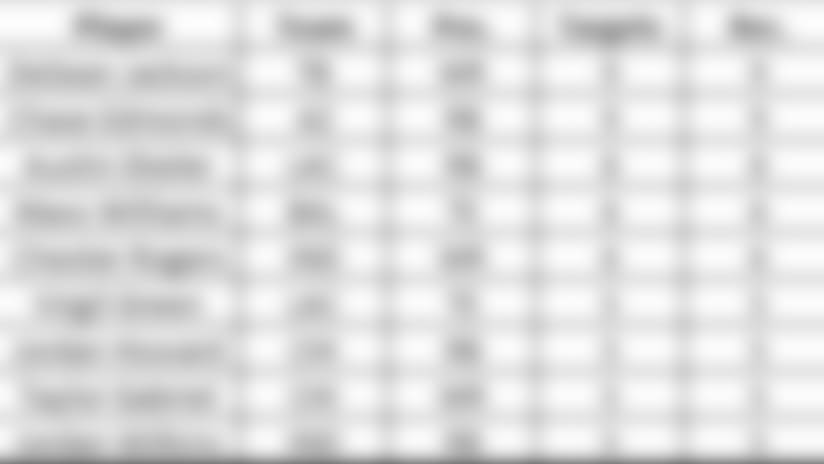 Given his yardage total and that 100% target-to-completion rate, it is a given that Jackson leads the NFL in yards per target so far, among all players with at least five catches. However, he is one of only two players in that category with an average over 25 yards per target, and the other one happens to be his teammate.
Jackson leads the Buccaneers with three touchdown catches but teammates Mike Evans and Chris Godwin already have two each, as well. All three of those players have caught at least one touchdown pass in each of Tampa Bay's first two games. That marks the first time in franchise history that three different players have all caught a touchdown pass in the same two consecutive games.
Godwin's streak is actually three games long, as he also caught a touchdown pass to give the Bucs a last-second win over New Orleans in the 2017 season finale. He is one shy of the team record of four straight games with a touchdown catch, a mark that is shared in part by two of his current teammates. There have been seven individual streaks of four consecutive games with a touchdown catch in team history, two by Joey Galloway and one each by Cameron Brate, Mike Evans, Mike Williams, Antonio Bryant and Bruce Hill.
The Buccaneers closed out Sunday's win with a fumble recovery by Lavonte David on a final desperation pitch-around play by the Eagles. Earlier in the game, rookie cornerback Carlton Davis recovered a Nick Foles fumble that was caused by a Kwon Alexander sack. Through two games, the Buccaneers already have four opponent fumble recoveries, second only to Cleveland's five. Since the start of 2016, Tampa Bay has the most opponent fumble recoveries in the NFL.
Most Opponent Fumble Recoveries, Team, 2016-18
Individually, David leads the NFL in that same span with five fumble recoveries.
Most Opponent Recoveries, Player, 2016-18
2t. Marcus Peters, KC/LAR: 5
2t. Khalil Mack, OAK/CHI: 5