You'd be hard-pressed to find a better teammate that Bucs wide receiver Chris Godwin. He and wide receiver Mike Evans are the best receiving duo in the league this season and Godwin's 60 catches this year are the most of any of the Bucs receivers this season. Godwin shows up for his teammates, and in turn, his teammates showed up for him as he and girlfriend Mariah DelPercio launched the Team Godwin Foundation on Monday night.
"It means the world to me seeing how many of my teammates came out here on a Monday, one of their days off," Godwin said. "They did not have to be here, especially as long as they have been. It just shows the support they have for me and the respect that they have for me and that they have my back. It means the world to me."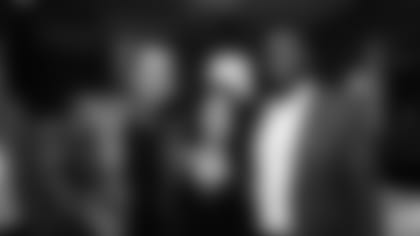 The Team Godwin Foundation aims to make a difference for pets in need through advocacy and financial assistance to local shelter and rescue groups. Through programs like the Second Chance Fund, animals in need of live-saving treatments are able to get the financial support they need.
In fact, this season Godwin started his "Receptions for Rescue" campaign, which invites fans to make a donation for every catch he makes this season. With each catch, a dog's life is saved and Godwin's overall goal for the season is $10,000.
The Foundation also aspires to make a difference for animals facing adversity by educating the public on the importance of adopting – something the couple themselves knows firsthand.
"For me and Mariah, this was something that was close to our heart," Godwin said. "We have two dogs at home. We just adopted our second dog in March. Seeing our relationship with her and how much she's brought to our eyes, it's really very special. We just want to go out there and spread the word and educate people that may not know."
The event was held at Eddie V's Prime Steak and Seafood restaurant and was co-hosted by former Tampa Bay Ray Jonny Damon. The whole evening flowed like a cocktail hour with roving food and entertainment. There was a magician that made defensive tackle Beau Allen sufficiently uncomfortable. This was after both he and quarterback Ryan Griffin got a caricature portrait done of themselves by the on-site artist and before inside linebacker Lavonte David took down a sizable plate of truffle mac 'n cheese.
In all, 12 of Godwin's teammates were there, including Jameis Winston, Ryan Griffin, Mike Evans, Breshad Perriman, Justin Watson, Scotty Miller, Cam Brate, Tanner Hudson, Bryant Mitchell, Beau Allen, Lavonte David and Anthony Nelson along with Captain Fear and the Buccaneers Cheerleaders. Donations from those teammates poured in, as well as from the Buccaneers themselves, who were one of the sponsors on the event.
It's safe to say Godwin's well established with his teammates and it's important to him to establish himself and his foundation in the Tampa area, too.
"I'm still in the process of establishing myself on the field and I think this gives people a chance locally to get to know me and who I am off the field," he said. "People are starting to support me a little bit more so it's very important to me to plant some roots. I love Tampa, I love being here and so starting it here is very important."