The first memory of the game that sticks out to me came in maybe my second or third year playing. I was on the team with my brother – he's four years older than me. Our league was based off weight class and I was a big kid. My mom will tell you, too [laughs]. I was probably seven and he was 11 but I was on his team as a linebacker. I think I was his backup. One game, I think it was a serious game in little league, he went down and they were trying to look for me to go. But I had ran behind a tree so they couldn't put me in. That's probably the most memorable thing I could think of when I first started playing football. I would always say I had to go pee or try to hide [laughs]. There was something about football… I loved it but when it came down to it, I was like, 'Uhh, I gotta go do something.'
The older I got, they started moving me around and then I started enjoying it and loving it. I probably started loving it the most going into high school. I was a three-sport athlete – big baseball guy. Baseball is my favorite sport. I played travel baseball all across the country. Came down to the Cooperstown World Series down here in Florida, actually. But going into high school I fell in love with football.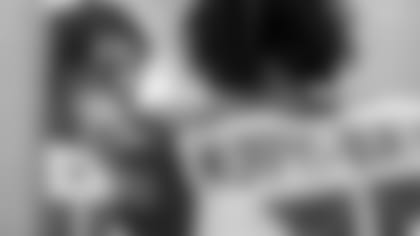 For me, my father kind of influenced me to not necessarily focus in on one sport, but buy to in to which one I wanted to play in college. As time went on, sophomore year, I started getting recruited for football before baseball. So, in my head, I was like, well I'm getting recruited – I might as well play football. It just kind of blossomed from there. I really started loving the game. I was a wide receiver at first. Scoring touchdowns – I LOVED it. That was my favorite thing in the world. Then they moved me around to defensive back and I started loving DB because now I could intercept you and THEN score a touchdown. I was just enjoying the game and started to enjoy it more than playing baseball.
Football is like a brotherhood. We all have the same goal and we want to compete and do the same things. We're always around each other. That's the main thing. I'm around guys here from before 7 a.m. until 3 p.m. And that's an every single day thing. On the weekends, you have roommates and stuff like that over the games. It's just a deeper feeling after college. Even in college, you still have class and stuff, things you have to do. Here, it's professional, it's business and you all want to strive to get the same goal. At the end of the day, you want to play at a high level, you want to play for a championship-caliber team.
What makes football different is the physicality of the game. It's how competitive this game is. It's a battlefield. Your brother gets knocked down, you want to go knock this guy out that knocked your brother down, and vice versa. It's just the physical mindset of it. You get those brotherhoods and those bonds in other sports like basketball and baseball but football is like the ultimate revenge sport. Like, you got me last time, but I'm going to get you this time. He got my brother down, now I have to go get him. Stuff like that. You always have to have each other's back; protecting each other, protecting the quarterback for the linemen, the secondary protecting each other and making sure we're all on the same page, it just flows. There's a little bit more emotion involved. More of a deeper passion. More competitive. It's a good vibe, a good feeling.