Bucs fandom comes in all different forms. For some, it was time spent with a family member growing up, etching the Buccaneers into fond memories of their childhood. Others, it was upon the first sound of cannons booming inside Raymond James Stadium. Or maybe you've been around from the beginning, when the Buccaneers finally brought NFL football to Tampa Bay.
No matter your story, we want to help tell it. And so begins our series highlighting Buccaneers fans from around the Bay and beyond.
Meet James Troiso. The Bucs have been a huge part of his life, in more ways than one, and his fandom is bigger than football. This is his fan story.
---
---
Yes, James is a lifer and can pinpoint exactly when his Bucs fandom began: the very beginning. It was 1976 and as a 10-year old, James was the perfect age to fall in love with a team, as he says. Luckily, that's the year the NFL welcomed two expansion teams to the league: Seattle and of course, Tampa Bay.
James' parents owned a small motel on Clearwater Beach, which is where he spent those formative years. He had made a habit of stopping by an Eckerd drug store every day, buying a candy bar and coveting an orange bicycle he was saving for.
"Because, you know, that's what '70s kids did," says James.
One day, he walked into the store only to see posters of a baby in a football helmet adorning its walls. The words, "Welcome to the NFL, Tampa!" were plastered along with the image and it prompted a young James to ask the store clerk, what gives?
"He told me that a pro team was coming to the Tampa Bay area and the first thing I thought of is that I better get some Coca-Colas because I want to catch Mean Joe Green's jersey," James said. "I was really excited about it. That's basically where it started."
Though his memory of when his fandom started is precise, his memory of his first Bucs game has been muddled with the sheer number of games James has now attended. He's been a Season Pass Member for years, with only a slight break. Like many, James had to sacrifice his regular trips to see his Bucs play in person when the economy took a downturn, but come 2014 when James, and the country, was back on his feet, James jumped right back in.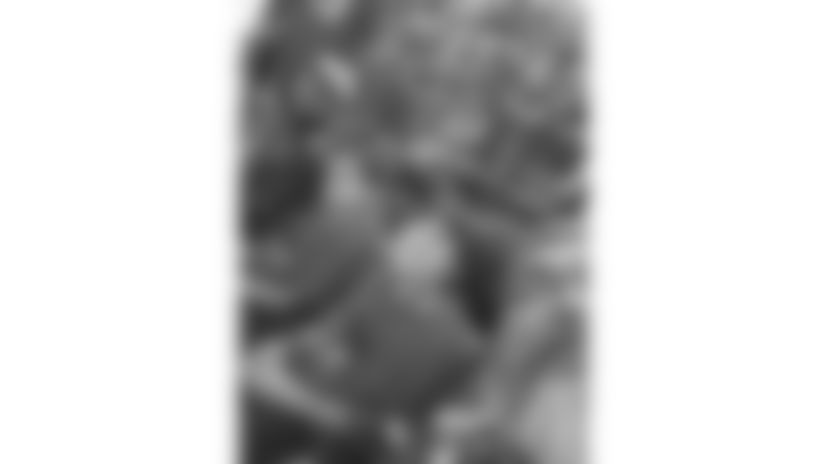 ---
---
But when did James really know his fandom was true? That would come about 10 years later, while James was in the Army and stationed at Fort Devens in Massachusetts. One of the sergeants in his unit, Sgt. Wanda Morris, was from the area and had a brother whose name you may recognize: Joe Morris, who played for the New York Giants at the time.
One day, Wanda told her department that there would be a special occasion picnic at the lake near the base and it was mandatory. Well, you don't have to tell soldiers twice to take a break from their everyday duties and let loose a little bit. So, there they were, having a good time and enjoying their break when a pickup truck filled to the brim with Miller Lite pulls up.
"And who gets out of the pickup truck?" James recalls. "Joe Morris and Phil Simms. I guess Phil Simms had something to do with Miller Lite so he was able to get Army soldiers Miller Lite beer. It was a big deal."
The soldiers and these two New York Super Bowl Giants proceeded to chop it up and enjoy the gifts Simms brought. The conversation eventually turned to where everyone was from and who their teams were.
"When it came to me and I told them I'm from the Tampa Bay area and it's the Bucs, they laughed," James said. "I tell ya, I was so ticked off.
"That made me realize what a fan I really was because I mean it pissed me off that these two Super Bowl champions – I should have been jazzed enough that I was having beers with Phil Simms and Joe Morris, but my thought was, 'You just disrespected my team.' I can tell you every time the Bucs play the Giants, I think of that story. Every time."
From then on, James' fandom was unwavering – growing more and more as the years went on. Ten years after his Giant-induced realization, James made the Bucs part of a major milestone.
"The Bucs have really been important in my life. I got married in their stadium!"
"It was at the old Tampa Stadium at halftime of the game against the Redskins in November of 1996," James replied.
It was actually part of a mass-wedding gimmick the NFL did at the time, and the event was sprung on James by his wife immediately following their honeymoon. Knowing what a huge Bucs fan James was, she told him they'd be getting married again, but this time at a Bucs game. James makes sure to say he was asked to tell the story – they ended up on the front page of the St. Petersburg Times because of it.
"My ex-wife, we're great friends still, and she's the one who said you better mention it," James laughs. He recalls going through the wedding rehearsal during pregame warmups and Hardy Nickerson talking to him and his wife about being in Bucs jerseys and getting married.
"It was pretty fun. I gotta admit it was fun that day."
---
---
These days, James says there's a group of 14 that accompanies him to Bucs games, including his son, usually. The tradition with his son started as soon as James wouldn't have to change a diaper in the stadium, he laughs. He raised his now-adult son to be a Bucs fan from the very beginning and it's a great bond they share. It even helped inspire his son to play football growing up. James says to this day, his son is the greatest football player he's ever watched. And when he was on those football teams, James bought two extra seats to the games so his son could bring two of his friends to see the Bucs play.
"I would always tell him, make sure it's your friends who can't get to games," James qualifies. "You know the ones to pick. Don't pick the kid that's living in the giant house with the parents with the fancy cars. Bring your friends."
The pair continue the tradition, along with those 12 other family members and friends, to this day. It's usually the same crew, but there was once last year where James' son wasn't able to make it. Instead, James brought his 80-year-old mother to her first Bucs game.
"She had a blast!" James said excitedly. "Where I sat at last year is right under where they raise the flags, so I got pictures of her underneath the flag. She had a great time."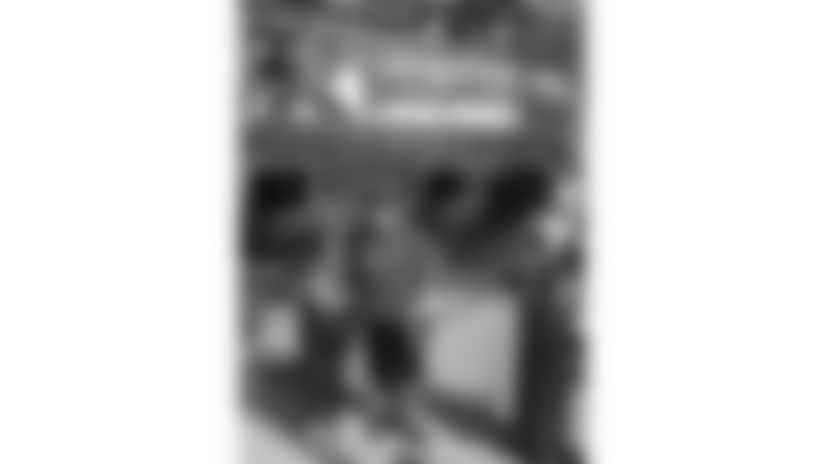 It was extra special given that James' brother and his family are part of the group that goes to every game. The group tailgates without fail before each, as well. James says his sister-in-law is a phenomenal cook and always has an amazing spread for gameday. As of late though, the time spent with his family has had a little bit more meaning.
"The family part that we're all going to the games has been really incredibly special for the last four years because my brother has cancer and he's been battling cancer for four years now," James said. "Every year, he always says it, it seems that he has to get treatments right before the season. And he's like, 'I hope I don't have to miss any football.' Unfortunately, this year it came back, and it came back pretty strong. He's going through treatments and they just started now (back in July), so we're all crossing our fingers that Bob will be there for the Bucs games. That's huge."
We're crossing our fingers for Bob, too, James.
Sometimes, the Bucs are bigger than football.