---
---
Bucs fandom comes in all different forms. For some, it was time spent with a family member growing up, etching the Buccaneers into fond memories of their childhood. Others, it was upon the first sound of cannons booming inside Raymond James Stadium. Or maybe you've been around from the beginning, when the Buccaneers finally brought NFL football to Tampa Bay.
No matter your story, we want to help tell it. And so begins our series highlighting Buccaneers fans from around the Bay and beyond.
Meet Phyllis Miller. She was one of those around in the beginning. She's never missed a Buccaneers home game… ever. This is her fan story.
---
---
The Buccaneers played their inaugural season in 1976. At that time, Phyllis had just moved down to the area from Massachusetts. Her high school colors had been orange and brown. The Buccaneers, donning orange creamsicle uniforms, caught her eye. She was halfway there.
"When the Bucs came out and they had their orange, it was just a perfect match for me to become a Bucs fan from the day one," she says.
While the Bucs had a rough introduction to the league, Phyllis's fandom never wavered. Where people were giving tickets away, Phyllis was taking them and going to every game.
Phyllis Miller has been to every single Buccaneers home game… ever. She hasn't missed a single one to this day. Sometimes it's been on other people's tickets when she's had to give up her season passes. Sometimes it's been with different company. But Phyllis has always been there, wearing her outfit of the season.
"I always wear the same outfit," Phyllis says of her superstitions. "I get a new outfit each season but that will be the only outfit I'll wear to the games. I have my Bucs sneakers. I've had them a few years and I designed them myself. I got a new pair for this season so I have to wear certain things and I have to have certain things in my pockets just a way every time."
It's been like that for a long time (43 years, to be exact) and Phyllis has many memories to go along with it. One of her favorite memories, and actually a few of her favorite memories, involve her all-time favorite player: quarterback Steve DeBerg.
"I've always had a crush on Steve DeBerg and I was at a game with my neighbor who was a Redskins fan, that was back when Steve was first playing quarterback for the Bucs," Phyllis recalls. "We went down by the players at the end of the game and he happened to be coming to the sideline by his son. My eyes met his and finally my neighbor had to tell me, 'C'mon Phyllis, let's go, he's already left like three minutes ago.' I was just standing there with my mouth open."
---
---
Phyllis's season passes are right behind the Bucs bench – she said a lot of the players know her as the 'sign lady' because she brings a new sign to each game. It will either have something to do with the opponent or a certain player. Sometimes, it's a plea for cleats or a happy birthday wish, even. But there's always a sign because its holder, Phyllis, is always there.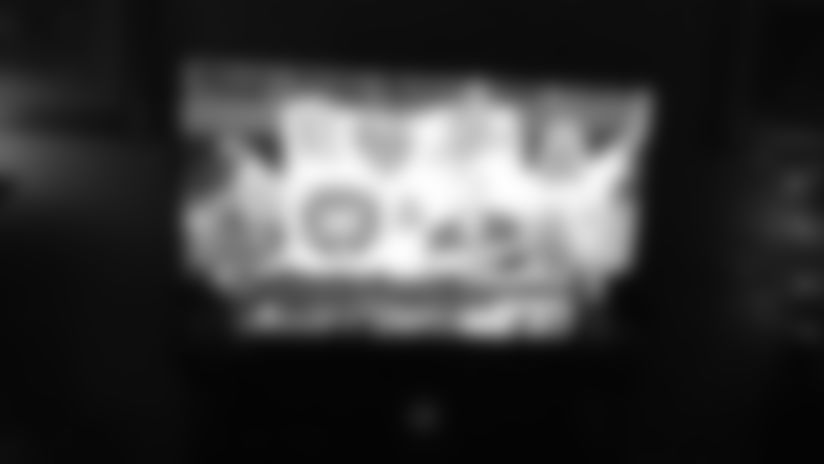 "One of my things I'll tell ya – I'm usually one of the first people in the stadium and I will not leave the stadium, or my feet, until the last player goes off the field. No matter if we win, lose, draw, rain, snow, I don't leave the stadium or my feet until the last player leaves."
Phyllis says she has a closer relationship to more defensive players, given that her seats are towards the defense's side of the bench. She's quick to say that 'of course' she loves wide receiver Mike Evans, though. She loves the interaction and conversations she gets to have with many of the players, being that close to the action in her first-row season passes.
"I think all the players are wonderful people too, besides being great players," she adds.
Often times, guys will give her their gloves as they're exiting the field. She has quite an extensive collection. She puts them in shadow boxes and will put a picture of the player they belong to, usually signed, behind the gloves for an extra flair. These boxes have their home in her home – where she has an entire room dedicated to her favorite team.
"My Bucs room, I painted it with the exact colors because Home Depot carries NFL colors," Phyllis explains. "So, they are the exact colors of the Bucs. Red walls. A few inches from the ceiling, I have six inches of the pewter and two inches of the orange. And then my ceiling fan is a Bucs fan. All my outlet covers are Buccaneer covers. One whole wall is Steve DeBerg."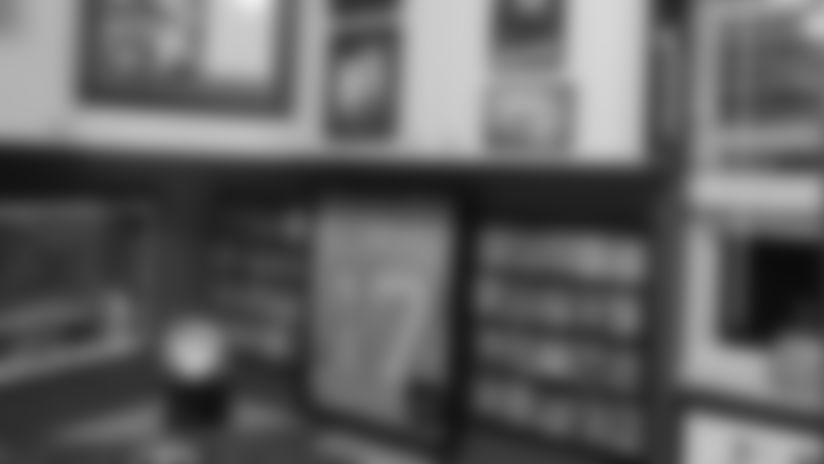 "I probably have more Steve DeBerg memorabilia than his mother does," Phyllis says matter-of-factly. "Then I have a Super Bowl section with a lot of the players."
She goes on to list sections dedicated to players like former fullback Mike Alstott, who she actually dog sits for occasionally, as well as Hall of Famers Derrick Brooks and Warren Sapp.
"I've met Warren Sapp and that's a cute story," she recalls. "I kept calling to him when he was on the field, this is after he retired, and the people around me said he's never going to come over. Well, he not only came over to me, I've got two pictures hanging up where he's talking up to me and he's laughing. He talked to me about five minutes and I came back and sat down in my seat and everybody was like I do not believe what I just saw."
More recently, Phyllis said she was a big fan of former cornerback Brent Grimes, even having dinner over at the Grimes household with Brent and his family. She has his signed jersey and the last game he played for the Bucs, he gave her his cleats, which now sit in a glass case in her Bucs room.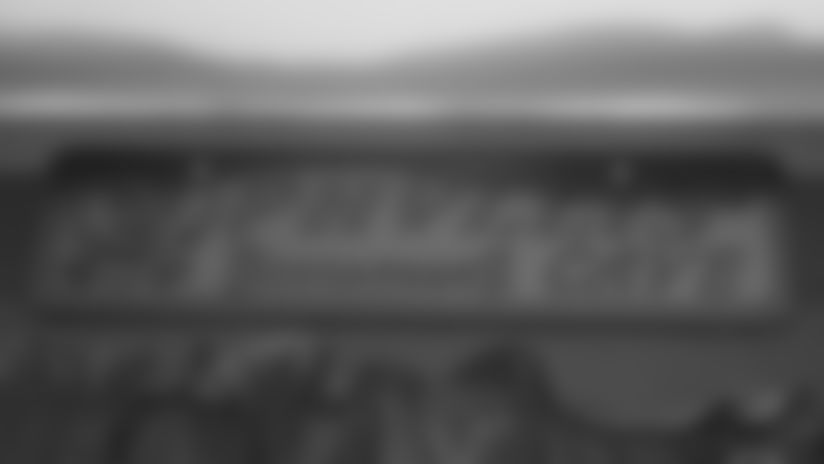 ---
---
On the current team, Phyllis really likes Mike Evans (of course), defensive lineman Will Gholston, whom she made a birthday card for at training camp. But take one look at the jersey in her photo above and you'll see it's a custom Carl Nassib jersey.
"I just think he's so cute," she tells me.
More than the players, though, the Bucs as a collective are what matter most to Phyllis. She loves football, sure. But football wouldn't be anything without 'her' Buccaneers.
"It's my Bucs team," she says. "I feel like they're my team. They're playing for me and I can't imagine missing a game."