STORY HIGHLIGHTS
Though not planned this way in advance, the Bucs conducted the first all-offense draft in team history
All four of the skill-position players Tampa Bay drafted are considered gifted pass-catchers
One of the deepest drafts in years allowed the Bucs to get offensive line help in the fifth round

Lovie Smith might be in danger of losing his reputation.
Minutes after the Tampa Bay Buccaneers pulled the trigger on their final pick in the 2014 NFL Draft, the team's first-year head coach approached the press conference podium and cautioned the crowd against assuming "that people are a certain way." And by "people," Smith meant himself.
The joke played off both Smith's stern-looking demeanor and his reputation as a coach invested far more heavily in defense than offense. Smith said, "I do believe in offensive football, and you can't win by just playing defense," and of course the evidence was right there on Tampa Bay's draft board. With the selection of Wyoming wide receiver Robert Herron in the sixth round, the Buccaneers had finished the first-ever all-offense draft in franchise history.
Herron was the second receiver selected by the Buccaneers over the three days of the draft, joining first-round selection Mike Evans of Texas A&M. In between, the team added a very promising two-way tight end (Washington's Austin Seferian-Jenkins), a running back with outstanding skills in the passing game (West Virginia's Charles Sims) and two enormous offensive linemen possessing loads of raw talent waiting to be developed (Tennessee State's Kadeem Edwards and Purdue's Kevin Pamphile). Evans and Seferian-Jenkins even represented the highest picks the Buccaneers had ever made at their respective positions.
It's clear the Buccaneers' offense still needed work after an aggressive run through free agency (and particularly after trades of wide receiver Mike Williams and interior lineman Jeremy Zuttah), but the team didn't specifically mean to make this year's draft all about that side of the ball.
"[We got] three guys that we're very excited about [on Saturday] and once again, we targeted and it happened to fall to us," said General Manager Jason Licht, also enjoying his first draft with the Buccaneers. "We're excited about the overall class. Obviously an all offensive draft, I don't know if that's some sort of record, but it wasn't the plan, I can tell you that. It just fell that way. The plan was to go get the best players and we were lucky to get the guys that we did."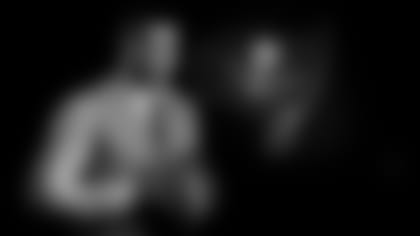 WR Mike Evans, the Bucs' first draft pick, is expected to make a big impact right away
The celebratory atmosphere that always descends on an (often-exhausted) NFL draft room after a team's final pick, as well as the unique nature of the Buccaneers' newest draft class, led to many jokes at the podium. General Manager Jason Licht began his first-ever draft wrap-up by cracking that Defensive Coordinator Leslie Frazier was missing, and that Smith had been told the draft was next weekend. What the Buccaneers have done to the NFL's 32nd-ranked offense in free agency and now the draft, however, is no joking matter.
The Buccaneers will have a new starter under center in Josh McCown, the free agency prize who shined last year in Chicago with a collection of big targets that now looks a lot like what his new team is putting together. The draft weekend also clarified the team's long-term outlook on Mike Glennon, who started 13 games as a rookie in 2013 and was called the Bucs' "quarterback of the future" by Smith on Thursday night. The Buccaneers did not make any attempt to pick up a new passer over the weekend, and are committed to riding McCown in 2014 and finding out what Glennon can be in the long term.
"I've said is that Josh McCown is our starter, which he is," said Smith. "Love Josh, and Josh is pretty excited – more so than, or as excited as, any fan as we have about the offensive group – but what I said was we like Mike Glennon and Mike has an excellent future in the league, and that's how it has played out."
Added Licht, who said other teams had called to express interest in Glennon: "We're very excited about Mike. Josh is excited about Mike. Josh, we talk about his leadership a lot. He really is like an extra coach and he's working to get Mike better and it's working. There's a lot of interest in Mike and we want to keep Mike, I guess I should just say. We want to continue to work with Mike and we're very excited about his future."
Whoever is slinging the football for the Buccaneers in the foreseeable future is going to like what he sees as he goes through his read progression. After the weekend's draft haul, the Buccaneers can now field a pair of receivers and a tight end in Evans, Seferian-Jenkins and Vincent Jackson who are all 6-5 and at least 230 pounds, and who all have elite pass-catching skills. The tight end corps suddenly looks like a strength with the second-round pick, the free agency addition of Brandon Myers and the still-intriguing talent of second-year man Tim Wright. The group in the receivers' room has those two trees at the forefront, the big-play possibilities of Herron interesting depth in the likes of Chris Owusu, Louis Murphy and Lavelle Hawkins.
The Buccaneers did not go into the draft with an apparent need at running back, given that backfield already includes three players who posted 100-yard rushing games last year: Doug Martin, Mike James and Bobby Rainey. Martin is the clear front-runner thanks to his amazing 1,926-yard season as a rookie in 2012, but Sims will definitely work into the mix with James and Rainey, and he is considered the best pass-catcher out of the group. It's possible other teams will call about an apparent RB surplus in Tampa, but the Bucs aren't trying to shop any of their ballcarriers.
"Our plan right now is to take them all to camp," said Licht. "Look at the history here, there's bound to be an injury. We're trying to see what's best for us. We don't want to just part ways with somebody who could be a valuable piece of our team."
The offensive line appeared solid at three of five spots before draft weekend, with free agent addition Anthony Collins taking over at left tackle and bookended by the underappreciated and underrated Demar Dotson at right tackle. Evan Dietrich-Smith, the former Packer who also came over during those head-spinning first few days of free agency, steps right in at center to replace Zuttah. The two guard spots could be just as ably manned if Carl Nicks puts his foot troubles in the rear view mirror and either Jamon Meredith or Oniel Cousins emerges as an above-average performer.
However, there are obviously still question marks on the interior of the line, so the Bucs were thrilled to have two of their targeted blockers make it to them in the fifth round on Saturday. The small problem of the Bucs only having one fifth-round pick, and a virtual certainty that both of those prospects were soon to hear their names called, prompted the only trade of the weekend by Licht and Smith. After grabbing Edwards at pick #143, the Buccaneers sent their seventh-round pick plus a fifth-round selection in 2015 to Buffalo to get their selection at #149. That was used on Pamphile, who impressed Buccaneers Offensive Line Coach George Warhop during pre-draft workouts. The Buccaneers had no fourth-round pick at their disposal and likely came into the weekend with a plan to use a surplus pick in next year's draft to pry a 2014 selection away from another team. Coincidentally, that extra fifth, which came from the Baltimore Ravens, was in the Bucs' hands because of the Zuttah trade, so his departure helped the Buccaneers fill his void in the long run.
Tampa Bay still has not taken an offensive linemen earlier that the third round since 2006, but the Buccaneers think they improved that unit on Saturday with their two fifth-round selections.
"We made a lot of changes on our offensive line in the offseason, so when you remove players you have to bring in players, so I felt good," said Smith of the two picks. "We had players in the first round, offensive line-wise, that we liked. Every round there was someone, you just had pluses and minuses on what way you went. But we felt like all the way up until the end of the draft there were good football players that we thought could come in and help our team, make our team. So after the first day, without addressing those offensive needs, there was a little bit of concern. My young grandson was a little concerned about the offensive line position just like you guys. But again, you had a plan, we were able to address it, and I just really feel like [when] you look in the league, they're not all first-round draft picks that end up playing on the offensive line throughout the league, and these are two players that have a chance to contribute for us."
The Buccaneers hope that all six of their 2014 draftees can contribute, and contribute quickly. No matter how many of those six end up making a significant impact this fall, Tampa Bay's offense is going to have a drastically different look from a year ago, and that has to be considered a good thing. While there were some promising pieces in place and some obvious bright spots in terms of holdover talent – Martin, Jackson, Glennon, Dotson – it remains true that the Bucs averaged just 277 yards and 18 points per game in 2013. Lovie Smith doesn't have to be the offensive-minded coach that this weekend's draft made him appear to be to know that's not good enough.
And so something new took place at One Buccaneer Place, an all-offense draft took shape, if not by intention than by need meeting value. The Buccaneers stuck to their board, relied on the depth of a loaded draft class and hit one target after another. Those targets just all happened to be on the same side of the line of scrimmage.
"You know, once you prepare and the preparation has been good and you go over all the scenarios that can happen, things normally work out about how you pictured it, and that was our case," said Smith. "Yeah, [we have] a new GM, but again, I've spent more time with Jason than I have my wife MaryAnne, so we've gotten a chance to know each other fairly well. And of course, our ownership group was just very supportive. They're with us as we were making decisions and it went smoothly, but I expected that."