STORY HIGHLIGHTS
The Bucs are seen as unlikely to use their franchise tag on any pending free agents in 2014
Tampa Bay has utilized the franchise tag three times since 1999, and problems followed each time
The tag was most recently placed on K Connor Barth, who will attempt to come back strong from last year's injury in 2014

Monday marked the beginning of a two-week period during which each NFL team could elect to place a franchise tag on one of its pending unrestricted free agents.  Not surprisingly, this failed to elicit a press release from the Tampa Bay Buccaneers' front office.
As posited by NFL.com's Gregg Rosenthal, the Buccaneers are unlikely to utilize that tag in 2014.  Last year, the team's management at the time felt compelled to specifically say they would not be naming a franchise player; this year, it's just common sense.  There are 19 players from the team's 2013 roster who are set to become unrestricted free agents on March 11, but it doesn't appear as if any pose the sort of tough decision that prompts a team to use its franchise tag.  The Bucs will almost certainly try to re-sign some of those 19 players, but they likely will not be contemplating the level of compensation that the franchise tag implies.
That's good news, actually.
The franchise tag was born in 1993 with the first collective bargaining agreement, which kicked off the modern era of NFL free agency.  A free agency system was coming, one way or another, but team owners managed to get the concept of franchise (and the more rarely used "transition") tags worked into the CBA framework.  As the name implies, it was originally seen as a way for a club to try to retain signature players (and compensate them accordingly) even as team-to-team movement became the norm.
It didn't really work out that way.  It's mostly coincidental if a franchise tag ends up on what one would consider a team's "franchise player."  Rather, it is used on whomever among a team's list of pending free agent happens to make sense to keep under the one-year salary demanded by the franchise-tag formula.
This is even more true in 2014 than it was in 1993, because in the original system the franchise tag would remain connected to the player to which it was issued throughout the duration of the contract he received that offseason.  If a team used the franchise tag to keep a player off the open market, then subsequently signed that player to a five-year deal in the same offseason, the tag was unavailable to the team for the next five years, whether or not the player was still around for the duration of the deal.  That's no longer true in the current situation, so any use of the franchise tag is a one-year commitment, whether the player signs the tender and plays out that year or signs a longer-term deal before the season begins.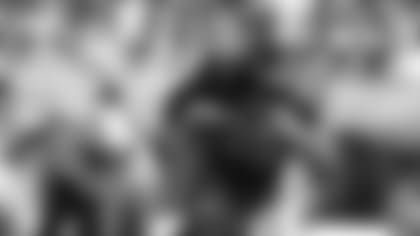 WR Antonio Bryant got the Bucs' franchise tag after a big 2008 season but was limted by injury to 39 catches in 2009
Three examples from Buccaneer history drive this home, and also explain why the lack of an apparent target for the franchise tag is a good thing for the team in 2014, if only because those previous efforts fail to bring back good memories.
During the 1999 offseason, the Buccaneers elected to use their franchise tag on defensive end/defensive tackle Chidi Ahanotu, who was definitely an accomplished player.  Was he Tampa Bay's "franchise player?"  Well, you decide; that 1999 roster also included Derrick Brooks, Warren Sapp, Ronde Barber, John Lynch, Mike Alstott, Paul Gruber, Warrick Dunn, Donnie Abraham, Tony Mayberry, Hardy Nickerson and Shelton Quarles.
(Unrelated aside: No wonder that team made was just minutes away from making the Super Bowl before a stunning catch by that thorn in the Bucs' side, Ricky Proehl.)
Again, Ahanotu was a very valuable member of that team.  He started all year at defensive end and pitched in with 63 tackles and 6.5 sacks, second on the team to Sapp's 12.5.  The problem was what came after.  Ahanotu was a starter again in 2000 and had 3.5 sacks, but he was a St. Louis Ram by 2001.  (He did return briefly to the Buccaneers in 2004 during his final year in the NFL, playing in eight more games with five starts.)  From 2001-03, the Buccaneers had neither Ahanotu nor the franchise tag at their disposal.
What followed were a number of offseasons like the current one, in which there was no obvious candidate for a franchise tag.  This wasn't particularly unusual; only about five to eight teams utilized the option every year in that span.  The Bucs finally went back to the franchise-tag well in 2009 and…well, it didn't go much better.
In 2008, the Buccaneers signed wide receiver Antonio Bryant, who could reasonably be described as "star-crossed."  A former second-round pick, he had bounced between Dallas, Cleveland and San Francisco and had some strong seasons as well as some injury problems.  He hadn't played in the NFL in 2007.  He found his game with the Buccaneers in '08, however, and produced a career-best line of 83 catches for 1,248 yards and seven touchdowns.  It was one of the best seasons ever put together by a Tampa Bay receiver, and it included a number of acrobatic, highlight-reel catches.  It also set up Bryant for a potential comeback payday, since he had only signed a one-year deal with the Buccaneers originally.
Tampa Bay chose to keep him around with the franchise tag, absorbing a pretty significant one-year hit to the cap but expecting a similar statistical reward.  That failed to happen; a knee injury limited Bryant to just 39 catches in 2009, and that was the end of his NFL career.
The next time the Bucs utilized their franchise tag was three years later, during the Great Tag Rush of 2012.  A whopping 21 teams – essentially two-thirds of the league – made use of the option that year, a big jump from what had been a record 13 tags the year before.  That number was spiked by six specialists – one punter and five kickers – which set the message boards on fire.  A kicker as a team's "franchise player?"  Seriously?  In reality, it was simple economics.  A team trying to work out a new multi-year deal with a successful kicker could use the franchise tag to keep him off the market, and if no deal was struck, the one-year tag hit wasn't prohibitive.  Kickers and punters had the lowest franchise tag tender offer in 2012, at roughly $2.8 million.
The Bucs were one of those six teams, placing the tag on Connor Barth, who had spent the previous two years stabilizing what had been a shaky kicking situation in Tampa.  Barth arrived midway through 2009, after the team had already tried and moved on from Mike Nugent and Shane Andrus, and he finished the year strong.  That earned him the job in 2010, and over the next two years he would make 49 of 56 tries, emerging as the most accurate kicker in franchise history.  After the Bucs tagged Barth, they managed to work out a new long-term deal and he promptly had another strong season in 2012, making 28 of 33 tries.  Win-win, right?
Maybe.  The rest of the story has yet to be written, but Barth's original deal had to be reworked when he tore an Achilles tendon playing in a charity basketball game about a week before the start of training camp last summer.  Rian Lindell ended up handling the Bucs' kicking duties in 2013 while Barth recovered from his injury and subsequent surgery.  There is every reason to believe that Barth will come back strong in 2014 and reclaim his job, but this is certainly not the overall narrative Barth or the Bucs were expecting when they used the franchise tag in 2012 to create an opportunity for a long-term contract negotiation.
Some offseason down the road, the Buccaneers will be compelled to use their franchise tag option once again, and hopefully the results will be more positive and long-lasting than their previous efforts.  In 2014, however, it looks like the team will be able to sidestep that issue completely for at least one more year.