STORY HIGHLIGHTS
The Buccaneers' uniform and logo updates also include a more dramatic ship icon
The new Tampa Bay ship logo has a more three-dimensional and defined look, as well as red sails
The Bucs unveiled their new helmet on Thursday night and will reveal the rest of hte re-designed uniform on March 5

The ship has always been at the center of buccaneer lore. That's true, too, of the Tampa Bay Buccaneers, who play their home games in the shadow of one of the most recognizable stadium features in the world: the Pirate Ship in the north end zone of Raymond James Stadium.
Since the launch of their new red-and-pewter uniforms in 1997, the Buccaneers have also paid homage to the pirate ship on their uniforms, sporting a ship logo on both jersey sleeves. That tradition will continue in 2014, even as the team adopts a modernized and more intimidating look.
On Friday, the Buccaneers revealed their enhanced logo and new helmet, the precursor to the unveiling of a full uniform re-design on March 5. While Tampa Bay's signature red flag got a new look, so too did their additional marks, including the iconic pirate ship. The enhanced ship logo was displayed on NFL Network on Thursday night when Gerald McCoy and Warren Sapp introduced the team's new helmet; as with all the updates unveiled so far, the differences are striking.
The enhanced pirate ship logo is a dynamic image with a more three-dimensional look, appearing to cut through the water as it heads to battle. The updated mark is also much more clearly defined from stern to bow, replacing the simple, stylized hull of the previous ship.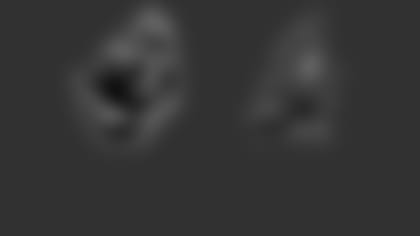 The enhanced Buccaneer ship logo gives the impression of the vessel cutting swiftly through the water
In addition, where here the previous mark was predominantly black, the updated ship features all red sails and flags, more in keeping with the team's primary logo and with the buccaneer tradition of the joli rouge, or jolly roger.
Tampa Bay's newly enhanced flag logo is emblazoned on the lead sail, and it stands out crisply against its red backdrop. The waves hitting the bow of the ship create the impression of a vessel at top speed, and it's fitting that the Buccaneer flag is leading it into battle.
The Buccaneers dramatic new ship logo will remain a part of the team's uniforms in 2014 and beyond. To find out how it is featured in the new ensemble, watch the full uniform unveiling on Buccaneers.com on March 5.