STORY HIGHLIGHTS
DE Da'Quan Bowers feels better heading into this year's training camp than he has since entering the NFL
DT Gerald McCoy thinks some people are going to be surprised by how good QB Josh McCown is for the Buccaneers
TE Austin Seferian-Jenkins says he's 100% ready for the start of training camp

The Tampa Bay Buccaneers reported to training camp on Thursday morning, and defensive tackle Gerald McCoy knows that the next three weeks will go a long way towards confirming whether or not the pervasive optimism surrounding his team is warranted.
"Everybody has all these expectations for us," said McCoy. "We've got high expectations for ourselves. We have, quote unquote, potential. Potential will get you cut. We have to go out there and put the work in and just get the job done. There's not a whole lot of talking you have to do."
Of the 89 players who walked through the northeast doors of One Buccaneer Place between 6:00-8:00 a.m. on Thursday, perhaps none feels the weight of McCoy's sentiment more than fourth-year defensive end Da'Quan Bowers. McCoy meant his comments to apply to the team as a whole, not any specific players, but Bowers is definitely one 2014 Buccaneer who is sitting on unrealized potential.
McCoy has delivered on his own first-round potential, earning first-team Associated Press All-Pro honors last year. Now Bowers, who was a second-round pick in 2011 and once considered a possible first-overall selection, wants to do the same. He comes into this year's camp – not incidentally under the guidance of new team management – planning to prove he can be an impact player after three uninspiring seasons.
"I owe it to this organization, I owe it to this team," said Bowers. "I've been here long enough and haven't really been that player that I know I can be. I think it's about time that I really put forth the extra [effort] and be that player I know I'm capable of being."
The time might just be right for Bowers. He certainly hasn't had the easiest NFL road, beginning with the knee issue early in 2011 that clouded his draft evaluation and allowed Tampa Bay to snag the unanimous first-team All-American out of Clemson with the 51st overall pick. He worked hard enough to be on the field for the Buccaneers' opening day in 2011 and to eventually play in 16 games with six starts as a rookie. It was a promising start, considering what he had overcome, but he was then derailed again in the spring of 2012 with a torn Achilles tendon. Bowers made it back from that injury by late October and was able to contribute 3.0 sacks in 10 games. Expected to take another step forward in 2013, Bowers instead had limited impact, with seven tackles and one sack in 13 games.
With Lovie Smith taking over as head coach in 2014 – and, as it turns out, installing a defense that reminds Bowers of the one he excelled in at Clemson – the fourth-year end has a chance for a fresh start. He thinks it has gone well so far, though it is obviously hard to judge defensive linemen before the pads go on.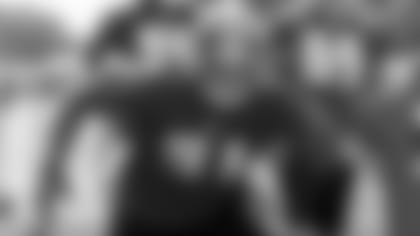 DE Da'Quan Bowers understands that he has to prove himself this season and looks forward to the opportunity
"I think this has been my most consistent offseason since I've been a part of this organization," said Bowers. "I'm excited, excited for a new staff, excited to actually be able to put pads on somebody. I'm excited for a new year.
"I think this is probably the best I've felt coming into camp over the last couple years. Like I said, it's been a consistent offseason for me. I've put in the work, I'm just ready to finally reap the benefits."
Bowers plan to prove himself wasn't the only topic being discussed as the players reported to camp on Thursday. Below are some additional thoughts from Bowers, McCoy, quarterback Josh McCown and tight end Austin Seferian-Jenkins.
On what it's like to report to camp again:
"It's the same. It's a fun time of year, going to camp. It's always the same feeling. You get butterflies, nerves and anxiousness, just getting started. But for me, in my 13th year, it's humbling to still be able to come do this. So I'm very thankful for the opportunity. It's really cool."
On reporting as the starting quarterback for the first time in years:
"Again, very humbling, especially at this stage. But I'm excited because you know where you stand going into camp. So it is definitely a little bit of a departure from different years. But I'm excited about it. I'm looking forward to it. It's going to be fun."
On how this team compares to the others he's gone to camp with:
"It's right up there at the top, just because of everything that we've done through the offseason, and where the focus is, where we're headed. I feel like we learned a lot about ourselves through the spring and what it's going to take for us to be a good football team, to win football games. That's the key. Now we can come in and hone that. So it's exciting when you think about that, because sometimes you come to camp and you're still figuring things out. I feel like we've got a little bit more of a narrow focus now after we've evaluated things in the spring. We've got a good idea where we're headed."
On how to keep the wraps on the offense in front of open practices:
"Yeah, I don't know. We'll see what the coaches have in store."
On what excites him the most about this team:
"Just the guys, just the type of guys that are in our locker room, high-character guys, and then the kinds of leaders that we have. Whether it's Lavonte [David] or Gerald [McCoy] or Mason Foster, we've got guys on both sides of the ball that are good players and good people, and they lead. When you can come into those kinds of environments, when you have that environment in your locker room, you feel like…because adversity's coming. You're going to face some bumps in the road and things like that, so you want to know that you have guys in your locker room that can stay the ship and be the calm voice. I feel like we have a number of those guys, so that excites me the most."
On his sense of the public mood about the team:
"I'm getting a better sense of it. My family and I, we got here about six days ago and we've kind of been around. You see people around and you hear their words and you kind of get the idea that they want a winner, like every NFL city. I guess, for me, I didn't realize, here in Tampa, how passionate they were about it. So it's neat to see, and it sticks in the back of your mind. It definitely drives you. You want to deliver that for people, because you know how much the fans enjoy the game."
On if he has any bold predictions:
"No bold predictions. We're just going to go out and play good football and see where that leads us. But I believe if we do the things we're asked to do, what the coaches have laid out, I think we'll look up at the end of the year and find ourselves in a favorable position. So that's all we can do right now."
On how quickly he can get in sync with Mike Evans and Austin Seferian-Jenkins:
"Well, it's got to come fast. We need those guys. I've seen a little bit, just from the time we left until now, that they're willing to put the work in. So we'll get that done in camp. That's the thing about camp, that you've got so much time together that you feel like you can really put in some work that can pay dividends. So I think so. We need those guys to come along and help us."
On the optimism of the team:
"It's at a hundred, for everybody. Every NFL team feels this way right now. That's what I mean when I say that what excites me about our guys is that optimism is everywhere right now but adversity is coming. It just does. It does for every team in the league every year, and it's how you handle that that really is the measure of our team. That's what I feel like about the guys in our locker room; we have guys that can handle those bumps and really stick together, and that's the key. So we're optimistic right now. We know things we'll happen but it's who we are and how we handle it that's going to make a difference. But right now, when it's new, you have to capitalize on that and let that energy build you as you put in some long hours trying to get better."
On what excites him about this training camp:
"It's a scheme that I'm familiar with. It's similar to the scheme that I ran in college. I love the coaching staff. Joe Cullen, our defensive line coach, has been great. He's worked extensively with me one-on-one. I'm just ready for a new beginning and a new staff."
On bold predictions for the team:
"I don't know, but I think we're going to be a lot better than we were last year. I'm looking forward to it. The players are working hard, the coaches are working extremely hard and we're just ready to put it all together."
On if the bathrobe he walked up to camp in is comfortable:
"Yeah, it's comfy. This is going to be my home for the next month or so, so I might as well get comfortable."
On reporting to camp just a couple weeks after the birth of his twins:
"It's definitely hard, but I will be getting some sleep now."
On his favorite thing about training camp:
"Just getting better, growing as a team. Training camp is extremely hard. I don't care what coach you have, what team you have, training camp is not easy. But when you can come together with your brothers and you see your brother out there grinding, it makes you want to play that much harder for them on Sunday."
On if there's something different about this camp besides the new coaches:
"This group has grown really close in a short period of time. So it's going to be exciting to see [what] the little bit of work that you did get in and how it plays out once we put the pads on. I'm excited to see that."
On the defense going back to its Buccaneer roots:
"Yeah, it is exciting. This is the defense I grew up watching, and I always said to myself, 'Man, it seems like they're having a lot of fun.' Now I get an opportunity to experience it myself and I'm excited."
On if it's true that he was at One Buccaneer Place running just a day or so after his twins were born:
"Not a day or so – the following day. In the rain."
On that level of commitment:
"Just because you have kids, new babies, life still goes on. I've still got a career, and I definitely have motivation. I've got two twins at home, so I've got to work that much harder to provide for them."
On what he's most excited about seeing come together in training camp:
"You know, I'm really excited to see what happens with our offense. They have so many dynamic players on that side of the ball. I'm excited to see how our O-Line comes together. I don't know how much people really know how good Josh McCown is. I think a lot of people are about to see how good he is."
TE Austin Seferian-Jenkins
On how excited he is to finally work with the offense:
"I'm really excited. I haven't been here that much this offense, but I'm finally here and that's what counts. It's time to get to work with everybody else."
On if he likes the talent around him on offense:
"Yeah, there's a lot of good guys. You've got Vincent Jackson, you've got Mike Evans, you've got Tim Wright, you've got myself and a lot of other tight ends in the tight ends room that can do a lot of good things, along with some other receivers. We've got a lot of good guys and I'm excited to get to work."
On if he's been working on anything in particular:
"I've been trying to work on everything. I haven't been at this level before but I'm assuming everyone's really, really good. So I've been trying to improve my game in any way possible. It's going to be a process and every single day I've got to find something that I can get better at."
On if he feels like this is his first day:
"Not really. I got here on Friday. I was coming from Seattle. So that was the first day for me."
On looking forward to putting on pads and hitting:
"I'm just looking forward to getting out here, really, running around. We've got a conditioning test coming up, so I'm looking forward to that first and we'll go from there."
On if he's confident about the conditioning test:
"Yeah, yeah I am confident."
On what the test is:
"I don't know, I've been trying to figure it out for the last couple weeks. I'm sure it's a lot of running."
On if he worked with Josh McCown during the break:
"I got to throw with Josh a few days and we worked on routes. Obviously there wasn't a 'D' that we could go against – it was 'on air' – but we got a little bit of our chemistry down, a little timing down."
On his health:
"I'm good. I'm 100 percent."
On if he's behind in the playbook:
"I didn't get the same amount as those guys physically, but mentally I might have gotten a different amount of reps because I've been watching it a lot. It all depends. When we get out there we'll see how far behind I am or how right up to speed I am."
On how imaginative he thinks the offense will be under Jeff Tedford:
"If you watched him at Cal he did a lot of different things. I think that's a good question you should ask Coach Tedford."
On the Bucs' tight end depth with him, Brandon Myers and Tim Wright:
"Absolutely, and don't forget about Luke Stocker. I've watched these guys, so it's cool to be in that room and learn from them. It's a competition, as everyone knows. Every single training camp is a competition. They're good guys. We're all trying to get better. They want the best for the team and that's to have the best player play. Whoever that may be, after training camp we'll figure that out. But it's a group and we're teammates. We're working together so we can be better and win more games."