Lovie Smith, the Tampa Bay Buccaneers' head coach since January 2, was on the job for less than a month when he decided to put in a call to Jeff Demps, a reserve running back who had appeared in all of two NFL games. Demps wasn't necessarily the most important player Smith was inheriting on the Bucs' roster, but he was definitely one of the most intriguing. An Olympic-level sprinter who won a silver medal in London in 2012, Demps had juggled the two sports since leaving the University of Florida that same year.
Demps became a Buccaneer in a draft-weekend trade a year ago and joined the team in September after finishing up some track commitments. This spring, he's been a fixture at One Buccaneer Place, and that apparently is not going to change.
"[I] wanted to talk to him about where his commitment was," said Smith about his early phone call. "Do you want to win another Olympic medal or do you want to be a good football player? And he let me know he was totally committed to being the best football player he can be. He's been here every day and I saw a lot good things from him."
Demps is a football player of indeterminate position. He may end up as a running back or a slot receiver or a kick returner. Now that his full focus is on the gridiron, Demps will have a chance to prove he can be an asset to the Bucs' offense.
"He is definitely the fastest guy in the NFL and you see that quickness," said Smith. "We have to find a way to use that speed. He has good hands even though he dropped the long one yesterday; I've been talking to him about that ever since. There are some things you can do with a guy like that, whether it be with returns or [other things]. It's on us now to find some ways to use him."
Smith discussed a variety of topics, in addition to Demps' future, after the Bucs' final mini-camp practice on Thursday: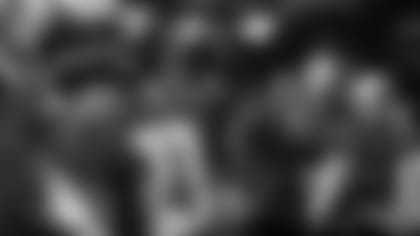 Head Coach Lovie Smith has liked what he's seen during the Bucs' first three days of organized practices
(Opening Statement)
"We started the minicamp with a few goals in mind. One of the goals of course was for us as a staff to get to see our team and work with them, I said it the other day you see them on video, but to see how the guys work, how they respond, it's 80-plus temperatures around here right now, so it's good to see how the guys work. Another one of the reasons you have the camp is for the players too. To see how we coach the drills and the tempo of practice, it's a time for the players. There are only so many positions we have available, they know that, they don't know how many numbers, how many guys we're going to keep at every position. It's a chance for them to see their competition and we're open, we want people to show us what they can do and we had guys that made plays throughout. There was definitely improvement from day one until today. Our players are showing up every day, they have a little break now and we'll get back and we'll start the second phase where the coaches can go out on the football field with the players next week except for you can't go against each other offense [versus] defense. Like I said, a good start for us, we have a long ways to go, believe me we're not ready for Carolina yet, but we have a little bit more time, but we're closer to getting ready."
(On defensive end Da'Quan Bowers)
"As far as my thoughts, I remember him a little bit from college and a little bit from last year, but I'm 55 now and it's hard for me to remember an awful lot. Guys have to get out on the football field now. I know he's here, right now he's injured, he can't go, but he's been alert, he's learning the system. Eventually we'll get him out there. I know the rehab is going well. Seriously, he's a good football player, but he needs to prove it right now. He'll get an opportunity, a player like that should be able to excel in a defense like ours."
(On what is Bowers' injury)
"I can't, again at 55 it's hard for me to remember all of the injuries. I just know he's not out there right now and he's getting better."
(On cornerback Mike Jenkins)
"We brought Mike in here – I've known about Mike, I remembered when he worked out at USF. Good player, local guy and even last year as I was out, I watched him a little bit. Knew he was a guy with a year left and he had an opportunity to go wherever he wanted to, so we recruited him hard to come here, but everything you're looking for in a good corner he has. He has a Pro Bowl on record. I think he had six or seven interceptions in one year. He has good hands, good quickness, he'll tackle, a lot of things to work with, but for him as I told him, it's time for him to settle down and what better place to settle than at home? But good camp, good start for him and we're anxious to take this next step with him."
(On the tight ends position group)
"I don't think anybody can distinguish themselves running around in their underwear. You just can't do that. We had a chance to see some of the ability and we knew that. Bringing in Brandon Myers, we knew what type of guy he was and what he's done in a league, in Tim Wright what type of athlete he is, it's good to get [Luke] Stocker back out on the football field, [Tom] Crabtree and [Steve] Maneri. We have all those guys on video, but it's hard to kind of tell with tight ends. We want to be able to see them once we get in pads and see what they can do then."
(On his thoughts about the schedule)
"I like starting off – it's about the division and we get a chance to see exactly where we are. In order to be a champion, you have to beat the champ. We get a chance to play them right away at home, that's important. There's a time when it was really hard to play here at Raymond James Stadium and one of the goals that of course we'll always have is win all of our home games. There's a lot to get fired up about, we've already started our clock in the locker room, the countdown to that game. So that part is good and of course following up with another home game against the Rams, a good football team that played well last year. And to finish up with two games at home, we plan on being in it, so to finish up, it's about how you finish as much as anything. To have two home games to finish up our season, but we knew who our opponents were and when we played wasn't that big of a deal."
(On the heat playing a factor in early September)
"If I was a team coming in here, if I was Carolina, I'd be really concerned about that heat down here. They say it really gets hot. When I was in Chicago, I talked about the cold always and late it was pretty cold. Down here that heat is tough, cramp up, there's a lot of things that happen and we want them to think that way."
(On if the bye week comes at the right time)
"Yes, bye week also that's where I think most teams would say that. You want it about halfway through, which is good. All teams of course will play a Thursday night game; we can get on our routine. Not having primetime games right now except for that one, one o'clock games, we can get used to that, get on our routine. We know who we're playing now, when and that's all we need."
(On how this minicamp will help with the draft)
"Well I just think we know a little bit more, it gave us more information. As we prepare for the draft, we want to get as much information as possible. This is a part of the equation too for us now. Most of the time you don't really get a chance to really go through football before you have the draft. We feel like we're further along and further ahead. Even though you can't see everything we have a little bit of that idea in some of the areas we need to address."
(On the camaraderie that the team has developed)
"It is a team and we're trying to get this team as good as we possibly can to get ready to compete against someone else. A part of that is just working together on both sides of the ball and for offseason work you're not in pads so the camp is set up to avoid a lot of that type contact. Yeah I want the DBs talking; I want [wide receiver] Vincent Jackson talking to [cornerback] Alterraun Verner about what he sees and both of them sharing notes as much as anything. I want [quarterback] Josh McCown talking to the linebackers and [center] Evan Dietrich-Smith letting the guys know if they're giving things away. That's what we're doing and of course the coaches the same thing. Just comparing as much information as we possibly can to get us a little bit better."
(On using the headsets this early in the offseason)
"You're paying close attention to our practices, I can see that. It's a part of – really if you look at it you should probably do that more. You're trying to simulate what happens during the game and that's a part of the communication in letting the players hear and that's both sides of the ball. Of course offensively we're doing that, we're also doing it with our defense, and linebackers are just getting used to hearing those calls coming in. Again simulating as many game type situations as you possibly can."
(On wide receiver Chris Owusu)
"He has good size, excellent speed and I've been impressed with how he has caught the football. Again I don't know a lot nor had any preconceived notions about the players, but he's a guy that you do notice. I did see on his chart before we went on the field a 4.36 [40-yard dash] will get your attention a little bit. He's running good routes, he's caught the ball well and he's done some good things. There's an opportunity, if I'm a receiver I would be just really doing everything I could to show the coaches exactly what I have. This is a great chance to do that."
(On fullback Jorvorskie Lane and the importance of having a fullback block)
"We've seen him, and it's just not that – you have to be able to do more if you're at the fullback position. Fullbacks are kind of being pushed out of the league a little bit. But if you are a fullback, you need to be able to block, for one thing. Like all receivers want to catch the ball, all running backs want to run the ball, but someone has to be able to block and be a lead blocker. He has the size, as you mentioned, to do that, but he has excellent feet too, as a runner. Go back to his college days. For a big guy, he can move and can carry the ball. He gives us a little bit of flexibility. I like what all three of our fullbacks did this camp.
(On having defensive players pick up incomplete passes)
"I just don't think you get takeaways by chance, that they just happen. No, it's got to be a mindset. As you watch our practices, we treat an incomplete pass like it's a fumble, so we're getting something out of that. I want defense to constantly be thinking about the ball, picking it up and running with it. That should be just a stable [thing] – the story should be if you don't see us doing that in practice. Then we aren't doing our job."
(On the strongside linebacker and if it is important in this defense)
"Shelton Quarles would be pretty disappointed in that statement you just made right there. Jeff Gooch would be pretty disappointed. Pisa Tinoisamoa, who I had in St. Louis and Chicago and Nick Roach would be pretty disappointed in that statement. Both outside linebackers, they are mirrored in a way. We are looking for the same type of athlete. That position now, with so many three wide receiver sets, he comes off the field. He's only playing about 50 percent of the time, but when he is out there, we ask a lot. We'll have him covering over wide receivers in some of our zone coverages, we will ask him to rush. You can still do an awful lot. Jonathan Casillas would definitely say 'Hey, we have a great player there that can do a lot of different things,' but hopefully we will get some better play out of that position."
(On the connection between quarterbacks and receivers)
"Not many were on the ground, we have been [airing it out], plus just the tempo of guys not getting tired and continuing to run. Our tempo has been pretty good. Again, our glass half-full, we wanted to see something like that. This is a good start, couldn't have drawn up the start any better. To play receiver, in general, there's a lot that you have to do. Telling you a little bit about the shape our players came in, ready not only to run forever and run a lot, but the mental preparation and all that."
(On if the mike linebacker will be the one to make the calls in the defense)
"I'm pretty impressed with how much you guys know what's going on. That's not a knock on you, of course, but these are some things that it's hard to pick up some times. Our mike linebacker will make our calls. As a general rule, I think if you're the mike linebacker, they need to see you out front most of the time, all the time. [Former Buccaneers linebacker and current linebackers coach] Hardy Nickerson would look at you a little differently than I'm looking at you if you ask if the mike linebacker is going to make the call. He should do that, just like the quarterback should make the call on the offensive side of the ball. With three receiver sets sometimes now, [linebacker] Lavonte [David] might do it, we don't know exactly who our other two linebackers will be when we only put two linebackers on the field in nickel situations. Maybe not then, but as a general rule, yes, the mike linebacker should be making the call."
(On if that frees up Lavonte David)
"I think all guys would just say they want to be able to play. When you're the guy, sometimes you have to take on a little bit more responsibility. If we put that on Lavonte, he can handle it. All three linebackers should be coaches on the field and they should be comfortable in that role. Again, it's just normally the mike linebacker that does it."