The Tampa Bay Buccaneers announced today a partnership with Frontier Communications, making it the team's official residential television and internet provider. As part of the multi-year agreement, the Buccaneers and Frontier will work together to engage fans through integrated marketing initiatives including product and services sweepstakes, Buccaneers-themed street team activations, product demonstrations and unique fan-focused contests.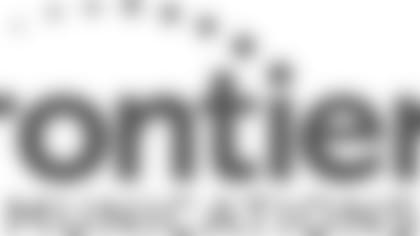 "I am pleased to welcome Frontier as our newest Pewter Partner. FiOS is already the best home entertainment choice available in our market and Frontier's advanced use of mobile technology will separate them even further from the competition. We look forward to partnering with Frontier as they continue to grow and improve the television and streaming experience through innovation," said Buccaneers Co-Chairman Bryan Glazer.
Along with FiOS TV and Internet services, Frontier will introduce fans to the TV Everywhere mobile app that allows fans with FiOS TV service to stream their favorite shows or games anywhere, anytime on a computer, tablet or mobile device.  The app also makes it easy to manage customer accounts on-the-go, choose billing preferences and chat with a Frontier representative.  Frontier will staff a hands-on booth at Raymond James Stadium on game day to share more with fans about the TV Everywhere mobile app and everything else Frontier has to offer.
"We are thrilled to be the official TV and internet provider of the Tampa Bay Buccaneers. Combining FiOS from Frontier with the Bucs creates the perfect combination of speed, reliability and performance," said Frontier Florida Senior Vice-President and General Manager Melanie Williams.
Frontier, an S&P 500 company that operates in 29 states, is new to the Tampa market and provides FiOS services in the Tampa Bay region over its all-fiber network, available to over 1.3 million premises in parts of Hillsborough, Pinellas, Manatee, Sarasota, Pasco and Polk counties. The company offers a variety of services to customers over its fiber-optic and copper networks, including video, high-speed internet, advanced voice and Frontier Secure digital protection solutions.  With FiOS by Frontier, Buccaneers fans can expect internet upload speeds as fast as download speeds, unmatched gaming, streaming and sharing and an all-digital TV picture quality and sound that brings the action on the field into your living room.
FiOS from Frontier customers can choose to enjoy the Internet at speeds many times higher than the national average. Customers have the option of five speed tiers from which to choose, starting at 50/50 Mbps, and up to 500/500 Mbps¹, with all but the 500 Mbps service available in either a bundle or as a standalone service.
1 Speeds not available in all areasAbout Frontier Communications
Frontier Communications Corporation, now a Fortune 500 and S&P 500 company, is a leader in providing communications services to urban, suburban and rural communities in 29 states. Frontier offers a variety of services to residential customers over its fiber-optic and copper networks, including video, high-speed internet, advanced voice and Frontier Secure digital protection solutions. Frontier Business Edge offers communications solutions to small, medium and enterprise businesses. Frontier's approximately 29,000 employees are based entirely in the United States. More information about Frontier is available at www.frontier.com.