STORY HIGHLIGHTS
In addition to the #1 overall pick, the Bucs are also due to pick 34th and 65th in the 2014 NFL Draft
A backfield of James Wilder and Mike Alstott is a good start on offense for a team made up of second and third-round picks
The same team would also be strong in the secondary with Ronde Barber and John Lynch leading the way

The Tampa Bay Buccaneers own the first pick in the 2015 NFL Draft. That is, undeniably, a massively important asset, and what is done with it will help chart the team's course for the foreseeable future. Between now and the end of April, Tampa Bay's plans for that pick will be scrutinized, debated and predicted in every way imaginable.
Barring a trade, the Buccaneers will have made that pick in the first 10 minutes of the opening round on the evening of April 30, but their draft will be far from over at that point. Tampa Bay also controls pick #34 – the second slot in the second round – and pick #65 to open the third round. Both of those picks (again barring trades), will be made on the evening of May 1. You won't hear too much about #34 and #65 in the next few months, simply because the focus will be on #1, but those two selections could end up being incredibly important, as well.
No, NFL teams are not built on first-round picks alone, and star players come from every round and even from the ranks of those who go undrafted. One must assume, however, a better chance of hitting on a difference-maker in the earlier picks, and #34 and #65 are definitely early. Buccaneer history is replete with second and third-round picks who became franchise pillars (one may even find his way into the Hall of Fame soon).
That's what we'll be examining today: second and third-round picks who made it big for the Buccaneers. In recent league history, those are known as "second-day picks," because the second and third rounds have been conducted in the middle of a three-day draft. Therefore, we present to you the Buccaneers' "All Second-Day Team."
Can we fill out an entire lineup of 22 starters, plus a few extras, with only second and third-round picks? You bet! Some positions are stronger than others, as we'll discuss below, but in general this is a squad that any Buccaneer fan would be happy to take into battle.
TAMPA BAY BUCCANEERS ALL SECOND-DAY TEAM
We've chosen the 22 traditional starters (using a 4-3 base alignment on defense), plus a third receiver, a nickel back, a punter, a kicker, a kick returner and a designated special teams ace. We didn't worry about right or left cornerbacks, defensive ends, tackles or guards, or about strongside and weakside linebackers. We did make a point of having a fullback as our second back (and, yeah, the fact that Mike Alstott was a second-round pick probably influenced that choice).
Charley Hannah (3rd, 1977)
Dewayne White (2nd, 2003)
Cosey Coleman (2nd, 2000)
Lavonte David (2nd, 2012)
Donnie Abraham (3rd, 1996)
Courtney Hawkins (2nd, 1992)
Ricky Reynolds (2nd, 1987)
Martin Gramatica (3rd, 1999)
Jacquez Green (2nd, 1998)
And now, the breakdown. Let's examine this team's strengths and weaknesses.
The Back Seven on Defense. This team could run linebackers and defensive backs at you for days. Potential Hall-of-Famers Ronde Barber and John Lynch lead the way, but that's just the beginning. The outside linebacker duo of Lavonte David and Winston Moss is perhaps the strongest spot on the entire team, apologies to the cornerbacks. Naming a nickel back allowed us to shoehorn Ricky Reynolds onto the team, but we did so at the expense of Brian Kelly, who would make this team ridiculously deep on the corners. And while it's probably too early to put Johnthan Banks in that mix, he's a second-round pick who could end up doing big things for the Bucs, as evidenced by his breakout four-interception campaign in 2014. Meanwhile, while Moss and David are the clear choices at OLB, they could be backed up by a bunch of very competent performers, including Scot Brantley, Kevin Murphy, Keith Browner and Ervin Randle.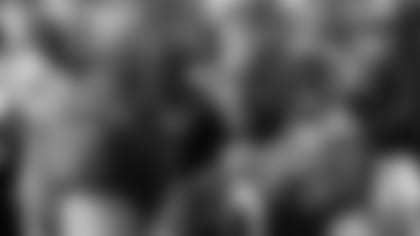 FB Mike Alstott (40) and CB Ronde Barber (20) are two of the best "second-day picks" in team history
Running Back. If we're strictly going with a RB-FB duo, there's no way we can go in any other direction besides James Wilder-Mike Alstott. Wilder is the Buccaneers' all-time leader in both rushing yards and receptions, and Alstott is far and away the franchise standard-bearer in touchdowns. Those were the two easiest picks on offense. However, if we have any kind of injury issue in the backfield, we have plenty of serviceable second and third-round backs to fill in. In the early days, there was Jimmy DuBose, Jerry Eckwood and a bunch of guys named Davis. In the late '80s and early '90s, we saw such options arrive as Lars Tate, Reggie Cobb and Errict Rhett. If we need help at fullback, Wilder or Eckwood could step in and we'd still have plenty of people available to carry the ball.
Interior O-Line. Our center, Randy "Bubba" Grimes played for 10 years in Tampa and started 104 games. We're set there. (Pro Bowler Tony Mayberry just misses out; he was a fourth-round pick.) Greg Roberts may be one of the more underrated players in team history, in part because his tenure was relatively short, but he made a huge impact as a rookie in the running game in 1979. None other than playoff quarterback Doug Williams endorsed Roberts as one of the best interior linemen in team history. On the other side, you could do a lot worse than Cosey Coleman or Frank Middleton. We gave the nod to Coleman over Middleton simply because Coleman started in the Super Bowl after the 2002 season, while Middleton was actually starting for the opposing Oakland Raiders. Jeremy Zuttah provides depth and versatility, just as he did for a good chunk of years in Tampa.
Quarterbacks. Well, that's the bad news. While this team has plenty of advantages, it is light in some of the most crucial areas, beginning obviously at quarterback. The Buccaneers have drafted exactly three passers in the second or third rounds: Shaun King (1999), Chris Simms (2003) and Mike Glennon (2013). We're not here to pass judgment on those three, but it's a simple fact that they have started (to this point) a combined total of 55 games for the Buccaneers. We went with King to lead our Second-Day Team by virtue of the fact that he has the most total starts (22) and he's the only one to win a playoff game.
Offensive Tackle. Few would argue that Paul Gruber is the greatest tackle in franchise history; the poor teams he played on probably cost him some Pro Bowl berths but he is already in the team's Ring of Honor at Raymond James Stadium. The only Pro Bowl tackle in team history is Donald Penn. Gruber was a first-round pick; Penn was an undrafted find. There's not much to mine in the middle. Charley Hannah was drafted as a defensive end but then converted to offensive line and had a nice four-year run as a starter, including three playoff seasons. Jerry Wunsch started for the 1999, 2000 and 2001 playoff teams. The only other option would be Jeremy Trueblood, and while he deserves credit for starting 84 games in Tampa, he probably doesn't beat out the other two.
Defensive Line. Again, this team is hurting in some key spots. The Buccaneers haven't spent a lot of second-day picks on defensive linemen, and maybe that's for the best because it is apparently not easy to find impact players in that range. John Cannon and Dewayne White essentially take the end spots by default, as they were the only second-day picks to have a reasonably long run as starters. The same could be said of Mark Wheeler and Roy Miller on the inside.
Slim on Special Teams. With Martin Gramatica, our kicking game is in good hands, but "Automatica" may have to pull double duty because the team (wisely?) has never used a second or third-round pick on a kicker. Similarly, most of the great special teams aces in team history – Danny Reece, Jim Obradovich, Curtis Buckley, Shelton Quarles, Russell Shepard, etc. – came aboard as undrafted free agents or pickups from other teams. Picking Ervin Randle to fill that role is a sneaky way to add some linebacker depth, and Randle did have 37 kick-coverage stops in his first two NFL seasons. We have a sneaky-good pick as a return man, however. Jacquez Green was a bit of a disappointment as a receiver and he didn't return many kickoffs, but he was quite good as a punt-returner. In fact, Green and Clifton Smith have nearly identical stats at the top of the Bucs' punt return average chart. Karl Williams takes the crown at that position thanks to his team record in both return yards and touchdowns, but Green was probably a more dynamic return man.
Tight Ends Have Room to Grow. There weren't a lot of choices at tight end. The best ones in team history were trade acquisitions (Jimmie Giles), free agents (Dave Moore, Jackie Harris, Kellen Winslow) or later-round draft picks (Ron Hall). After all of that, you have Alex Smith, who 129 passes for 1,252 yards and 11 TDs from 2005-08. Smith wasn't a star, but he put in four solid seasons and was occasionally important in the passing game, which gives him the spot ahead of Tyji Armstrong. Still, that position is ripe for the picking and could eventually belong to 2014 second-round pick Austin Seferian-Jenkins.
Third Receiver Spot Debatable. We feel pretty good about our starting duo, with Mark Carrier in his prime able to do it all and Kevin House providing a serious deep threat. The third-receiver spot came down to a competition between Courtney Hawkins and Lawrence Dawsey. It's remarkable how similar their career stats as Buccaneers are; both caught exactly 206 passes and Dawsey has just a 98-yard edge in yards (2,842-2,744). Dawsey averaged 13.8 yards per catch and Hawkins averaged 13.3, and they both had four 100-yard games. We went with Hawkins because he had a significant edge in touchdowns, 13-5. We also thought we could use Hawkins in the return game if needed.