STORY HIGHLIGHTS
The Bucs traded Mark Barron believing the safety position was in good hands with Major Wright and Bradley McDougald
Wright has played nearly 50% of the Bucs' defensive snaps this season and has been strong in run support
McDougald is less experience but has a good mix of coverage and tackling skills

The Tampa Bay Buccaneers sent their starting strong safety, Mark Barron, to the St. Louis Rams on Tuesday, just before the NFL's trade deadline. On Wednesday, the season rolled on.
Specifically, the Buccaneers hit the practice field on Wednesday as they began their preparations for Sunday's game in Cleveland. Barron was in St. Louis by that point and the Buccaneers were moving forward with a defense they were confident would show improvement in the season's second half. Head Coach Lovie Smith put it quite simply after Wednesday's practice: "You don't trade players," he said, "unless you feel pretty good about the other players you have."
Those other players, in this instance, are safeties Major Wright and Bradley McDougald. Wright is expected to start in Barron's place while McDougald is a rapidly-developing prospect the Buccaneers feel very strongly about moving forward. Wright would join free safety Dashon Goldson in the starting lineup, and while Barron looks more like the bigger, harder-hitting defender that is usually called a strong safety, the two positions are basically interchangeable in the Buccaneers' defense.
The Bucs think Wright, who started in Lovie Smith's defense in Chicago before joining the Buccaneers as a free agent in the spring, can step right in and excel.
"The fact that he's played in this system definitely helps him, without question," said Defensive Coordinator Leslie Frazier. "He's a leader back there, he does a lot of the verbal communication you need from that position and he has some playmaking ability as well. He's a very, very good tackler, but his leadership is kind of the thing that sticks out to me. To have someone back there who can kind of direct the secondary, that should help us."
Wright won't be coming in cold. He's already played almost 50% of the team's defensive snaps through the first seven games, thanks to an injury to Goldson and some other defensive packages in which he was involved. Wright had nine picks and three touchdowns over three seasons as a starter in Chicago, and the Bucs hope those big plays will come, but his performance has been solid to this point.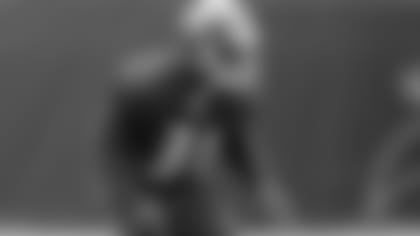 S Major Wright has significant experience in the defense the Buccaneers are running under Lovie Smith and Leslie Frazier
"I think it's been pretty good – especially in run support he's been good," said Smith. "He hasn't had as many opportunities, but Major is part of the defense that hasn't gotten as many takeaways as we need. But I've been around him, drafted him, seen him play good football – he's a good football player. We feel confident that we won't miss a beat. We have to get better play at all the positions, and hopefully Major will give us a boost."
McDougald joined the Bucs as a waiver claim last November. He had switched from receiver to safety at Kansas and was perhaps seen as something of a project when he joined the Kansas City Chiefs as an undrafted free agent in 2013. He did get a promotion from the practice squad to the active roster in K.C. but was snapped up by the Bucs when the Chiefs waived him. Smith thinks McDougald might prove to be one of the more complete safeties on Tampa Bay's roster in the long run.
"Part of the equation when you let a player go, you have to like what's here, what's remaining, and McDougald is a part of that, being able to do both [cover and hit]," said the coach. "He's probably the best combination of a coverage guy of the tight ends and the matchup we have with that along with playing in the box, whether it's deep halves or deep free safety – he can do it all."
Frazier sees the same potential in McDougald, who has logged about 50 defensive snaps so far this year.
"One of the things with Bradley is his ability to cover, as well as being able to play down in the box," he said. "He has good hands, good athletic ability. He's unproven. We had him in the preseason and he did some things for us that we have to see as time goes on, but he's shown athletic ability and the wherewithal to play the position and we think he'll be able to do it well in due time. He's very young so there's a lot of work that needs to be done, but he has some of the tools you look for at the position."