When the lights go on at EverBank Field on Friday night, NFL fans will witness something they've never seen before.
This past March, the Tampa Bay Buccaneers unveiled new uniforms with a bolder look and a series of innovative design features. Among those innovations is a reflective chrome border around the numbers on the front, back and shoulders. This revolutionary feature, never before incorporated into an NFL uniform, employs a reflective coating to add a unique glow to the numbers under the lights.
The Buccaneers' newly-designed numerals are truly one of a kind, on both the red and white versions of the jersey. The red jersey will make its debut when the Buccaneers take on the Jacksonville Jaguars in their 2014 preseason opener on Friday, August 8. On Saturday, August 16, the team will unveil its white game jerseys for their home preseason opener against the Miami Dolphins.
As seen above, the jersey's reaction to the flash of a camera adds a new dimension to the exciting action photography produced by every Buccaneers game. What has not yet been seen – what Buccaneer fans can observe for the first time by tuning in to Friday's game at 7:30 p.m. ET on WFLA-TV – is the effect created when a team of Buccaneers in their new jerseys goes to battle under the stadium lights of a night game.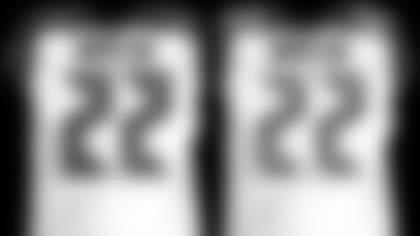 All four repetitions of a player's number on his jersey – one on the front, one on the back and two on the shoulders – feature the reflective trim. It is designed not only to give the Buccaneers' new uniform a unique look but also to increase readability from a distance.
The sun is due to set in Jacksonville at 8:15 p.m. on Friday evening, which will likely fall somewhere in the second quarter of the Buccaneers-Jaguars tilt. As the light of day fades and the stadium lights and flash cameras take over, a new era in Buccaneer football will begin. Fans who witness the first action under the lights for Tampa Bay's new jerseys and reflective numbers will see something brand new to the game of professional football, and yet another instance of forward-thinking innovation by the Buccaneers.