It was the week before Christmas, and all through the East Stadium Club, 120 children gathered for dinner and some holiday fun.
There were giant tailgate games, gaming systems with Madden and Fortnite on-screen and a buffet full of goodies, the likes of which I'd never seen.
When all of a sudden, they came in a flash, the defensive line led by their coaches Buckner and Spicer, to match.
It was Gerald! And Vita! And Carl! And Beau!
Noah! And Jeremiah! And Demone, Pat, Will, Vinny and 'Nacho'.
Under the guise of a tour, they led the children upstairs. Faces full of glee, knowing they had something else up their sleeve.
"I didn't lie, but I didn't tell the whole truth," Gerald McCoy told the crowd with a grin on his face. There was more to this tour than just a cool space.
_With a count of three echoing 'round, a curtain was pulled back revealing bicycles abound. _
Each one had a name for each child there, along with helmets to match, making sure the kids took care.
But wait, McCoy said, there's more, you see. We're taking you all to Target for a holiday shopping spree!
And away the children went, into the night. Going home with items off their wishlists tucked under their arms tight.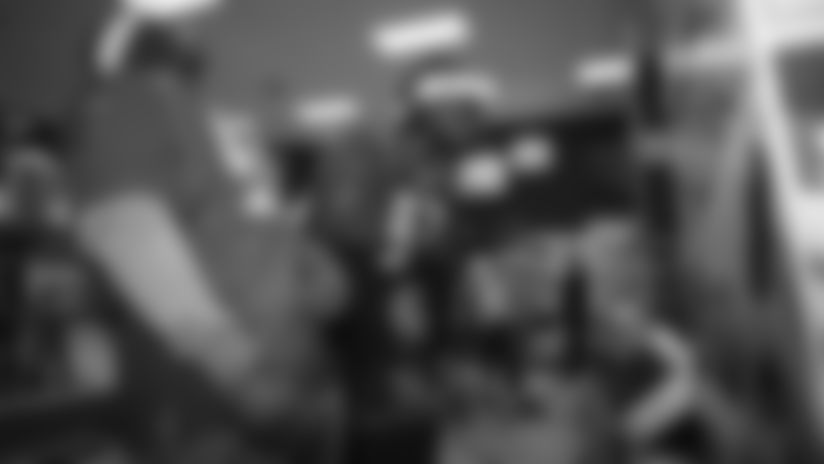 They might not be exactly what you picture when you think of Santa's, ahem, little helpers, but that's just what the Bucs' defensive linemen were on Monday night. The unit hosted the Seventh Annual D-Line Delivers Christmas, surprising 120 youth with gifts for the holidays.
The players contributed a total of $50,000 to ensure the ultimate Christmas experience for Bay-area youth. The children were selected through four local non-profit organizations: A Kid's Place Tampa Bay, Kid's Village at Children's Home Network, Operation Graduate andStarting right, Now._ It was the D-line's biggest event yet.
"When we first did it, it was kind of a small event in 2012," McCoy said. "It was just something myself and another teammate thought about. We said the O-line does Turkey Time, let us do Christmas. It's just been growing and growing and now it's not getting out of hand, but it's getting out of hand," he said with a smile.
"But that's what you want out of events like this. You want them to get out of hand because it means you're growing and impacting that many more people."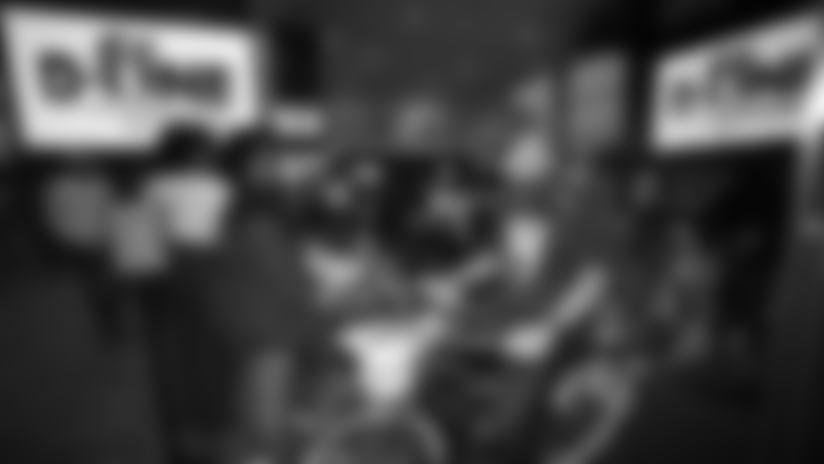 After surprising the children at Raymond James Stadium with brand new bikes, the defensive line then took them to Target to continue the night with a shopping spree for each child. Players went up and down the aisles, helping each child pick out toys and gifts straight off their Christmas lists. There was fashion advice given, 'Try Me!' buttons pressed and smiles all around.
"We have such a selfless group in our room and everyone is so generous, not just giving their time, but also their finances," McCoy said of his linemates. "We all just want to bless somebody else. That's the type of room we have. It's an honor to be here, it's a blessing to be here, to walk around and see all the smiling faces."
Defensive tackle Rakeem Nunez-Roches spent most of his time in the toy aisles, participating in the event for the first time this year. He found that while it was the Buccaneers spreading holiday cheer, he couldn't help but get a little caught up in the holiday spirit, himself.
"It was awesome, I had a great time," Nunez-Roches said. "It just brought back that inner-kid feeling around the holidays. Sometimes you lose it when you get older with the bills and all the responsibilities but just seeing the kids having a great time, it's awesome. The looks just go so far. It's humbling."
He also appreciated being able to give back to the community with his teammates. Often as the team breaks a huddle in practice or a game, they'll break on the word, 'family' and events like the D-Line Delivers Christmas are just another example of those words being put to action.
"That's big," Nunez-Roches said of his teammates' participation. "Sometimes people do things individually, which is not bad because we are all here to help others but when you can come together for one great cause like this and enjoy with each other, it just brings you together as a unit, as a family."
"It's just a family atmosphere," McCoy added.
View pictures from the D-Line Delivers Christmas event on Monday.