STORY HIGHLIGHTS
A Bucs group led by COO Brian Ford and Head Coach Lovie Smith visited B.C. Graham Elementary to dedicate a Buccaneers Fitness Zone
Every Graham fifth-grader received a "Ticket to the Future" entitling them to a job interview with the Bucs in 10 years
Doug Martin, Michael Johnson and 18 other Bucs led the students in a series of fun football drills

On Friday, the Tampa Bay Buccaneers focused their efforts just the way the team's late Owner/President Malcolm Glazer would have wanted: giving back to Bay Area youth, and inspiring a young generation to become the leaders of tomorrow.
A large group of Buccaneers representatives – including Chief Operating Officer Brian Ford, Head Coach Lovie Smith, defensive end Michael Johnson, running back Doug Martin and 18 of the team's rookie players – joined Superintendent of Hillsborough County Public Schools MaryEllen Elia and students at B.C. Graham Elementary School to celebrate the completion of the first Buccaneers Fitness Zone of 2014. The Buccaneers also used the gathering to introduce an exciting new opportunity for fifth grade graduates aspiring to future success.
In the wake of Glazer's passing, Friday's event served as a tribute to one of the family patriarch's greatest passions: supporting those in need. The upbeat program commemorated an area-wide partnership between the Buccaneers and Tampa Bay schools through the Buccaneers Academies initiative, an educational effort which is impacting more than 12,000 students.
"The work the Bucs are doing to help you be successful is going to live on, so I want to take this opportunity to thank the Bucs and all of the players and everyone who has made this possible for us," Elia expressed to the teachers and students. "It's more than a covered court. It's a commitment to this community and to every one of you."
Buccaneers Academies aim to inspire, equip, and celebrate students through incentive-based programs and monthly challenges that provide fun, engaging, and motivating opportunities to learn. Throughout the school year, lesson plans that encourage good behavior, reading, writing, and healthy lifestyles have been implemented with each Buccaneers Academy that receives a Buccaneers Fitness Zone, featuring a court cover for its outdoor recreation area. The Buccaneer-themed court covers inspire physical activity by allowing more children to play outside with less risk of sun exposure and heat exhaustion during their physical education periods.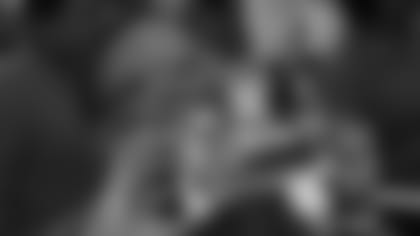 Local fifth-graders may find out after college that there are plenty of jobs at One Buccaneer Place beyond being an NFL player
The long-term commitment includes the construction of a brand new Buccaneers Academy Fitness Zone at 13 Hillsborough County Schools, as well as the updating of the eight original Fitness Zones constructed over the past three years. On Friday, the first of those upgraded play spaces was put to good use, as the students enjoyed fun football drills led by the Buc players under the shade of a new Buccaneer-themed court cover.
"This is important," said Smith. "It gets hot here in Tampa, but exercise is also a part of your education, of healthy living. To have a way to be able to do a few more exercises in a covered area like this is important."
In addition to the Fitness Zones, Buccaneers Academies also offer innovative educational programming designed to assist students in reaching their academic goals. The new initiative announced on Friday by the team is the "Ticket to the Future," a commitment from the organization to all Buccaneers Academy fifth grade students this year, and moving forward.
"We're investing in our future as a Buccaneer organization with our football team," added Smith. "The players we have here today, right now they're investing in offseason work to have a successful season. The same thing goes with the students here at B.C. Graham – to have an opportunity to be successful later on."
With the goal of aiding the efforts of Hillsborough County Schools in dropout prevention work, students will be encouraged to redeem their Ticket for a job interview with the Tampa Bay Buccaneers organization after graduating from college. This Ticket symbolizes the Buccaneers' long-term commitment to students that stretches beyond their elementary education, and aims to inspire local youths to achieve success in the classroom.
"When I was a little kid, I saw an NFL player and I was excited," said Martin. "He talked about getting his degree, and it was inspiring. It's good for us to be out here and inspire these kids to get that degree and get that education."
"We're always encouraging them to go to college, but now they have another added bonus," said Sharron Doyle, principal at B.C. Graham Elementary. "They can come back to the Buccaneers and get an interview so that they could possibly get a job and work for this wonderful organization."
The Tampa Bay Buccaneers play an active role in youth development through a variety of health and education initiatives with players, coaches, cheerleaders and staff. With an increased emphasis on youth health and wellness, the Buccaneers' PLAY 60 Challenge and Buccaneers Academies initiative help teach students the importance of education, nutrition and exercise, renewing the team's commitment to support youth charitable causes throughout the Bay Area.
"They're trying to get us to a new level," said 11-year-old Byron Keaton, a fifth grader at Graham Elementary. "They're trying to support us, trying to say, 'Hey, don't give up on yourself. Keep going, keep being successful, keep doing what you're doing, and you might get somewhere like what these players are doing for us today.'"