Jack Youngblood, the former Los Angeles Ram and current member of the Pro Football Hall of Fame, knows a feat of athletic toughness when he sees one.  Youngblood has seven Pro Bowls, a spot on the NFL's All-Decade Team for the 1970s and that bronze bust in Canton on his resume, but he is by far best known for playing the entire 1979 playoffs with a broken fibula in his left leg.
On Wednesday night in Tampa, at a high school stadium not far from the Tampa Bay Buccaneers' own home field, Youngblood witnessed a feat of toughness and courage that put his own courageous run to Super Bowl XIV in perspective.  As one of the featured guests at a charity game held by the famous – and undefeated – Wounded Warrior Amputee Football Team at Tampa's Plant High, Youngblood watched members of the U.S. Military excel on the gridiron while overcoming the loss of limbs in service to their country.
"What I did, it's one degree of what these boys do, and what they've done for us," said Youngblood.  "They've written the biggest check they could possibly write: They put their lives on the line for our freedom, and for our protection.  I was asked to be a part of this ballgame and I thought, 'I've got to.  I have to.'"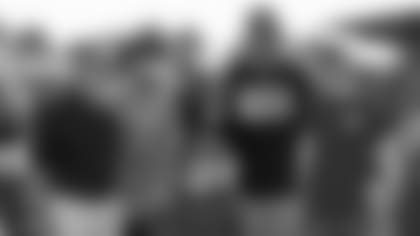 This was the seventh game played by the WWAFT, which is also scheduled to play before Super Bowl XLIX in Glendale, Arizona in February.  The game featured dozens of former NFL players, many of them Buccaneer alumni such as Mike Alstott, Brad Culpepper and Dave Moore.  Other former Bucs in attendance – many of whom put on flags and took part in the game action – included Anthony Becht, Quincy Black, Mark Cotney, Jeff Garcia, John Gilmore, Martin Gramatica, Charley Hannah, Chris Hovan, Marcus Jones, Sean Love, Ricky Reynolds and Nathan Wonsley.
Buccaneers Head Coach Lovie Smith and current Tampa Bay players Vincent Jackson and Michael Koenen also came out for the event.  Jackson was a natural guest, given his long-running and deep support of military issues, but Smith also appreciated the opportunity to attend the event in what he considered a very appropriate week.
"With Memorial Day coming up, it's only fitting that we say thanks to a certain group of men that provide so much for us," said Smith.  "We want to be involved in the community, as our players have been, and what better cause than tonight."
The WWAFT won the game handily, 70-7, thanks to some extremely impressive in-squad athletes and a few helpful ringers, like Alstott.  Among those who found the end zone were four servicemen in wheelchairs and a corpswoman who had lost an arm in battle.
More importantly, of course, the event raised thousands of dollars that will go to the benefit of an education fund established for Jacob Taylor, the son of a former platoon mate of WWAFT leader Brian Urruela, David Taylor, who was killed in the same IED attack that injured Urruela. The event also raised funds to continue the Wounded Warrior Amputee Football Team's service disability outreach initiatives.
As Smith knows, the event was also a reminder not only of the sacrifices that the WWAFT players had made for the country, but also of the rich lives they still fashion, which includes participation in athletics.
"There's nothing like sports and what you learn from carrying your share, being a teammate, where others rely on you to do your job," said Smith.  "That's what we're all about, of course, with our team, but this is beyond that.  You look at the military, and everybody has a specific job.  If one person doesn't do it, you fail, just like in sports."
While Alstott, Jones and many of the others chose to take part in the game – some of them on opposing teams – Youngblood gladly watched from the sideline, marveling at the skill and passion displayed by the WWAFT team members.
"I don't want to try to run with them, because I know for a fact they haven't lost that heart," said the Hall of Famer.  "They've adjusted to the new apparatus that they have to have, and they've got that passion and that heart, and that's the thing you can't compete with.  I really appreciate all of these former players and everyone here tonight coming out to recognize what these guys do for us."
The Wounded Warrior Amputee Football Team put its unbeaten record on the line Wednesday night at Tampa's Plant High School with former NFL players and current and former Bucs.