STORY HIGHLIGHTS
The Nike Sports Research Lab uses advanced technology to design uniforms that provide the fit and performance NFL players want
The Buccaneers' uniforms are designed to minimize distractions for the player
Using devices such as a 3D body scanner and its resulting database of player information, Nike can engineer different jersey constructs for players at different positions

Gerald McCoy stands in front of a mirror on the wall of a nondescript one-story building on the outskirts of the Nike campus in Beaverton, Oregon, a smile spreading wide across his face. Staring back at him is the first Tampa Bay Buccaneer ever to don the team's dramatically redesigned red jersey. That he likes what he sees would surely please the Nike design team and the Buccaneers management, which spent two years collaborating on the team's new look.
On the other hand, those who handled the technological design of McCoy's new apparel would prefer that the Pro Bowl defensive tackle spend as little time thinking about it as possible.
"We believe in a design philosophy of 'zero distraction,'" said Jorge Carbo, a former NASA space suit engineer who is now a senior research manager on Nike's Apparel Innovation Team. "We want each athlete to be purely focused on the game. By designing uniforms that meet their specific needs and fit their bodies to their specific dimensions, we can help to alleviate or reduce the number of instances where an athlete might notice the uniform. That's what we don't want. We want them to play without any thought as to what their wearing, with a clear mind to the game."
McCoy is geared up on this Tuesday in February because he's one of two current Buccaneers who has traveled to Nike headquarters to model the Buccaneers' new uniforms for a photo shoot. The shoot has been set up in a utilitarian space, but one that functions very efficiently, from the set to the service table to the green room. The results of the photo shoot are anything but plain; they are vivid images of a dramatically new team aesthetic.
The same combination is at play in the construct of that red jersey that McCoy so proudly displays, woven into the very fabric. The vaunted Nike Sport Research Lab (NSRL) doesn't exactly stand out amid the many attractive buildings on the Nike campus, and in fact much of it is off-limits to most personnel and visitors. Those areas that do occasionally admit visitors aren't dressed up for show. They are serious workspaces where scientists seek breakthroughs that are coveted by millions of professional and amateur athletes.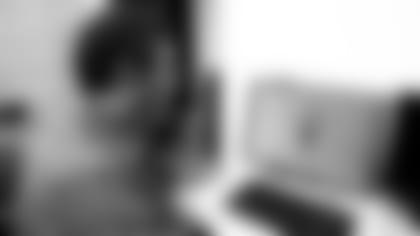 Nike Senior Research Manager Jorge Carbo designed space suits for NASA before turning his attention to sports
Nike has been the provider for all NFL team uniforms since 2012. As such, the jersey that McCoy is trying on for the first time a half-mile away from the NSRL – as well as the accompanying pants and other accessories – has been engineered with all of Nike's football-uniform innovations. McCoy and all of his Buccaneer teammates will reap the benefits of those innovations next fall, when they are far less concerned about how the jersey looks in the mirror and more interested in how it performs on the field.
Nike describes its lab as the place "where athletes, scientists, engineers and designers converge to develop the key performance insights that drive Nike's innovation. In the NSRL, the focus is on biomechanics, physiology, perception and athletic performance." If that sounds like hyperbole to the visitors on this day, the notion is quickly erased when it's Carbo who opens the door of the lab and ushers them into what looks a little like a high-tech medical examination room. One side of the room is dominated by a tall metal structure described as a 3D body scanner. Carbo sits at a nearby table, manipulating an image on a computer screen, spinning it to display it through a full 360. The image he has called up is of a prominent NFL player, one of more than 2,000 such avatars he can access in seconds.
"We have a fairly complex device here that allows us to get one-millimeter resolution on a human body," said Carbo. "We have our athletes stand on the podium, we hit the right buttons and within 25 seconds we have a 3D picture of their exact proportions. The scanner allows us to look at the athlete's body as it changes during the season, so we know the extreme ranges of fit that we need to accommodate in the uniform. We can also see them in their fittest time so we now how a game uniform needs to fit. In some situations where we have more than just uniforms for the athlete, we can look at their body composition throughout the year and understand what we need to provide as far as fits for training."
The body scan with its thousands of points of information is overlaid with actual images of the player, to the point where he is easily recognizable. At some point he was physically standing in the NSRL, just as many of his peers have, and now his information lives on for whatever research Nike dreams up next. This is just one application of the technology in the lab; others include force plates, timing gates, in-shoe pressure mapping, motion capture tools. Those last tools include high-speed video cameras that Nike touts as collecting "video at upwards of 30,000 hertz, which is 1,000 times that of standard video cameras."
Carbo says his team looks for ways to solve the complex problems that athletes face in the heat of a game.
"Some of those problems might revolve around impact protection, some of them may be about thermo-physiology and how we make athletes cooler in hot environments or warmer in cold environments. In general we work with the basic science that helps us inform athlete problems and helps us solve those problems."
For instance, much effort has gone into the matter of how the NFL Nike Elite 51 Uniform jersey vents to help keep the players cool when things get sweaty. McCoy appreciated that, and other performance-related aspects, as much as the aesthetics of the uniform.
"The technology of the jersey – the whole uniform, the vents on the side of the pants, the vents on the front and the bottom and the sides – helps you breathe better," he said. "And the numbers don't bend like they used to, so they stick to you better. When a running back like Doug [Martin] or a receiver like Vincent Jackson is trying to escape, guys can't just grab onto the jerseys because the jerseys stick to the pads. Me, being a D-lineman, well I don't like being held, and we used to have to tape [the jerseys] to our pads, and then we had these numbers. It's going to be almost impossible to hold. You're going to have to have some real talented O-linemen to do some holding there."
Fit is indeed a very important issue to NFL players, and getting that fit right for everyone, no matter their positions on the field, is a large part of what the 3D body scan is used to accomplish. Nike doesn't provide custom-fitted jerseys for every player on an NFL team, but they have different fits for players of different body types – it makes obvious sense that a running back and an offensive linemen would fill out a shirt differently – and these in turn make it much easier for team equipment managers to do their own custom work on site.
"We know as people grow in size and height and weight, they don't grow proportionally," said Carbo. "Understanding how the football player, specifically, changes with height and weight, is critical for us to understand how their uniforms are going to change, as well. We don't just simply scale up the uniform proportionally, it may be driven more by the scan than by the normal sizing methodologies.
"In the case of the Buccaneers, we used the aggregate NFL information by position. We looked at what specific uniform needs that have been called for by the players, or what their requirements are that they would like to have in the uniform, and we look at merging those desires with possible fit adjustments that are player specific. Every lineman that we have in here, we can analyze the scans, understand what the average thigh fit is for linemen, for a given weight or a given height or a given age group. We can start to aggregate that information in ways that allow us to inform a specific product for a user group. It's very detailed."
Since Nike is the provider for many college football programs, a significant number of players are used to the company's apparel before they hit the NFL. According to Carbo, who has been working on football uniforms at Nike for the last seven years, some players who made that transition before 2012 found themselves wishing they could recapture the fit and performance of their college uniforms. In addition to the contoured fits and other advantages that McCoy mentioned above, the Elite 51 jersey employs lighter fabrics; four-way stretch material in many places that allows for fuller range of motion; and, alternately, flywire technology in the collar that doesn't give, keeping the shoulder pads in place.
In some places, the technology encroached on the aesthetics, as well, producing some unique features. One very prominent one in the Bucs' new uniform is the use of a reflective border around the numbers, something only Tampa Bay will feature in 2014.
"We worked closely with Todd Van Horne and engineers and designers at Nike to produce a uniform that functions as great as it looks," said Buccaneers Co-Chairman Edward Glazer. "A prime example of that innovative technology is the use of the specially-designed reflective border around the numbers on the jersey. These reflective borders are something that you will only see on the Buccaneers' jerseys and they will make identifying our players on the field much easier for fans as well as broadcasters."
The last time the Buccaneers made a dramatic change to their uniforms, in 1997, it presaged an equally dramatic turnaround in team fortunes. The Bucs broke a 15-year playoff drought that season and set off on an era of success that would peak with the 2002 Super Bowl championship. Obviously, the franchise is hopeful that this most recent change will prove similarly inspiring. Even if the new togs don't result in any emotional boost, however, the technology they incorporate will help each Buccaneer player maximize his talents.