STORY HIGHLIGHTS
Approximately 50 former Buccaneer players attended practice Tuesday as the Bucs' current regime reached out to the team's legends
DE T.J. Fatinikun, who participated in June's mini-camp on a tryout contract, was signed on Tuesday
DT Gerald McCoy agreed to sit out Tuesday's practice for some extra rest, but he clearly had mixed feelings about it

During one of the Tampa Bay Buccaneers' "organized team activity" days (OTAs) this spring, new Head Coach Lovie Smith made an effort to connect his current roster with the franchise's rich past. Smith brought some prominent members of former Buccaneer teams out to team headquarters and let them introduce themselves to the players who are wearing the uniform now.
Smith wanted his players to have a feel for Buccaneer history, but perhaps more importantly he wanted the people who shaped that history to feel comfortable at One Buccaneer Place. That effort continued on Tuesday when the team played host to nearly 50 alumni – now appropriately called "Buccaneers Legends" at their penultimate training camp practice.
"I think we made it known that they're welcome, not just on Legends Day, but any day," said Smith. "What we're doing, we hope what they see, is we're trying to get it back. Most of the guys that came here had success while they were here and that's what we plan on doing."
Martin Gramatica, the franchise's all-time leading scorer and the kicker on the 2002 Super Bowl team, was one of the representatives of the team's last era of sustained success, but there were men on hand representing every squad from 1976 through 2010. Smith, who was part of the coaching staff that helped turn the franchise around in the second half of the 1990s, is a strong proponent of paying respect to the standout Buccaneers from every era.
"I appreciate what Lovie does for us, just to open the doors for us," said Gramatica. "There's a lot of people that still work for the Bucs that were here when we here, so it's kind of nice to see everybody, and then get to know some of the new guys, too. It's nice to see some of the new players."
Gramatica, who was a Buccaneer from 1999-2004, overlapped with such previous teammates – and Legends Day attendees – as Reidel Anthony, Michael Clayton, Anthony Davis, Dave Moore, Jason Odom, Mark Royals and Steve White. Others such as Rob Taylor, David Lewis, Mark Cotney, Jerry Bell and Steve Young represented other eras in team history. Smith was pleased to see all of them.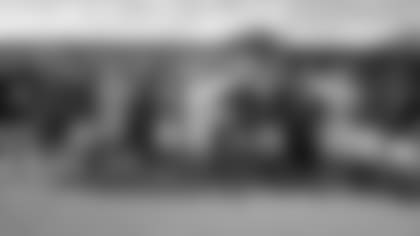 Former Bucs players representing every season from 1976-2010 were on hand for practice Tuesday
"As much as anything, it's our responsibility to reach out to them," he said. "This is our home now. So we have to give them the invitation and make guys feel like they can come back, and that's what we've done. I think that's what we've done from the start. I talked about it in my opening press conference, and again, I hope that's what we're doing every day."
The Buccaneers have signed three players and waived three others over the past eight days of training camp, all of them on the defensive side of the ball. However, while the three departing players were comprised of two safeties and a linebacker, all three additions have been to the defensive line.
Clearly, that's where the inevitable minor injuries of training camp are starting to pile up. Earlier in camp, the Bucs signed cornerbacks Kip Edwards and Anthony Gaitor, an obvious response to nagging ailments that were keeping Alterraun Verner, Mike Jenkins and Rashaan Melvin off the practice field. Now it's the down linemen who need help carrying the endless reps of training camp.
The newest helper is first-year man T.J. Fatinikun, who just completed his most recent Arena Football League season with the Orlando Predators (Orlando lost to the Cleveland Gladiators in the conference championship game on Sunday). Fatinikun had previously spent three days with the Buccaneers in June participating in the team's mini-camp on a tryout basis.
The Bucs tried out six players that week and ended up signing two of them: wide receiver David Gettis and defensive end Ronald Talley. Gettis has since been released with an injury settlement while Talley remains on the team. Talley is now joined by Fatinikun, who has played two seasons in the AFL, the first with the Portland Thunder, since wrapping up his collegiate career at Toledo.
Fatinikun (6-1, 250) racked up 14 sacks as a sophomore at Toledo in 2010 but suffered a torn Achilles tendon during his senior season and went undrafted. After a tryout with the Kansas City Chiefs, he ended up in the Arena League with the Thunder.
The Bucs actually had another prominent defensive linemen sitting out on Tuesday, though it was obvious he was reluctant to do so. All-Pro defensive tackle Gerald McCoy got the day off, per Coach Smith's insistence.
McCoy wasn't hurt, and he wasn't exactly lounging on the sideline. Even though he agreed to the day of rest proposed by Smith, he came out to practice with his full set of pads on, as if he thought he might be called into action for a series or two. That's not surprising, given how Smith described his pre-practice meeting with McCoy.
"It was strictly rest, a coach's decision," said Smith. "As I told Gerald, 'Gerald, we haven't really [disagreed] on anything.' Gerald, of course, wants to practice every day. 'Coach's decision – you're going to stay out.' Luckily, of course, he went along with it and we didn't have to fight over it."