STORY HIGHLIGHTS
Florida State RB James Wilder, Jr. - son of the former Buc star - could be a versatile weapon in the NFL
DE Jadeveon Clowney is eager to prove he should be the top pick in this year's draft
Bucs coach Lovie Smith is impressed with the depth of talent at offensive line this year

Every college running back dreams of rewriting his team's record books when he lands in the NFL. At one potential landing spot, at least, Florida State's James Wilder, Jr. could do that with only minimal edits.
The name "James Wilder" is all over the Tampa Bay Buccaneers' record books. It stands at the top of the franchise's all-time rushing chart, next to the numbers 5,957 on 1,575 carries, recorded over a nine-year tenure in Tampa from 1981-89. The same name is first on Tampa Bay's all-time receptions list, connected to a career mark of 430 catches. Heck, if you don't set a minimum number of passes, this "James Wilder" is even the team's all-time leader in passer rating, with a perfect mark of 158.3 forged by one 16-yard touchdown pass in 1984.
That James Wilder is, obviously, the father of the current Seminole back…or former Seminole back, actually, as the younger Wilder elected to leave FSU after his junior year and throw himself into the mix for the NFL's 2014 draft. That decision set Wilder on a path to the NFL Scouting Combine, which is currently taking place in Indianapolis. Wilder and the rest of the running backs will get their on-field workouts on Sunday, but on Saturday he met with the assembled (and ever-growing) Combine press.
Wilder's NFL bloodlines are well known, obviously, and a prominent subject in his Combine interview. His father played at Mizzou and was a second-round pick by the Buccaneers in 1981. Most of the elder Wilder's career was played in Tampa, with one final season split between Washington and Detroit in 1990, and it was most definitely a prolific one. In 1984 and 1985, especially, Wilder was one of the NFL's most productive offensive weapons. In addition to setting the still-standing Buccaneer single-season record with 1,544 rushing yards in '84, Wilder also set an NFL record (since broken) with 407 carries and caught a whopping 85 passes. It's fair to say he was the entirety of Tampa Bay's offense that season. In 1985, he ran for another 1,300 yards, and he had 23 combined touchdowns in those two seasons.
"Oh, he lets me know," said Wilder, Jr. on Saturday. "'Hey man, if you go to the Bucs, don't you try to snap any of my records.' We always mess around with stuff like that and joke around."
The Buccaneers would not appear to be in the running back market at the moment. Doug Martin, who is the only other player in team history to rush for at least 1,400 yards in a season (1,454 as a rookie in 2012), should be back from a shoulder injury that cost him much of his sophomore follow-up, and he's ready to be the lead back in Lovie Smith's rush-oriented attack. While Martin was out last fall, the Buccaneers also found out that they have viable NFL starters in then-rookie Mike James and waiver-wire claim Bobby Rainey. The RB cupboard, in other words, appears to be stacked.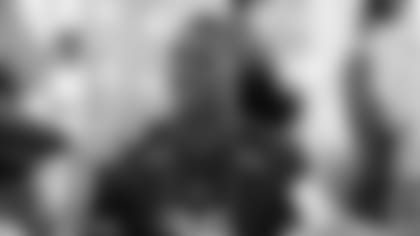 Florida State RB James Wilder, Jr. is the son of former Bucs standout James Wilder
Still, talent is talent, and Wilder's is intriguing. He's a big and powerful back at a chiseled 6-2 and 225 pounds and he's a very good pass receiver. He might be able to help a team at both fullback and tailback in the NFL, a la Mike Alstott. In the later rounds of the draft, potential can outweigh depth chart needs, so if Wilder is available on the third day one can't rule out a return to Tampa for the former Plant High star.
Wherever Wilder ends up for the next stage in his career, he'll have the advice of his father to help him succeed. The Bucs' star of the 1980s started his career playing fullback but eventually became featured in the offense and wound up with a long career by the standards of his position.
"The main thing he taught me is, don't take big shots if you don't have to," said the younger Wilder. "Don't sit there. If you do have to take a big shot, you have to learn how to absorb it. My father played in the league. He was a running back, a bruising type of running back for 10 years. You don't see running backs in the league for 10 years. I am surely going to take his advice.
"He tells me a lot of things that I have an advantage with and things I know how to do. We have the same running style so it's not like I am a smaller back and we do things different. We have the same body frame. Everything he explains to me, and that he shows me, it [suggests] that I do the same thing on the field."
His knowledge of his father's NFL success also helps Wilder remain confident that he can succeed in an NFL that currently seems to favor shorter, more compact backs who can run low and absorb fewer hits. In fact, Wilder has NFL role models that go beyond his own family albums.
"I don't worry about it at all," said Wilder of making it in the NFL as a bigger back. "There are guys that got beat up and had short careers but there are guys like Steven Jackson who has had a wonderful career. Adrian Peterson, he has had a wonderful career. LeGarrette Blount, a bigger back, he has had a wonderful career. I actually don't know bigger backs that have fallen short. The bigger backs seem to have lasted longer from the research I have done."
The Buccaneers pick seventh in the first round of May's draft, and it's fair to say that improving their pass rush is a priority in 2014. This year's class of prospects features one of the most intriguing defensive talents to come along in years – South Carolina's Jadeveon Clowney – but the gifted defender may be long gone before Tampa Bay is on the clock. In fact, he's hoping to prove in Indianapolis that his name should be the first one called, most likely by the Houston Texans, who currently own the top pick.
"That's one of my goals here, to go number one," he said on Saturday, two days before the defensive linemen will take the field in front of the assembled scouts. "I came out of high school as the number-one player so I want to come out of here as the number-one guy. It's going to happen or it's not. They are going to take who they need and who they want. I am going to perform well here at the Combine and hope they choose me."
The Texans own the top spot after a 2-14 season that included significant problems at quarterback.  With several highly-rated passers on the board and an apparent need for a new franchise signal-caller, Houston would surprise no one if they made Terry Bridgewater, Blake Bortles or Johnny Manziel the top pick.  Still, this is the same team that surprised everyone (and lived to tell about it) by taking defensive end Mario Williams over running back Reggie Bush and quarterback Vince Young in 2006. And this is a league that just saw the top-ranked defense dominate the top-ranked offense in the most important game of the year.
"The Super Bowl, defense won that game, shut them down, shut them out," said Clowney. "It takes defense to win championships, hands down. You had a great quarterback in Peyton Manning, hats off to him also, but defense wins the Super Bowl."
Though the Combine cranked up in Indianapolis on Wednesday, the first actual on-field workouts took place in Lucas Oil Stadium on Saturday. And this year's class may have led with its best foot.
Or one of them, at least. Saturday's workouts centered on the offensive linemen, the tight ends and the special teamers. The biggest men on the field made a good impression on the Lovie Smith and the Bucs' talent evaluators.
"Initial impressions are that this is a deep class," said Smith. "We had the offensive linemen working out [today], and it's a lot of athletic guys with good size that have played good football. There are a lot of great college programs out there that are really preparing these guys for the next level."
This year's class is, indeed, considered to be strong at both the tackle and guard positions.  On Saturday, NFL Network analyst Mike Mayock raved about the Combine performances of the three tackles generally considered at the top of the list, Texas A&M's Jake Matthews, Auburn's Greg Robinson and Michigan's Taylor Lewan. Smith agreed.
"There are great skill guys coming out every year, but some years there are a few more offensive linemen, and it seems like this is a great offensive line class," said Smith.