The Tampa Bay Buccaneers' defensive line will have two new starters on Sunday, though one of them was a starter not long ago. That same group has three new names on the depth chart, though one of them actually played in last week's game and another saw action for the Buccaneers in the preseason. Clearly, it has been a week of upheaval for Tampa Bay's defensive front, and how it will end on Sunday against the Rams is almost a complete mystery.
There are some things we do know. Let's run them down:
Last week's starting defensive end tandem of Adrian Clayborn and Michael Johnson will be unavailable; Clayborn landed on injured reserve on Friday thanks to a biceps tear and Johnson has been ruled out for this week due to an ankle sprain.
Defensive ends William Gholston and Da'Quan Bowers, neither of whom has played in about a month due to shoulder and abdomen injuries, respectively, were full participants in Friday's practice.
There is still sheer depth at the end position, as the additions this week of Larry English, Jacquies Smith and Scott Solomon mean the team can take five ends and eight total linemen into battle.  It is Solomon who played in the season opener; he was waived when the team picked up Smith, then re-signed when the bad Clayborn news hit.  It is English who gave the Bucs a good look during the preseason, tying for the team lead with two sacks.
"Some of the players that we've gotten back – Da'Quan Bowers, Will Gholston – both of them have looked pretty good this week," said Head Coach Lovie Smith on Friday. "We lost a couple of players –Adrian Clayborn, that's a tough blow. Adrian has done everything we've asked him to do the entire time I've been here. He's a warrior, but that's tough losing him. He'll start the rehab and that long process of getting back, which he'll do."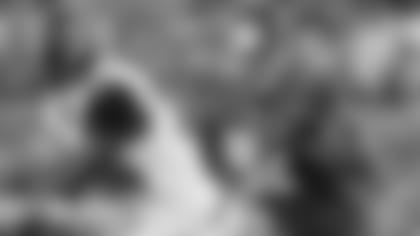 DE William Gholston is stout against the run and, if he is cleared to play Sunday, could started at left end
There are some things we can guess. Such as:
Gholston and Bowers appear to be the most likely replacement starters.  That wasn't necessarily true at the beginning of the week, but the fact that both of them were unlimited at the end of the week was a very good sign.  They are both officially questionable for the game heading into the weekend, however, so the lineup is far from certain.  If those two do start, it's likely Gholston would be on the left end and Bowers on the right.
Buccaneer coaches will make liberal use of all the linemen they keep active for the game.  Bowers and Gholston are known commodities to a point but certainly not well-tested as full-game starters.  English is a sixth-year veteran but new to the 4-3 defense.  Solomon and Smith have relatively little NFL experience.  The Bucs may mix-and-match throughout Sunday's game to find out what works best.
In the long run, Johnson should be fine and he's a potential double-digit sack threat on the right edge.  Either Gholston or Bowers could settle in as the starting left end; given Gholston's stout work against the run and Bowers' versatility, it could be the former who draws the starting assignment.
"I talked about Will Gholston coming back, Scott Solomon is back, Jacquies Smith is back into the rotation, and we still feel pretty good," said Smith. "Da'Quan Bowers can play a couple of different positions whether it's outside or inside as a pass rusher and we might go eight defensive linemen this week, too. We have some good options. We lost good players, but we feel good about the next group that will be playing this week. Whenever you lose a player like Michael Johnson, that hurts you, that hurt, but the other players will pick it up.
"Will Gholston though, didn't know a lot about him initially when I got here, but he's stout against the run and he's a pretty good pass-rusher too. It's a shame he got hurt because he was just really coming on. I'm anxious to see him. We're anxious to see him play this weekend."
And of course there are things that may not be clear for some time. Those include:
The loss of Clayborn does deal the Bucs' defensive line depth a significant blow, no matter how you stack it up.  While one could argue whether or not he has 10-sack potential (he had 7.5 as a rookie and 5.5 last year), Clayborn was one of the league leaders in run stuffs last year and is the type of high-motor player who could really excel if the pressure is coming from all parts of the front line.  Is there a player on the depth chart who can provide the same thing?
While it's well-timed news that Gholston and Bowers have a shot to return this week, the former hasn't played since August 16 and the latter since August 8.  What level of stamina can we expect from the two, especially on what will almost certainly be a very hot and steamy Tampa afternoon.
Solomon and English were both waived or released by the Buccaneers at some point in the past few weeks.  Smith is new in town after being waived by the Buffalo Bills.  The Bucs' coaching staff has a reasonable amount of optimism about those three, but it would be stretching things to say that any of them are certain to make a significant impact this season.
"For us to bring in a guy, he has to be able to rush," said Lovie Smith of Jacquies Smith. "We have to think that he can be an edge rusher. We saw that before and we were able to bring him aboard our football team and that's what he showed this week. And then for him, what a great opportunity. You come here and right away we're giving you a chance to prove exactly who you are. Early signs look pretty good."
"My experience says, sometime during the year, you're going to be in this situation. Yeah, [it's] a little early for us, but that's why you have to develop that 53-man roster; and really, that's why you develop that 63-man roster and just keep your options open.  That's a position where you can come in and play fairly quick. It's not like there's a whole lot of mental things going on up front with what we ask our guys to do. You just need to be able to start off being able to rush the passer and get in your gap and play hard. But the depth is being tested and we feel like we have decent depth."