STORY HIGHLIGHTS
First-year lineman Jace Daniels appears to be the next player who will get a shot at the open right guard position
Jamon Meredith will focus on offensive tackle for the time being though he could work back into the guard picture
Oniel Cousins put enough good work on tape Friday night to merit a longer look at left guard

When the Tampa Bay Buccaneers released their first depth chart of 2014 last Tuesday, Head Coach Lovie Smith cautioned against reading too much into how the players were ranked at each position.  Now that the games have begun, however, Smith says the depth chart has more…well…depth, in terms of its significance.
"he depth chart hasn't really meant an awful lot until this past week's game," said smith.  "And now, it does mean a little bit more because we have something concrete to kind of go off of as a starting spot, which we've done. We'll continue to work different combinations for a lot of positions."
The Buccaneers haven't changed their printed depth chart as of yet, though they might make some alterations early in the coming week.  But they have clearly made at least one move, as was evident on the practice field on Sunday afternoon:  First-year lineman Jace Daniels is getting a crack at the troublesome right guard position.
Sixth-year veteran Jamon Meredith, who started 20 games at the two guard spots for the Buccaneers over the 2012-13 seasons, got the preseason-opening start on Friday in Jacksonville but was part of a front line that underperformed.  For now, Meredith will be shifting his attention to offensive tackle, his original position in the NFL, though he could eventually work back into the guard picture.  Meanwhile Daniels, who spent most of his rookie season on the Bucs' practice squad, is the first to step up from a crowded group of candidates to replace Meredith, and it could lead to a start in Saturday's preseason home opener against Miami.
"For Jace, he's gotten himself into that position," said Smith.  "In order to eventually get to the first team, you have to play with the first team. You have to do some good things in practice. Jace has been doing that throughout, whether it be center or guard. Jamon didn't play as well as he needs to [against Jacksonville]. We realize that he can play guard and tackle, so we're going to let him concentrate a little bit more at the tackle position and give that next group of guards an opportunity. Jace is the next guy."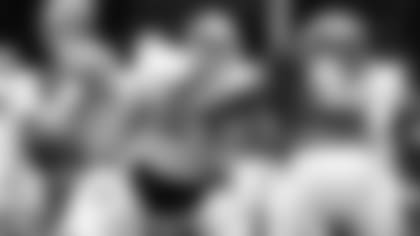 Jace Daniels spent most of his rookie season on the practice squad but is now getting an opportunity to compete for a starting job
Others who remain in the picture and could eventually earn a starting guard are Patrick Omameh, Kadeem Edwards and Jason Foster, though Foster has primarily been working as the second-team center.  For now, however, it's Daniels turn, and it appears as if Oniel Cousins will get a more extended look at left guard. Cousins started at that spot on Friday and while none of the team's blockers had a particularly outstanding game, Smith said that the former Cleveland Brown quietly put some good work on tape.
"Oniel had some good plays throughout the game," said Smith.  "A lot of the time, if there's one guy each time [who struggles] you just assume everybody's playing bad on every snap.  Oniel Cousins fights you hard, he's a tough player.  Again, no one is game-ready right now, but we saw some things that we like from him."
Smith also said that he is used to seeing his teams make a significant improvement from Week One to Week Two in the preseason, and that would certainly be reassuring in regards to the offensive front.  Cousins doesn't shy away from the notion that the O-Line struggled on Friday but he believes it will make that jump that Smith predicts.
"That's why we're out here working," said Cousins.  "We're putting it on ourselves.  As an offensive line, we feel like that game was on us.  We have to play better.  I put it personally on myself, start with me.  We've been practicing good and we just need to take it from the practice and bring it to the game.  That's all it is.
"As a unit, we just have to be on the same page, communicate and go play.  I just need to continue to work on technique and get better, whether it's a run play, whether it's a pass play, communicate with my left tackle, communicate with my center.  All across the line, we just need to continue to get better."
Daniels was a bit of a surprising choice as the next man up at right guard – not to the coaches, certainly, but to those of us who have mostly focused in on the foursome of Meredith, Cousins, Omameh and Edwards.  If Daniels can help the line make a significant improvement on Saturday, he may secure a more permanent spot in the starting guard competition.