STORY HIGHLIGHTS
The NFL schedule should be revealed in April, giving the Bucs an idea of where Lovie Smith's first season will start
The Buccaneers have not received a late-season bye week since 2008, so they may be due
There is a greater possibility of one or two cold-weather games for Tampa Bay this fall

Monday marked the last day of March, which in National Football League terms is the month of free agency. Oh, the market will remain open for about three more months, but the major work is already done; like it's kickoff month, free agency tends to come in like a lion and leave like a lamb.
So, what will April bring us? This year, the single biggest NFL offseason event – the media juggernaut that is The Draft – falls in May. Yes, the draft will still be a prominent storyline in April, but most of the new news will have to come from offseason workouts and mini-camps. And, beyond the type of news a team doesn't want – e.g. freak practice-field injuries – those events really don't generate much to talk about.
Ah, but April has a saving grace. A big reveal. A discussion-generator nearly on par with its bookends, free agency and the draft. You know what it is: At some point over the next 30 days, the NFL will release its full, 256-game 2014 regular-season schedule.
Getting those 256 games into the right dates and times spread across 33 locations (including London) is a complex process, so the league rarely promises or promotes a specific schedule-release date at the start of April. Still, it has been released at some point in that rainy month every spring since 2003, and in recent years it has settled into the April 11-20 range with some regularity. The 2013 schedule, for instance, dropped on April 18. Even with the move of the draft into May, it's likely the NFL will release the schedule at roughly the same spot on the calendar this year.
At which point, the Buccaneers will know where Lovie Smith's first regular season as their head coach will begin, and where it will end. They'll learn when they will get their first crack at knocking off the defending division champs, and whether that will occur in Tampa or Charlotte. And they'll find out if Smith's presence and the recent free agency splurge is enough to get the team back on the Monday Night Football docket.
What other answers are we awaiting as we bide our time until April's big news? Below are five questions that will be answered when the NFL releases the 2014 schedule.
1. When will Lovie return to his old stamping grounds?
Lovie Smith stalked the sidelines at Soldier Field for nine years as the Bears head coach, from 2004-12, so it was practically pre-ordained that the Buccaneers' schedule would include a trip to Chicago in 2014. The Bucs' first visit to the Windy City since 2008 (Jon Gruden's last team pulled out a 27-24 overtime thriller over Smith's Bears) is a homecoming for Smith that will serve as one of the most interesting storylines of the Buccaneers' 2014 campaign. Will he have to wait long for that reunion (which, honestly, is likely a distraction he'd prefer to get past), or will it fall at a potentially critical time in a playoff stretch drive?
Prediction: The NFL sends the Buccaneers to Chicago early in the season, taking advantage of that Lovie Smith storyline while the fortunes of both teams are still largely uncertain. Which brings us to our second question…
2. Will the Buccaneers face any harsh elements this season?
Last year, Tampa Bay mostly avoided cold and severe weather, thanks to a final quarter of the season that included two home dates and two road games in domes. The Seattle game in early November was a bit chilly, but even Charlotte on December 1 graced its visitors with temperatures in the high 50s. Things could be a little tougher this fall and winter. The Buccaneers have five destinations that have at least the potential for severe outdoor weather: Chicago, Cleveland, Pittsburgh, Carolina and Washington. The Bucs did get three dome games – Atlanta and New Orleans, of course, plus a return trip to Detroit – but they won't be headed to California, Texas or Arizona this year.
Prediction: It seems almost unavoidable that the Buccaneers will be playing in the cold at some point this season. They've had five straight later-season games in New Orleans (four of them on Dec. 16 or later), so chances are that trip will be in the first half of the season this year. Perhaps an Atlanta road game takes its place at the end of December, but the guess here is a late Carolina game and at least one more December contest in Pittsburgh, Cleveland or Washington.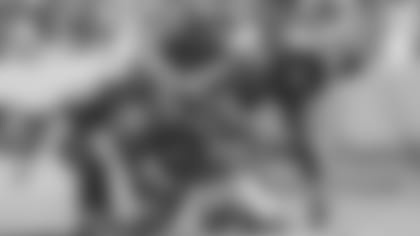 A Week One matchup with Atlanta would pit two division rivals against each other, both expecting big improvement in 2014
3. Who's first, and will it be at home?
Last year, we predicted a 2013 season opener on the road, given that the Bucs had started out at home for the fourth straight year in 2012. Bingo. A trip to New York to play the Jets kicked off the season, followed by a home opener against the Saints. That leaves us with no clear trend to follow this year, as I don't believe the NFL specifically tries to balance long home streaks with long away streaks when it comes to season openers. Overall, the Bucs have nearly a perfect split in home/away Week One games in franchise history; in 37 prior seasons, they've opened at home 18 times and on the road 19 times. As for the specific opponent for that opener, it could very well be an NFC South opponent. Predicting such a matchup would seem to be playing the odds, since the Bucs have two games against each of those three teams. However, if you take those games against the field, they account for just 37.5% of the schedule, so it would make more sense to guess at a non-division game. And, in fact, the Bucs' Week One game against Carolina in 2012 marked the only time in the last five years the team has opened against an NFC South foe.
Prediction: The Bucs even out that split with a home game in Week One, giving Lovie Smith a chance to chase his first victory in front of the home crowd. And, despite the odds being against it, the season starts with an intra-division game, pitting two teams that many expect to be much improved in 2014: Tampa Bay and Atlanta.
4. Will the prime-time lights shine on the Buccaneers in 2014?
Actually, we know the simple answer to that question is, 'Yes.' The expansion of the Thursday Night Football schedule in 2012 meant that every team in the league got at least one nationally-televised Thursday game (whether they wanted one or not). There are actually three more Thursday games this year than the past two seasons, so there will even be a pair of mid-week games for a handful of teams. So, at a minimum, the Bucs will entertain a prime-time nationwide audience at least once this fall. The question thus becomes, will that be it or could Tampa Bay find its way back into the Sunday or Monday night rotations this year? The MNF matchups are usually heavy on teams that had strong seasons the previous year, which the Buccaneers obviously did not. However, the schedule-makers will also occasionally include teams that they believe could be on the rise, which is how the Bucs got on the MNF schedule last year after a 7-9 season in 2012. The Saints got two Monday night games last year after a 7-9 season, as the schedulers probably expected a rebound year with the return of Sean Payton to the sideline. Last year's Eagles team might be an even better parallel, as they were coming off a 4-12 season in 2012 but had an intriguing new head coach and a roster that appeared to be loaded with talent.
Prediction: The Lovie Smith-led, free agency-boosted Buccaneers look interesting enough in 2014 to earn them a spot on the Monday night rotation again. If so, it will likely be a division rivalry game, to give the game a little more juice or perhaps even the Lovie-Bears reunion.
5. Bye week: early or late?
A bye week can be well-timed at any point on the schedule if it happens to coincide with a rash of injuries on the roster. In the absence of foreknowledge of such events, however, byes that fall later in the season are generally considered preferable, as there will be a higher chance of injuries after more games, as well as just general fatigue. Last year, the Buccaneers got their bye early, in Week Five, at the beginning of October, and that was the second season in a row the team got that exact week off. The 32 team byes are placed between Weeks 4-12, and the Bucs haven't received a bye in Week 10 or later since 2008.
Prediction: The Bucs are really due on this one. The NFL takes note and gives them a bye in Week 11.