STORY HIGHLIGHTS
New Bucs Tight Ends Coach Jon Embree has begun the process of evaluating the team's current crop of TEs, using 2013 game tape
Then-rookie Tim Wright caught 54 passes last season, and his continued emergence will depend largely on the development of his blocking
Luke Stocker and Tom Crabtree also return from injuries that cost them much of the 2013 campaign

Like every assistant coach of any reasonable tenure in the NFL, Jon Embree has had to change teams a handful of teams. He seems to have a knack, however, for landing in some very interesting situations, and his latest assignment is no different.
Jon Embree coaches tight ends. He spent two seasons as the head coach at his alma mater, the University of Colorado (where he played tight end), but otherwise has been teaching that position in the NFL since 2006. Over five seasons with three teams, Embree has helped the primary player in his group average 85 catches for nearly 1,000 yards and a half-dozen touchdowns per year.
Like I said, interesting situations. The Kansas City Chiefs plucked Embree off the UCLA staff in 2006 and asked him to see what he could make out of an obscure tight end named Tony Gonzalez. That plum job was followed by a year with the Washington Redskins, in 2010, during which he helped Chris Cooley come back from an injury-plagued season to catch 77 passes. And in 2013, after his two years at the helm in Boulder, Embree joined Rob Chudzinski's staff in Cleveland, inheriting a young player with potential in third-year man Jordan Cameron. Cameron had 26 catches over his first two seasons combined but blossomed into an 80-catch Pro Bowler under Embree's tutelage.
So Embree's gone from established star to bounce-back candidate to raw talent waiting to be molded, and now stop number four brings him to the Tampa Bay Buccaneers under new Head Coach Lovie Smith. And what makes this fourth situation as interesting as the previous three? Well, the sheer mystery of it.
There' s no Gonzalez or Cooley or Cameron in Tampa, and thus it's difficult to predict what the Buccaneers' tight end lineup will look like on opening day of 2014. That's not to say that Embree is facing a void of talent in his meeting room at One Buccaneer Place, however. In fact, Tampa Bay's offense featured the 12th-leading pass-catcher among tight ends in 2014. The roster as it currently stands also features the 1-2 TE combo the Buccaneers were excited about taking into the 2013 campaign.
Those players are, respectively, Tim Wright, Luke Stocker and Tom Crabtree. It was early-season injuries to those latter two (and another one suffered by Nate Byham) that led to the emergence of the third. Wright, an undrafted free agent out of Rutgers who was converted to the position from wide receiver during training camp, essentially started three quarters of the season and ended up with 54 catches for 571 yards and five touchdowns. That was the fifth-highest receptions total by a tight end in team history.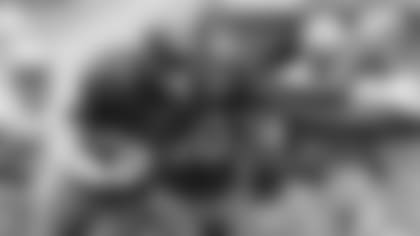 TE Tim Wright caught 54 passes as a rookie in 2013 after converting to the position from wide receiver in training camp
What Embree and offensive coordinator Jeff Tedford must sort out is whether that sort of production from Wright is repeatable and, more importantly, can it occur in conjunction with adequate blocking for the position. To begin the process of reaching that conclusion, Embree has spent a significant amount of his early days on the job in Tampa watching 2013 game tape.
"He runs pretty well," said Embree of Wright. "He runs faster when he knows what he's for-sure doing. I thought he did a decent job of catching the football, working zone and man, different routes. I see some potential there, definitely. Again, it's just a matter of where he is in making the transformation from a different position to tight end, the different nuances. I'm just kind of seeing where he is with that, where he is with his weight. Those factors are things he'll need to continue to improve on if he's going to be a successful tight end in this league."
Embree has watched tape of all the Buccaneers' 2013 tight ends, of course, but had much more to review when it came to Wright. Stocker, a fourth-round pick in 2011 who was viewed as the team's two-way tight end of the future, played in just two games last season and has struggled with injuries throughout his three years in the league. Crabtree came over from Green Bay as a free agent last spring, bringing with him a reputation as a strong blocker and a pass-catcher with big-play potential. Injuries got to him quickly, too, however, and he played in just seven games, catching four passes.
As Embree noted with a chuckle, "A lot of them played…but a lot of them didn't play a lot."
Byham was the first reserve to step up to a larger role when Stocker and Byham were nicked; Byham is considered a blocking tight end first, but he did catch three passes for 34 yards in his limited time in the lineup before he too landed on injured reserve. Left with Wright and not much else at the position, the Buccaneers picked former Chicago Bear Kyle Davis off the waiver wire in late November, and Davis did well simply to learn the offense quickly enough to be an asset in two-TE formations.
"I think they all flashed at different times what they're skills are, and they obviously they have the skill set to play on this level," said Embree of the Bucs' existing group of tight ends (Byham is due to become an unrestricted free agent in March). "Again, where do they fit within all this all depends on how Jeff wants to use the tight ends and the different skill sets that they have and how it fits with what we want to do."
Like any team in the league, the Buccaneers would love to find and develop the sort of tight end who can be on the field for almost every snap, excelling with both his blocking and his pass-catching. Embree has had the good fortune of getting to work with several such players. However, that two-way tight end isn't necessarily easy to find these days, and it's not unusual for a team to get the contributions it needs from the position out of a group rather than a lone player.
"The craziest thing about this position is that it continues to evolve," said Embree. "Some of the guys are playing standing up now on the college level, and then you get them and you're trying to get them to do some things with their hand on the ground, find out where their comfort level is in doing that. Because of that, you usually have three or four guys to really do what back in the old days one guy would do. It used to be one guy would do it all and now it's one guy does this, one guy does that. I'll be anxious to get with them and work with them, kind of get to know them and know what their personality is all about. Like I said earlier, sometimes it's hard to judge and evaluate them on what they're capable of doing because you're not sure what they were asked to do or what they were coached to do."
Embree and Tedford won't be able to get Wright and company on the field until the spring, but they can form a preliminary evaluation through those tape sessions. There are limits to that approach, but it's a reasonable start.
"I can see some things that I think are very important [on tape]," said Embree. "I can see things that don't take talent. I want to see if he can play hard. Do you make mistakes? How do you bounce back off a negative play? Those kinds of things show up on tape and those are all things that I think are important. I've always preached to the guys I'm coaching, 'You have to be good at the things that don't take talent.' Some of that stuff you can see on tape."
And, of course, Embree will have a better definition of exactly what he's looking for by the time the Buccaneers start their 2014 offseason field work. Because he accompanied Jordan to the Pro Bowl at the end of January, Embree had only just begun to get settled in at One Buccaneer Place before the first time he fielded questions from the media. In the weeks to come, he and the rest of the offensive staff will meet with Tedford and Smith to learn what the playbook will look like. That, of course, will provide a much clearer picture of what Buccaneer tight ends will be asked to do in 2014, and that in turn will help Embree and the coaches figure out if they actually have the talent in place to get that done.
Right now, it's still very much a mystery.