STORY HIGHLIGHTS
Veterans like Joe Flacco help the Ravens from riding an emotional roller coaster after losses
Baltimore's troubles in pass protection last weekend followed three straight weeks of allowing zero sacks
Flacco didn't mind learning yet another offense this season with the arrival of new coordinator Gary Kubiak

The Baltimore Ravens have the same record through five weeks – 3-2 – as the Pittsburgh Steelers, and they're tied with the Steelers in the AFC North, a half-game behind Cincinnati. They also have a fairly dominant Week Two win over Pittsburgh under their belts. And yet it's a good bet that the mood at the Steelers' complex this week has been better than the one at Ravens' headquarters.
That's the fleeting nature of emotions in the National Football League. Unless you're the 1972 Miami Dolphins or the 2008 Detroit Lions, there are always ups and downs, all of it driven by the final reading on the scoreboard on game day. Most teams have quite a few of each and must do their best to keep the season from turning into an emotional roller coaster.
"Every week…we were just talking about it," said Joe Flacco, the Ravens quarterback who was so brilliant during the team's 2012 Super Bowl run. "I mean, we're sitting here at 3-2 and we're not feeling great right now because we just lost a football game, and there are other 3-2 football teams that are out there that are feeling great because they won last week. It is week to week. If you let your emotions get the best of you, then, man, it's going to be a tough ride. I think you've got to just stay the course, you have to believe you have a good team and go out there and do it. I think the confidence, the belief in the locker room, in everyone around you and yourself, I think that's what keeps you going and allows you to kind of ride the wave no matter what happens week to week and come out of it on the good side."
The Ravens had won three in a row before losing in Indianapolis last Sunday, while the Steelers rebounded from their Week Four loss to get the win in Jacksonville. There is another lesson in that up-and-down collection of results: It was the Tampa Bay Buccaneers who dealt Pittsburgh that loss in Heinz Field the week before. Talk about ups and downs: Seven days after winning on a last-second touchdown pass in Pittsburgh, the Buccaneers lost in overtime to the Saints, with the defense allowing 511 total yards. Flacco knows that Tampa Bay is just as capable of producing an effort anywhere on that spectrum, and so he's expecting a serious challenge on Sunday despite that Week Five yardage total.
"These guys are good," he said. "They have a lot of talent. They get after the quarterback, they play downhill, they play fast. They have a lot of good players. I think they're getting healthy and they're starting to get a lot of confidence also. That goes a long way. When you can get some confidence, when you can play some good games and beat some good teams, then it does a lot for your football team. I think they're heading in the right direction and, like I said, they have a lot of talent, so they're a dangerous team."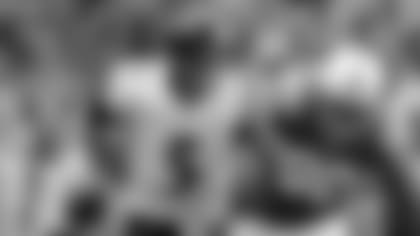 Ravens QB Joe Flacco has put up numbers similar to his 2012 season in the Ravens' new offense under Gary Kubiak
Flacco's focus on the Buccaneers' pass rush is understandable, given that he has spent the week answering questions about potential protection problems after he was sacked four times by the Colts. Rookie left tackle James Hurst, filling in for injured starter Eugene Monroe, was thought to be primarily responsible for several of those sacks. On the other hand, Hurst was also on Flacco's blind side the week before in a win over Carolina in which the Ravens allowed zero sacks. In fact, last week's troubles followed three straight games in which Flacco was not sacked. Again, ups and downs. Flacco can only trust what he believes is a good line in front of him, regardless of one tough game.
"[Pass protection] is always a point of emphasis for us," he said. "We've had three out of five weeks where we've been really solid, and then, obviously, last week against the Colts in a couple short-yard situations, we got caught up and they did a good job getting after us, and we busted some assignments. We got hit. But I think overall, it's something that's very fixable. It's always an emphasis of ours and I think we're always going to make sure we're getting better and better at it."
In a larger sense, Flacco is already rebounding from one of football's inevitable dips. After winning Super Bowl XLVII and being rewarded with a big new contract for his near-flawless postseason play, Flacco saw his team fall to 8-8 and his own passer rating fall to a career-low 73.1. He threw a career-high 22 interceptions and was sacked a career-high 48 times. Offensive Coordinator Jim Caldwell, who had replaced Cam Cameron in December of the Super Bowl year, left to take the head job in Detroit and was replaced by former Houston Head Coach Gary Kubiak. That meant another new offense for Flacco to learn, which could have led to some early-season struggles in 2014. Instead, his own numbers have rebounded nicely and the Ravens have the league's 10th-ranked attack.
"You just have to adapt to what comes at you and find the positive in everything," said Flacco. "Listen, I mean, coordinators change. Guys get new jobs. Like Jim, he went and got a head coaching job. That's all good stuff. I want this offense to be great and I told John [Harbaugh] that I don't care what you feel like you have to do, to do that. When you look for coordinators, do whatever you want to. I'm not afraid of learning a new offense. I think the experience has been great and I think guys have adjusted to it really, really well, and I think we're getting better and better each week in terms of how comfortable we are and the amount of things we are able to do."
Harbaugh, the Ravens' head coach since 2008, when Flacco was drafted in the first round, knows how to guide his team through the ups and downs. The Ravens' field general expects a tough challenge from the Buccaneers on Sunday, but he doesn't think his own team will have any difficulty rebounding from last week's loss.
"I think we have a great locker room," said Flacco. "I think we have a great group of guys who understand what we're here to do, and the bottom line is that that is to play football. Come Sunday and come going out onto the practice field and in those meeting rooms, you can't let anything affect you, no matter what it is. You have to go do your job and you have to do it to the best of your ability. I think we have a bunch of guys that understand that."