STORY HIGHLIGHTS
Lions WR Calvin Johnson is the NFL's all-time leader in receiving yards per game played
The Lions have a talented group of skill-position players and Johnson doesn't make a point of demanding the ball
WR Golden Tate helped Detroit weather Johnson's ankle injury, and now the two form a potent duo in the passing game

Calvin Johnson is not your typical NFL receiver. As a statement, that is almost embarrassingly obvious, whether you want to point to his all-time NFL record of 87.4 yards per game or his 1,964-yard campaign in 2012 or a 6-5, 240-pound frame that makes his "Megatron" nickname only slightly hyperbolic.
But Johnson is also atypical in that, despite the above stats only scratching the surface of his greatness, he is not nearly as – shall we say? - chatty as the stereotypical NFL "diva" receiver. One could certainly forgive Johnson if he sung his own praises a bit or flagrantly demanded the football more often, but that's apparently not his style. That's what Jim Caldwell has discovered in his first year as Detroit's head coach.
"He's a consummate professional, works extremely hard at his craft [and] is the humblest individual that I know in terms of a guy that has done so much in this league, but yet at any point in time has not thrown his weight around," said Caldwell. "He does everything that you ask him to do and in most cases you have to protect him from himself because he would work himself to death, but he's everything that you look for in professional athlete."
On Thanksgiving, Johnson passed the career 10,000-yard mark while strafing the Chicago Bears for 11 catches, 146 yards and two touchdowns. He's the 43rd player to break into five digits in that category, but he got there faster than anyone before him. He also did it on a team that averaged 5.1 wins per season during his first seven years in the league (but, notably, is 8-4 this year), but he still credits those around him for his achievements.
"[There are] so many variables," said Johnson regarding his swift journey to 10,000 yards. "From great coaching to great play – not just by myself, but my teammates around me. [I'm] one of 11 – if everybody doesn't do their job or at least do it to the best of their ability, a lot of that wouldn't be possible. So a lot of that goes out to my teammates."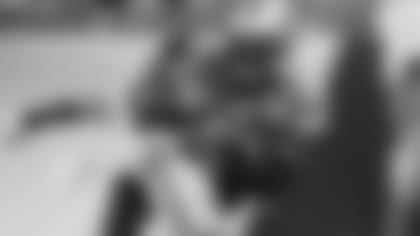 Lions WR Calvin Johnson surpassed 10,000 career receiving yards on Thanksgiving, becoming the fastest player to that mark in NFL history
Johnson got a new teammate in his meeting room this year, and that turned out to be very important for the Lions when their top receiver was limited by an ankle injury during the middle part of the season. Johnson was as productive as ever to start the season, racking up 19 catches for 329 yards and two touchdowns in the Lions' first three games. However, from Week Four through Week 12, Johnson had just one game with more than 59 yards and missed three of them outright. Fortunately for the Lions, former Seattle Seahawk Golden Tate, a primary free agency target for the team in March, caught 48 passes for 730 yards and three touchdowns during that same span. Tate averaged a Johnson-esque 104 yards per game in that critical period.
"He's played extremely well for us," Caldwell said of Tate. "In particular, he just came up huge when Calvin was out for that stretch and to be able to carry the load like he was able to do, to be highly productive in a difficult stretch, it goes without saying that he's a pretty special guy. He didn't get the ball as much as he's getting it now [in Seattle]. There's no question about it, he's a quality player."
Tate leads all NFL wide receivers in yards gained after the catch, with total of 599. That's an incredible 52.7% of his total receiving yards (1,136), and whether Johnson has been on the other side of the field or watching from the sideline he's enjoyed seeing what Tate can do with the ball in his hands.
"He's been great, especially after the catch and making a play," said Johnson. "He's very explosive and gets up the field. If he just keeps on doing that, it's going to help us out a ton down the road."
Tate had another eight catches for 89 yards against the Bears to complement Johnson's big day. Those two could be even more prolific down the stretch, as Johnson is putting his ankle injury further behind him thanks to some extra rest.
"I'm feeling pretty good right now, definitely compared to weeks past, I can definitely say that," said Johnson. "That time off after last Thursday's game definitely did some benefit."
The Lions are also expected to welcome dynamic running back Reggie Bush from the injury list this week, giving them a full complement of offensive weapons for the first time in months. Still, the Lions attack is likely to go only as far as Johnson can take it, which makes him the primary concern for opposing teams every week. Sometimes that means extra attention to Johnson and opportunities for Tate and the rest, and if that's how it works out, that's fine with Megatron.
"It all depends," said Johnson. "If I haven't gotten a look, that's a different story. There are times where – didn't throw great and then there's times where you get the ball thrown great and you just can't complete everything, based on timing. I'm not going to go try to bash or yell at anybody on the sideline.
"I've got a job to do. I've been doing it ever since and I just let everything fall as it may."
And not really talking about it very much.