STORY HIGHLIGHTS
Luke Kuechly is the first player since Lawrence Taylor to win the Defensive Rookie and Defensive Player awards in his first two seasons
Kuechly says the Carolina defenders have to be physical with the Bucs' tall receivers
The Panthers are trying to become the first team to repeat as NFC South champs

A defensive player hasn't won the NFL's MVP award since 1986, when Lawrence Taylor and his 20.5 sacks were just too terrifying to ignore. That drought will almost surely continue through the 2014 season, what with quarterbacks like Aaron Rodgers, Peyton Manning and Drew Brees lining up to break league passing records.
Still, one almost wonders if Carolina linebacker Luke Kuechly will find a way to end that streak. After his first two years in the NFL, an MVP trophy is about the only thing missing from his mantle.
The ninth overall pick in the 2012 draft, Kuechly won the league's Defensive Rookie of the Year award that first season, then followed up last year with NFL Defensive Player of the Year honors. He is just the second player ever to grab those two awards in his first two seasons and, yes, the other one was Lawrence Taylor (Taylor won both as a rookie in 1981 and repeated as DPOY in 1982). If Kuechly somehow beat the odds and matched Taylor's third award, it's almost certain he would spread the credit around.
"It was a pleasant surprise," said Kuechly of last year's honor. "I think it was one of those things where you look at the group of guys that were there – Robert Mathis, Earl Thomas, Richard Sherman and J.J. Watt – those are all a bunch of good players and it's a good honor, but I think a lot of it has to do with the guys around me. The team defense we played I think played a big part in getting that and I think that's what makes football so fun is that it's 11 guys on the field. I think awards like that are more of a representation of your defense as a whole and only one guy gets it. I think it was a great award, I think a lot went into it outside of me and guys put me in good positions to make plays."
Kuechly's known for his team-first attitude, but he has a valid point. Though he might have been the Panthers' single most valuable player in 2013 (with apologies to Cam Newton), he also played in the middle of perhaps the most dangerous front seven in all of football. With ends Greg Hardy and Charles Johnson bringing heat off the edge, rookie tackles Star Lotulelei and Kawann Short significantly shoring up the inside and weakside linebacker Thomas Davis adding a series of big plays, the Panthers racked up a league-best 60 sacks and ranked second in overall defense.
And that's what the Buccaneers and their largely reconstructed offense must face right out of the gate in 2014. Head Coach Lovie Smith and his staff have been reticent about their offensive plans, preferring not to give up any more potentially useful information than is necessary, but the wraps will come off on Sunday when the Buccaneers welcome the Panthers to Raymond James Stadium for the season opener. We may not know exactly what that offense will look like, but we know it will be led by free agent acquisition Josh McCown, and that McCown will be fortunate if he doesn't feel the heat from Kuechly and company.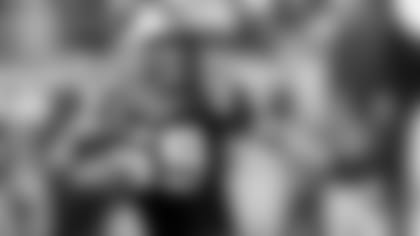 Panthers LB Luke Kuechly has already done something no one else besides Lawrence Taylor has accomplished
McCown turned 35 on the Fourth of July and will be making an opening-day start for the first time in a decade, after shining in relief of Jay Cutler in Chicago last year. Perhaps the lack of wear on McCown's tires is the reason, but Kuechly doesn't see a player who looks like he's lost any of his athleticism.
"Not at all," said the Panther star. "He's one of those guys that's a lot more athletic than I think people give him credit for. He runs well, he moves well, he throws the ball well and he's one of those guys that I think is smart and he showed it last year when he was in Chicago – he played extremely well and he's one of those guys that we have to make sure we have edges on the defense. Can't let him scoot out and run too much."
McCown excelled in Chicago in tandem with a pair of very big receivers – Brandon Marshall and Alshon Jeffery – who could use their size and leaping ability to get to passes defenders could not. Now he's got a similar starting pair in Vincent Jackson and Mike Evans, and the Bucs are hoping for similar results. Kuechly says his side will try to prevent that by not letting Tampa Bay's receivers out-muscle them.
"We've got to be physical," he said. "That's part of the mantra of our defense is to be physical with guys. They're not just tall guys, they're big guys. Vincent Jackson is a big, physical guy. I haven't seen Mike Evans before but his measurable are good, too. The tight ends are the same way too and they all can move. That's a good combination at wide receiver, a big, tall guy that can move and catch the ball well. We just have to make a point to know where those guys are and make sure we play physical."
Of course, Lovie Smith's Buccaneers are always going to emphasize the run – just like the Panthers do year after year – and they have Doug Martin back in the saddle after he missed roughly two-thirds of the 2013 campaign with a shoulder injury. That missed time included both Carolina contests, but Kuechly still has a first-hand scouting report on the Bucs' back from their shared rookie campaign.
"I think the one thing that does help is that we played him my rookie year, so we've already gotten a little bit," said Kuechly. "I think Doug is one of those guys that you have to know where he is. He can come out of the backfield and catch the ball, he runs the ball tough inside and he's got speed to get outside. Some of those things you've got to pick your poison on. He's a guy that can get the ball inside and he's going to get you five or six yards, he's going to run hard and get on the edges and make plays. He's explosive, he runs hard and he's powerful, so he's one of those guys we're looking for."
Put it all together, and Kuechly can see why there is offensive optimism in Tampa, even if he plans to temper that feeling in Week One.
"I think Doug Martin does a good job in making them a difficult team to get ready for," he said. "I think that was one of the pieces that they were without last year and I think Mike Evans is another guy in that they found a big, tall guy to compliment Vincent and I think that they are a talented team. They have weapons in the skill spots and I think they're going to be a good team."
Smith has made it clear on several occasions that he was very pleased to see Carolina on the Bucs' schedule in Week One. He's an obvious fan of how the Panthers approach the game, and he likes the fact that his team will be tested by the defending division champs right out of the gate. There has never been a repeat NFC South title-winner, and the Buccaneers would like to contribute to the continuation of that streak, hopefully taking that top spot for themselves.
Kuechly and the Panthers have another idea.
"I think everybody has been talking about [the lack of repeat champs] and we obviously know about it," he said. "Our goal is the same as it is every year and that's to go out and win the division. I don't think it really matters if we're supposed to win or if we're not supposed to win, if we're supposed to finish last or we're supposed to finish first. I think the mindset is to go out there and win the division. I think that's all 32 teams' goal, to win the division and all of the talk outside of the team and all of the other stuff is just talk. The football is played on the field and that's what we're striving for."