STORY HIGHLIGHTS
Chicago LB Lance Briggs went to seven Pro Bowls under Lovie Smith's guidance
Briggs recalls the learning curve he and his teammates faced before finding dominance on defense
The Buccaneers have the pieces in place at several key positions to achieve the same success as Briggs' crew did

Lance Briggs played for Lovie Smith for nine of his first 10 years in the NFL and considers Smith to be among the great coaches in Chicago Bears history, along with George Halas and Mike Ditka. By the time Smith was in his last year at the Bears' helm in 2012, Briggs new his motivations and his methods very well, but he still enjoyed seeing the effects they could have on his teammates.
In Week Five of that 2012 season, the Bears took a 3-1 record to Jacksonville on what would prove to be an extremely hot North Florida afternoon. Players on both side were baking under the sun, and it halftime the score was tied, 3-3. After a quick speech to the whole team in the locker room, Smith pulled his defenders together and had some choice (though always PG-rated) words for them.
"I was next to Julius Peppers at the time and when he was done Julius leans over to me and he was like, 'Son, why is he so mad? The score is tied up, it's 3-3, and we're not losing,'" Briggs recalled. "I kind of looked at Pep and I was like, 'I guess that's the standard that he has for us. That's the way he views us.'"
In the third quarter of that game, cornerback Charles Tillman returned an interception 36 yards for a touchdown. In the fourth quarter, Briggs picked off a pass and returned it 36 yards for another score. The Jaguars were held to just 45 yards of offense after the intermission, failed to convert a third down in the second half and lost by 38 points. Smith was right when he knew his defense could do a lot more that day.
Smith, of course, is now the head coach of the Tampa Bay Buccaneers, who will take on Briggs and his former team this Sunday in Chicago. Obviously, Smith thinks he can get more out of his current group, given that it ranks 27th in yards allowed and 30th in points allowed. That defense is coming off its best effort of the year in Washington, a 27-7 victory that included six sacks, three takeaways and virtually no big plays by the Redskins. Briggs, who was in his second year in the NFL when Smith arrived in Chicago and who was a first-team All-Pro by the next season, understands that the defense can take a while to master but expects the Bucs to achieve great things with it. Briggs certainly did; that 2005 Pro Bowl was the first of seven consecutive trips he made to the all-star game.
"We played decently well the first year he was there, but there are some things that you have to kind of get used to," he said. "There are a few different things – the ball could be going one way and your key is taking you a different way. In a lot systems you can, as a linebacker, where the ball goes, you go, but once you start getting more and more comfortable and you see how teams are attacking you, just about every team is going to attack you the same way. Maybe they'll dress it up differently, but they're going to attack you the same way and if you know that, you can play fast. It's not about the individuals that are in that defense, when you understand what your role is you can play fast, you can make plays and you can take the ball away.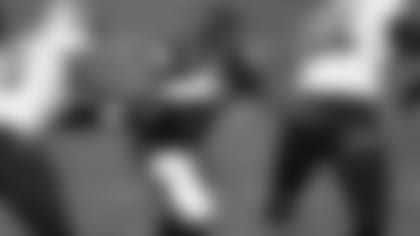 LB Lance Briggs went to the Pro Bowl in his second season in Lovie Smith's defense
"It's also a defense where unselfishness is very important. Forcing the play, hammering and setting the edge, forcing the play back in, even though you don't make the tackle, it's like you made the play. There are things that you're not going to get an award for and you're not going to get noticed for, no one is going to say you caused that play and that has a lot to do with single gaps and gap-integrity and being accountable for each play."
Briggs had Brian Urlacher, Tommie Harris, Alex Brown and Charles Tillman as teammates when Smith arrived in 2004. One of the reasons he's rosy on the Bucs' future is that he sees a similar situation in Tampa, with very good players in place at some of the key positions.
"I knew there were some key positions that are important in that defense and having a three-technique, having a defensive end, weakside linebacker and a safety, those are the core of what you have there, plus a utility defensive end," said Briggs. "When he took the job I thought he got put in a good situation as far as defensive personnel and once those guys really buy in and understand what they're doing over there, they're going to find themselves as a top five defense."
Clearly, much of Briggs' optimism about the Bucs' defense stems from his belief in Smith. He said that Smith was very good at developing tight bonds with his players and setting high expectations for them. He and his teammates were strongly motivated to meet those expectations.
"That's how he viewed us defensively and that's the way he always was with us," said Briggs. "The thing about Lovie over the years is that he always knew what he was going to get out of me and I always knew what I was going to get out of him and the same went for Brian, 'Peanut' [Tillman], Olin [Kruetz] and all of the guys that played here.
"When you think of Chicago, you think of defense and Lovie did a great job of maintaining the tradition of great defense in Chicago. The thing that he was able to do with his teams is leading the NFL in a crazy amount of takeaways – we took the ball away an awful lot over his years. It was a special time, it was fun."
If Briggs is right about the future of the defense in Tampa Bay, the Buccaneers are going to have a lot of fun, too, in the years to come.