STORY HIGHLIGHTS
TE Greg Olsen says the Panthers succeeded in New Orleans because they met their goal of getting off to a fast start
Even at 4-8-1 the Panthers almost control their own playoff destiny, which is providing the team with a lot of motivation
The Panthers will face the Bucs with QB Derek Anderson at the helm and they won't be taking Tampa Bay's defense lightly

Prior to Sunday's game in the Superdome, the Carolina Panthers were a 3-8-1 team that hadn't tasted victory since early October and had, according to Pro Football Focus, about a 2% chance of making the playoffs. After Sunday's game in the Superdome, the Panthers were a team brimming with confidence and almost (but not quite) in control of its own postseason destiny.
It's remarkable what a 41-10 road win over the co-division leaders can do for a team's confidence and its playoff fortunes. It's also quite indicative of where the Panthers' mindset was heading into New Orleans in Week 15. That was not the performance of a team that had given up on the season.
"Somehow, things obviously haven't gone well for really any of us, generally speaking, in the division, but we find ourselves still in the hunt," said tight end Greg Olsen, the Panthers' leading receiver. "It's a little unconventional and it's not typical of the NFC South, but it is what it is right now and we're not going to apologize [and] we're going to continue to try to win each game. That's been our approach all season."
And if the Panthers were sufficiently drive to thump the Saints in the Superdome, they're now even more inspired, just a half-game behind New Orleans and Atlanta, with the Tampa Bay Buccaneers coming to Charlotte on Sunday
"Oh, it's extremely motivating," said Olsen of the far more favorable standings. "That's what you play for. Every year, [teams] put up in the offseason their team goals, the first one is to win their division – that's across the board."
Olsen caught 10 passes for 72 yards in the win over the Saints, and it was his 16-yard touchdown reception that gave the Panthers a 24-3 lead before halftime. Carolina's other favorite target in the passing attack, rookie wide receiver Kelvin Benjamin, got the scoring started with a nine-yard TD grab at the end of the game's first possession and the Panthers never let off the throttle. Later, Carolina players said they didn't have a different approach on offense from the previous seven winless weeks, just better execution right out of the gate.
"The big emphasis we had going into the game was just get off to a better start, get off to a fast start," said Olsen. "Last couple weeks prior, we were falling behind early, digging ourselves out of the hole – that's just not our style. We wanted to get off to a good start, especially offensively, and with that opening drive, we accomplished just that and it seemed to kind of set the stage for the rest of the day and we kept the momentum going."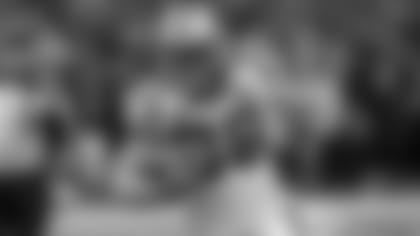 TE Greg Olsen, the Panthers' leading pass-catcher, caught a TD pass during the Panthers' first-half blitz in New Orleans on Sunday
Obviously, the Panthers also want to carry that momentum over from week to week, with virtually no margin for error over the final three weeks. Carolina could win the division by winning its final three and seeing the Saints lose once. That job became a bit tougher in a completely unexpected way on Tuesday when starting quarterback Cam Newton was injured in an auto wreck a block away from Charlotte's Bank of America Stadium. That means Derek Anderson will start against the Buccaneers, just as he did in Week One when Newton was recovering from cracked ribs. It's virtually certain that the Panthers' offense will have a different look with Anderson in place of Newton, who ran for 80 yards and a TD on Sunday, but Olsen and his teammates are confident in both quarterbacks.
"I don't think you would want to go through something like this, where you have one of your players injured off the field with something like this, obviously your starting quarterback," said Olsen. "We did play with [Anderson] with a ton of confidence. He's played this team before. I think those are all positives. It's obviously not an ideal situation to lose your starting quarterback, especially in this manner, but we have all the confidence in the world in [Anderson]."
After reining in one of the division's first-place teams, the Panthers now have an opportunity to turn that into a winning streak against 2-11 Tampa Bay. But the visiting Buccaneers shouldn't expect the Panthers' increased motivation to manifest itself as over-confidence. Olsen expects the Panthers to have to work hard to overcome the Bucs, especially on his side of the ball.
"I think the injuries have obviously changed a lot of the faces, like it does to a lot of teams, but especially in this season on their side of the ball, [and] they've got some new guys in the secondary," he said. "But I think from a personnel standpoint, I still think that they're very talented; I think their defensive line and linebackers are a real talented group. All their linebackers are quick, active, can get to the ball, and they can get after the quarterback.
"I think scheme-wise, I think they're very true to what they want to be. I think Lovie and his staff are tremendous. I played for Lovie before. They're very disciplined, they're very sure of what they want to be, and it's tested through time and it's successful. So we expect a type of a challenge. We know this defense is going to come out and play aggressive and play hard and we have to be on top of our game."