STORY HIGHLIGHTS
After winning the NFL Offensive Rookie of the Year award in 2012, Robert Griffin III has been slowed by injuries the past two seasons
Griffin III believes that NFL QBs take most of their big hits in the pocket and doesn't plan to change his style of play
Jay Gruden and the Washington staff went back to Griffin III when he was healthy, believing he's their best chance to win games


There are some who believe that, for the good of the Washington Redskins, Robert Griffin III should try not to leave the relative safety of the pocket. Griffin III is not one of those people; nor, to perhaps a somewhat different degree, is Redskins Head Coach Jay Gruden.
Griffin III, of course, is the former Heisman Trophy winner who was so breathtakingly athletic at Baylor and so tempting to the Redskins that they sent two first-round picks and one second-round pick to the St. Louis Rams to move up four spots in the 2012 draft. He was an immediate star as a rookie, compiling a 102.4 passer rating, running for 815 yards and seven touchdowns and leading Washington to its first playoff appearance in five years. In the two seasons since, however, Griffin III has struggled with injuries and the Redskins have lost 12 of the 16 games he's started.
Now Griffin III is back in the lineup after missing seven weeks with an ankle injury, and he's being asked once again if he should change the style of play that originally took him to such heights as the Heisman and the NFL Offensive Rookie of the Year award. He's heard it before and he knows he's going to hear it throughout his career.
"I just think there's a bad stereotype that comes with being an athletic quarterback and I don't know if it will ever go away," said Griffin III. "But I know one thing: I'm not going to let it infiltrate my mind and change the player that I am. You've just got to go out there and avoid the big hits out in the open field and then lead your team to victory."
Obviously, it's those big hits in the open field, and the potential for large chunks of missed playing time, that cause the concern, because it's hard to argue that Griffin's running ability is bad for the Redskins' offense. Gruden has to worry about those injuries, both in terms of his team's current playoff chase and the long-term future, but he also doesn't want to take away one of the traits that makes Griffin III special.
"There's a fine line," said Gruden, who inherited Griffin III along with the more traditional pocket passer Kirk Cousins in his first year at the Redskins' helm. "He's the quarterback that has to make those decisions and we have to live with them. You can't tell a guy – you can't pull back the reins and say, 'Hey, stay in the pocket all the time.' It kind of defeats the purpose of having a guy like that – an athletic guy that can run and get outside the pocket, work some read options, some of that stuff that really make him who he is.
"As far as him running and all that stuff, he understands that he's the franchise quarterback and he has to protect himself, but he also understands that sometimes plays have to be made and risks have to be taken – it's just part of the position."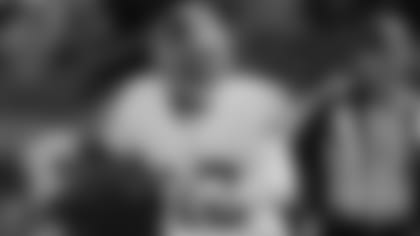 Washington QB Robert Griffin III says he would be doing his team a disservice if he didn't use all the athletic tools at his disposal
Besides, by Griffin's estimation – and he certainly has the experience to know – the pocket really isn't the vastly safer experience it's made out to be. What made Griffin III so coveted in 2012 – he surely would have gone first overall if Andrew Luck had not also been in that prospect pool – is that he has the tools to excel both in and out of that pocket, and he plans to continue to do so.
"You've got to play, man, that's the bottom line," said Griffin III. "Let your instincts take over, get out of bounds, slide, don't take too many big hits. What people don't realize is whether you're an athletic-type quarterback or a quarterback that's mostly stationary, a lot of your hits come in the pocket. That's where it's just football. You have to be strong enough – mentally strong enough, physically strong enough – to take on those hits, get up and move on to the next play."
Griffin's dislocated ankle early in the Redskins' Week Two game against Jacksonville was feared to be very serious at the time, perhaps season-ending. Instead, he made it back to the field in what now seems like a rather short amount of time. It was enough time, however, for the Redskins to move on from Cousins to Colt McCoy in Griffin's absence. Both Cousins and McCoy had some very strong moments – and it was McCoy under center when the Redskins turned in their biggest win of the season at Dallas three weeks ago – but there was never any doubt at team headquarters who would be the starter when Griffin III was healthy.
"We made the evaluations pretty early during OTAs and training camp," said Gruden. "We felt very strongly that Robert was the starter. When he went down, we felt pretty good about where Kirk was with his experience that he got last year – he played the last four or five games and did some good things, and did some good things in training camp, so we felt very strongly he was No. 2, and then we got Colt in as a free agent who's a veteran-type player with the West Coast offense and the terminology, so we felt very good about our quarterback situation from a depth perspective.
"And obviously Robert goes down and you go with Kirk, and Kirk did some really good things. Unfortunately, we turned the ball over too much and were brutal on third down, so I thought Colt deserved an opportunity to play and he took advantage of it against Tennessee and against Dallas, and when Robert got healthy again, we just had to go back to our Robert because we felt like he was the quarterback that gave us the best chance to win, period, and he was healthy."
Gruden points out that he and his new coaching staff have had just nine quarters of regular-season play to develop Griffin III within their offense. Gruden's crew is working with the 24-year-old passer on his footwork and fundamentals and finding out what plays put him and the offense in the best position to succeed. Some of those plays will be made in the pocket, and some will not.
"I think God blessed me with unique abilities: the ability to throw from the pocket and throw on the run and move around using my legs," said Griffin III. "So I think that'd be a disservice to Him and myself and this team if I didn't utilize that. So for me, I just go out and play. I don't worry about what anybody has to say, what they think I should be doing or shouldn't be doing. I listen to my coaches, I work for the scheme, and just make sure I execute each play to the best of our abilities, and when it's not there, make something happen."