STORY HIGHLIGHTS
WR Mike Evans' one-handed catch on Friday was a stunner, but apparently not his first standout moment on the Bucs' practice field
The seventh-overall pick in last weekend's draft, Evans believes he has to work just as hard to impress as the rest of the rookie class
Head Coach Lovie Smith has been pleased with how quickly Evans is picking up the offense

Rookie wide receiver Mike Evans had his first "Eureka!" moment as a Tampa Bay Buccaneer on Friday…or at least his first in front of more viewers than just his coaches and teammates.
On the first day of the Buccaneers' three-day rookie mini-camp, Evans amazed dozens of onlookers during a passing drill when he made a stunning one-handed catch on a deep post route down the middle of the field. Apparently, however, it wasn't the first time during his first week at Buccaneer headquarters that he had shown off the talents that made him the seventh overall pick in last weekend's draft.
Buccaneers Head Coach Lovie Smith was as impressed as the rest of the One Buc audience by Evans' catch on Friday, but perhaps a little less surprised. According to Smith, Evans had already authored several eye-opening moments during Phase II practices with Buccaneer veterans earlier in the week. Because the NFL draft was two weeks later than usual this spring, Evans and most of his teammates were able to immediately join the team's offseason practices, even before that first rookie camp.
"You talk to the players about doing something to make the coaches notice them, and seeing how guys can perform on the center stage," said Smith. "Great catch by Mike Evans out there today, but he's been doing that all week. He's a good football player."
On Friday, Evans was running exclusively against other rookies and first-year players, about half of them in town on tryout contracts, saw the level of competition wasn't quite as high as earlier in the week. Still, Smith enjoyed seeing the mismatches that the 6-5 Evans often created against smaller defensive backs, which the Buccaneers are counting on taking advantage of this season. As for the occasional spectacular moments, Smith says those are part of the package, too, in a player of Evans' pedigree.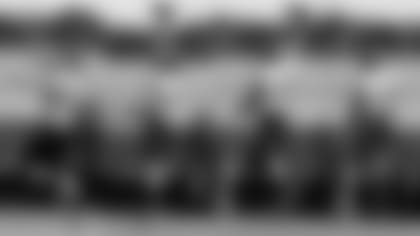 Rookie WR Mike Evans made the sort of difficult catch Friday that the Bucs believe he can add to the offense this fall
"He has excellent hands; you saw that in college," said Smith. "So we haven't been surprised about an awful lot [Evans has done]. You take a player that high in the draft, you expect to see some spectacular plays from him, and we've gotten that. When you draft a player that high, you expect him to do a little bit more than just the ordinary. We've seen Mike do that. Mike had a great college career, made a lot of plays like that, and a lot of times what you see in college you get a chance to see at the next level, too."
Evans probably didn't need to make a circus catch in order to catch the coaches' eyes, but he's just as motivated to stand out as the team's undrafted free agents or this weekend's tryout players.
"I think all the rookies are equal," he said. "Just because we were drafted in Round One or Round Two, it doesn't really matter. I'm just going to go out here and compete like everybody else."
Smith said he has been just as impressed with how quickly Evans is picking up the playbook, and Evans would probably appreciate that praise over any exclamations caused by his one-handed catch.
"I just want to learn the offense as fast as possible and get up to speed with the rest of the guys," said the rookie. "I just want to be the hardest worker I can be and the greatest teammate I can be."