STORY HIGHLIGHTS
Rookie WR Mike Evans used his size and strength to create the longest play in Saturday's game
Had Evans' play been one yard longer, he would have scored his first NFL touchdown
The first-round rookie learned a valuable lesson, and fortunately he did it in the preseason

In his short time in the NFL, rookie wide receiver Mike Evans has displayed a surprising streak of honesty when discussing his game, skipping clichés to bluntly address both his successes and failures. He did it again on Saturday night after his Tampa Bay Buccaneers lost to the Miami Dolphins, 20-14, in the second week of the preseason.
The specific topic in this case was a play in the second quarter that probably determined the outcome of the game, and not in the Buccaneers' favor. It was, for about 98% of the play's running time, a brilliant example of why Tampa Bay spent the seventh-overall pick on the former Texas A&M receiver. It just happened to go bad right at the end.
With the Buccaneers leading 7-3 early in the second quarter and second-year quarterback Mike Glennon taking over for starter Josh McCown, the home team faced a third-and-15 at the Miami 43. Evans ran a "deep over" route in the middle of the field and Glennon delivered a high, hard pass a fraction of a second before he was hit by a Miami pass-rusher. Evans caught the pass with safety Jimmy Wilson closing in, and held on as Wilson delivered a hit to the upper part of his torso. It was a bad decision by Wilson, who didn't even try to wrap Evans up, as the 6-5, 230-pound rookie bounced off the hit, swung to his left and galloped down the left sideline.
Evans appeared to score a touchdown to make it 14-3 in the Bucs' favor, but there was one small problem: As a replay challenge clearly showed, CB Brent Grimes was able to pop the football out of Evans' arm just before he crossed the goal line. The loose ball flew into and out of the end zone for a touchback, negating the six points and giving Miami possession at the 20. Given that both teams struggled to maintain any offense in the second half, it's a good bet that Evans' lost touchdown would have won the game.
"That would have been good," said Evans in the locker room after the game, his demeanor patient and unflustered. "That would have been tight, but I couldn't finish. Hopefully in the regular season we get a lot of that.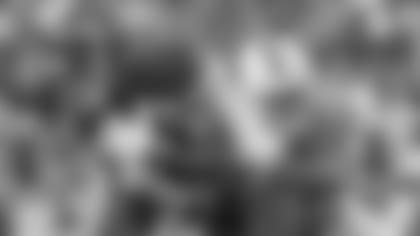 Rookie WR Mike Evans had two catches for 52 yards in his first home game as a Buccaneer
"It was a little bit embarrassing. I wanted to win. I know it's the preseason but I wanted to win and that touchdown could have helped us win. We lost by six. I'm just happy it happened in the preseason. Good play by him…he surprised me. I didn't know he was that close to me. He hit my arm and it went out of bounds. I kind of knew it was a fumble; that's why I didn't celebrate."
The Buccaneers' locker room at Raymond James Stadium doesn't have a lot of wiggle room, and with 90 players on the roster, it's a six-way traffic jam after games. Evans could have very easily hid from the media if he found that goal-line gaffe too embarrassing. He didn't even consider it. He didn't display a shred of self-consciousness as he discussed Saturday's game. And therein lies the point: Evans doesn't mind talking about any little bump in the road because he's supremely confident that he's going to have it all figured out soon.
"It was a great learning experience," he said. "I'm happy it's preseason and I got that out of the way, hopefully."
Because it's the preseason, Evans had a forgiving crowd around him in the postgame locker room. It was easy to focus on the 98% of that play that was promising for the Buccaneers' future, including the good work of "quarterback-of-the-future" Mike Glennon and the size and speed of the player who is sure to be his favorite target somewhere down the road.
"Mike threw a good ball," said Evans. "He had pressure but he threw a good ball and I just used my frame, got in front of the ball. The guy whiffed on the tackle and I showed my '4.8' speed into the end zone."
Glennon didn't mind absorbing a hit in order to get the pass off because he knew his target had a good chance of hauling it in, even if it wasn't delivered in the perfect spot.
"It's part of the game," said Glennon. "When you're a quarterback, you're going to get hit right in your face, but it's also nice to know that you can put it in the general area and he's going to go down and make the play and that's exactly what he did. It was a better catch than anything. It was really good to see him do that. In practice, you can't always tell because it's not live and in that situation he turned a 15-yard gain into 45. So it was a big time play by him."
Evans finished with two catches for 52 yards while playing about a quarter and a half. He started the game – a token "promotion" from preseason Game One – and formed a potent duo with fellow 6-5 pass-catcher Vincent Jackson. Jackson gave the Bucs a 7-3 lead early in the second quarter with a seven-yard touchdown catch after the Bucs took over on a Michael Johnson fumble recovery. Evans was a very serious decoy on that play, and he loved the final result.
"Coach Lovie [Smith] insists we get takeaways," said Evans. "That's like all he talks about. We got one, the defense gave us a short field and we capitalized."
Had Evans capitalized on his long gainer – had the ball stayed in his hands for one more yard – there's a decent chance the Bucs come away with a victory. As it is, the team took an "L" that really doesn't hurt much and Evans learned a lesson that should help a lot. And Buccaneer fans saw what their newest first-round pick is capable of doing.