STORY HIGHLIGHTS
The arrow is pointing up for WR Mike Evans, who has the work ethic to continue to get more and more out of his talents
Evans is the only player in the NFL with at least 200 receiving yards and three TD catches over the past two weeks
The Buc rookie was a huge Randy Moss fan growing up but also appreciates the NBA's Dwyane Wade and Wade's approach to his craft


Mike Evans' rookie season has gone from quietly effective to seriously eye-opening in recent weeks, and there's a chance it might still go supernova.
Evans has back-to-back 100-yard games, totaling 14 catches for 249 yards and three touchdowns in games against the Cleveland Browns and Atlanta Falcons. Only fellow rookie Odell Beckham of the New York Giants has more receiving yards over the past two weeks, and nobody has more touchdown catches (though several others are tied). Evans is the only player in the NFL with at least 200 receiving yards and three touchdowns in that span. The Buccaneer rookie is suddenly on pace for 1,170 yards this season, if one extrapolates his per-game rate to the maximum of 15 games in which he can appear (he missed one due to injury earlier in the year).
Now, the Buccaneers can hardly expect Evans to throw up a 7-125-2 stat line every week; if anything, continued games of that caliber will force opposing teams to begin rolling more coverage his way. But they can expect Evans' season-long improvement to continue, if only because he has found the right approach to succeeding in the NFL.
"We picked him No. 7, so he is certainly kind of living up to those things that you would hope for with a guy you picked that high," said quarterback Josh McCown of his young teammate. "More than anything, just the way that he's developing his work ethic off the field and how he's going to prepare for games. You can see him becoming a pro, so to speak, and that's the best part, because that is what carries you through your career. Your talent is what gets you picked No. 7, but becoming a pro is what really solidifies your ability to play consistently and maintain that level of play. It feels like that's where Mike's headed right now, and that's a good thing for us."
Jerry Rice is the greatest receiver in NFL history and some consider him the greatest player at any position. Rice was the 16th player drafted in 1985, so he was obviously a highly-regarded prospect, but he wasn't the first or even the second receiver selected. He wasn't an absolute sure thing in the spring of 1985, and really no draft pick ever is. Rice made himself into the G.O.A.T by matching his physical talents with a legendary work ethic.
No one in good conscience would compare any NFL rookie to Jerry Rice, and we're certainly not doing that to Evans here. Even matching Rice's dedication to his craft is no small feat. The point, however, is that the Buccaneer rookie understands that his rather impressive physical talents alone won't make him a star player in the NFL. He knows he has to work for it.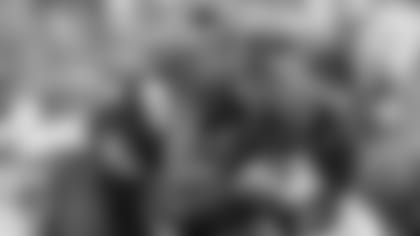 WR Mike Evans is proving to be a matchup nightmare in the red zone
"That's how I've been all my life: Work hard," said Evans. "I was blessed to have some talent but I always work hard. I'm blessed to be in this position so I work hard for it. I want to be the best."
Evans was taken nine spots higher in his draft than Rice was in his. He was taken 14 spots higher than where Randy Moss came off the board in 1998. Evans is an unabashed Moss fan and would love to emulate his long stretches of dominance, but he's long had another model in the world of pro sports that helped mold his approach to the game.
"I watched Randy Moss," said Evans with a grin. "He was just a great player and had a lot of swag. I looked up to him as a receiver, but Dwyane Wade's my favorite athlete and he works real hard. It's just how I was raised. In college, they pushed me to work hard, and in high school, so I've kept that mindset."
Evans has become a serious problem for opposing defenses when the Bucs get to within 20 or 30 yards of the goal line. McCown knows that his rookie pass-catcher doesn't need a whole lot of separation; lob a high pass into a small window and Evans will usually beat the defender to make the play, and he can do it with just a little room to work on the sidelines. Evans is also a powerful runner when he catches the ball in stride, and that's an aspect of his game out of which the Bucs will eventually get more. Over the last two games, 224 of Evans' 249 receiving yards have been gained at the catch, with just 25 after.
Evans says the Bucs' playbook already includes options to get him the ball in space.
"I get the ball in shorter routes," he said. "That's not for me to say. Whenever I get the ball I've got to make a play. Whatever we're doing, it's working so far."
Indeed, and with seven games to go it could continue to work better and better. There's no doubt that Evans himself is going to work harder and harder.
"Mike as a rookie has had to come in and become the guy that we thought he would be, to go through some rookie challenges and learn from those situations," said Head Coach Lovie Smith. "You want to the see the arrow pointing up and I think it's safe to say that's the case."