STORY HIGHLIGHTS
Buccaneers LB Danny Lansanah made his first NFL start on Sunday in Pittsburgh at the age of 29
A firm nudge from his father kept Lansanah from abandoning his football dreams five years ago
Lansanah's pick six in Atlanta and strong work against the run in Pittsburgh could buy him more playing time


Danny Lansanah called his dad the other day just to thank him, one more time, for saying the right thing at the right time.
Lansanah's told the story before. A quick recap: An undrafted free agent out of UConn he had spent his 2008 NFL rookie season with the Green Bay Packers but had been cut in September and then spent about a month on the Miami Dolphins' practice squad. After Miami let him go, Lansanah hit the tryout circuit, a not-uncommon path for a young, unproven player trying to get his foot in the NFL door. He'd been to Cleveland, New England and Indianapolis, and he was scheduled to go to Detroit on the day after his Indy visit. On the flight home from Indy, he decided he'd had enough, no more fruitless visits to NFL cities. However, his dad was waiting for him at the airport when he landed and he persuaded him to get on the flight to Detroit.
It is that firm nudge for which Lansanah often remembers to thank his father. There was no magical blossoming of Lansanah's career after that flight to Detroit. He did finally get signed, to the Lions' practice squad, but that only lasted about a month and then he spent the next three years playing for two teams in the short-lived UFL. But it was enough to keep his dream alive, and so he was ready when the New York Jets came calling in 2013. He spent the offseason with the Jets, made the 53-man roster out of camp and then was moved to the practice squad. When the Buccaneers experienced a rash of linebacker injuries late that year, they plucked him off the Jets' practice squad and put him on their active roster.
"I'm thankful, because this is what I love to do," said Lansanah. "I mean, I got my degree in school but football's my passion. I've done it all my life and I can't see myself doing anything else, not right now."
Lansanah made the Bucs' roster again in 2014, but that's not why he called his dad again. Rather, it was another major career milestone that prompted the latest round of gratitude: At the NFL-ripe age of 29, Danny Lansanah made his first regular-season start.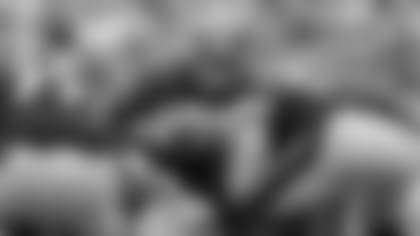 LB Danny Lansanah says the key to the Bucs' stopping the run in Pittsburgh was playing good 'assignment football'
During a Week Three Thursday night blowout in Atlanta, Lansanah got a chance to play on defense with a number of other reserves in the fourth quarter. He provided one of the few bright spots of the evening, interception a pass and returning it 27 yards for a touchdown. It is the Bucs' only interception and only defensive score so far this season.
The Bucs had seen enough, both in that game and on the practice field. Quietly, they made Lansanah the starter over Jonathan Casillas at strongside linebacker. Lansanah knew during the Bucs' week of practice, obviously, so he was able to alert his family in Harrisburg, Pennsylvania. He had a big crowd at Heinz Field to cheer him on, and he and his teammates rewarded them with a thrilling last-second victory.
"It was a great to get the opportunity to play, especially my first start coming in my home state," he said. "I had a lot of family there and coming up with that win was big. It was a great feeling."
Lansanah's first start won't be his last. The Buccaneers think he can get even better as he gets more experience in their defensive scheme, which is not necessarily as simple, conceptually, as many believe.
"There are some things in our defense – it's not as simple as most would think, just lining up and playing the Cover Two," said Defensive Coordinator Leslie Frazier. "There are some responsibilities for every guy at every position. And when you're a new guy at the middle linebacker position or a new guy at the outside linebacker position, like [Danny] Lansanah or Dane [Fletcher] is, there are some things that have to happen over time, and they're going to get better. We'll get better as they get better. Just got to keep going out there and playing and practicing and getting them ready. But it's not as simple as just rolling out and saying, 'OK, we're going to play Cover Two.'"
Lansanah agrees that the defense takes a while to master, but surprisingly doesn't think he takes the biggest steps forward in actual game action. He's had an entire offseason to learn the system and is starting to feel comfortable in it thanks to the intensity of some of the practice sessions.
"We've been at it since offseason workouts and OTAs," said Lansanah. "We didn't change anything; we did the exact same thing. But it does take some time and I'm really starting to get it now, get a grip on it. People think it's just 'this, that and a third,' but there's way more to it than that. Getting it down and knowing what your teammates have to do, things like that, makes you a better player.
"I think how Coach Lovie and the coaches coach [makes] practice way harder than a game. They put pressure on us, put us in all the situations we'll be in in the game, so I think practice is way harder than a game. The game's fun. The game is the reward; it's the practice where you have to go out there and be assignment perfect and do what you're coached to do."
Lansanah and his fellow defenders followed their assignments quite well in Pittsburgh, at least against the running back tandem of Le'Veon Bell and LeGarrette Blount. Those two had driven a 264-yard rushing attack against Carolina the week before and if the Bucs were going to pick their poison against Ben Roethlisberger and company, it wasn't going to be a slow death by the ground game. They held Pittsburgh 85 rushing yards and just 3.1 yards per carry.
"It was just going out there and playing assignment football, everybody playing in their gaps and playing physical and downhill," said Lansanah. "That's what our coach told us to do and that's what we did. We played great defense stopping the run. A quarterback can throw for 500 yards [against you] and if you can still win the game but when a team rushes the ball for 200-plus yards or something like that, you're pretty much going to lose. We emphasized stopping the run and that's what we did."
Obviously, the Buccaneers' 29th-ranked pass defense had to improve, and more playing time for Lansanah could be a part of that effort. He's got good speed and, if the pick-six in Atlanta is an indication, good instincts in the open field.
"Playing linebacker, it's instincts and being able to use your keys and know what you're doing," said Lansanah. "The linebacker position is like the quarterback of the defense. You've got to know what everybody's doing. You've got to know what the D-Line is doing, you've got to know what the other linebackers are doing, and the secondary."
If Danny Lansanah can continue to grow in the Bucs' defense, he could turn his 11th-hour starting opportunity into a whole new chapter in his NFL career. And if that happens, he's sure to get on the phone and thank his dad one more time.