STORY HIGHLIGHTS
Josh McCown was part of a famous late-season "spoiler" game in 2003 and he enjoyed the playoff atmosphere
McCown believes the Bucs can benefit from opposing playoff-chasing teams down the stretch
In addition to impacting the division race, Tampa Bay can also build momentum for 2015 during the final three weeks

Josh McCown knows one thing that can be gained from an NFL team continuing to play hard in December after the playoffs are out of reach. Namely, cheese.
Or this time around, possibly beignets, peaches or Carolina barbeque.
In 2003, McCown was at the helm of the Arizona Cardinals, having taken over for Jeff Blake for the final three games of the season. The Cardinals were 3-12 heading into a home season finale against the Minnesota Vikings, who were 9-6 and looking to beat out the Green Bay Packers for the NFC North title. A Viking win would have left both teams at 10-6 and Minnesota would have won the division on a tiebreaker. The Vikings looked as if they were headed to the playoffs with a 17-6 lead with under two minutes to play.
However, a fourth-down pass to Steve Bush, a successful onside kick and a pass interference penalty gave the Cardinals a chance, down six. After taking two sacks, McCown got the snap off on fourth-and-24 from the 28 with four ticks left on the clock. He scrambled up and to the right to escape pressure then threw a high pass on the run to WR Nate Poole on the right edge of the end zone. Poole caught the ball, and though he only got one foot down it was immediately ruled a touchdown by the nearby official, who signaled that he had been forced out of bounds.
The play brought devastation to the Vikings sideline but a big cheer at Lambeau Field, where the Packers were finishing up a 31-3 romp over Denver, knowing they were likely to be eliminated anyway. McCown said it didn't take long for the Packers and their faithful to show their gratitude.
"They sent me a bunch of cheese – I'm serious," said . The Sargento family sent us cheese and we got everybody's Christmas cards from that year marked, 'Thank you, Josh.' It was hilarious. It was fun. You would have thought we won the NFC Championship. We were thrilled with the way that we competed and fought in that game."
McCown's team will face the Packers near the end this time, maybe in position to return the favor for the second-place Detroit Lions this time around. The Buccaneers are much more likely to have an impact on their own division race, first in Charlotte this Sunday and then in Week 17 when the New Orleans Saints come to town. With the Saints and Atlanta Falcons holding identical 5-8 records and a half-game lead over the Panthers, those two Buccaneer games are almost sure to play a part in the final divisional outcome.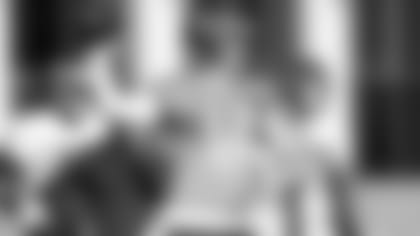 QB Josh McCown had the gratitude of Green Bay rain down on him in 2003 after he helped beat the Vikings in Week 17
McCown isn't specifically relishing the ability to spoil one team or another's playoff hopes. He does, however, want his team to experience the de facto playoff atmosphere of those two games.
"Some guys find that as motivation," said McCown of the potential 'spoiler' role during a playoff chase. "'Hey, let's go ruin their season.' Some guys, it's, 'Hey, let's keep competing because this is what we're supposed to do and we want to keep building and getting ourselves better.' The main thing is to go out and play hard.
"[The other team] will bring a lot of juice because they're in that mode and it will be a good opportunity for us to match that and feel that and kind of learn from ourselves. Even though you're not in it – and the carrot is gone a little bit – you still feel the playoff intensity from those guys, because they're playing for something, they're trying to get ramped up. These reps of playing against a team that's doing that will serve us well down the road. If we find ourselves in this position next year where we're one of these teams [in the playoff hunt], we'll be able to recall and go, 'You know, that's what it feels like.' So, for the guys that remain on the team, I think it will serve that purpose."
That carrot, of course, was the chance to make the playoffs, which was alive for the Buccaneers well past when it usually dies for a two-win team in December thanks to the division's depressed standings. The spoiler role can serve as a replacement carrot, but McCown thinks many of his teammates will also be motivated by a chance to use the final three weeks in a way that will improve their chances in 2015.
"You're always playing to get in the playoffs, so, if you're not – and now we're out of 2014, so it's 2015 – you're trying to build momentum for that [next] season," he said. "So these games matter and every rep matters right now because it's a chance for us to get better at what we do. Every team changes in the offseason and who knows what's going to happen. But as long as you're here and you have a job here, you have to continue to grow as a player here, because you don't know what the future holds.
"These games will be important for us, and all these teams that we're playing are playoff teams that want to win these games. And we want to win these games because we're competitors and, like I said, from day one, you want to win every game that's in front of you."