On August 22, 1992, the Tampa Bay Buccaneers played a road game against the Miami Dolphins. It was a common preseason destination for the Buccaneers. Two days later, Hurricane Andrew made landfall in South Florida; it remains, for now, the most destructive hurricane to hit the Sunshine State.
Andrew is rightly remembered for the devastation it wreaked on communities such as Homestead and Cutler Ridge (as well as Louisiana and the Bahamas), including the 65 people it killed in Florida. At this point it is little more than trivia, but Hurricane Andrew also affected the Dolphins' season.
Miami was set to open its regular season at home against the New England Patriots on September 6, but the game was postponed due to the destruction caused by the hurricane. The Dolphins and Patriots eventually played in Miami on October 18, which essentially turned Week One into their bye week.
In the relatively light annals of modern NFL games that have been rescheduled due to extenuating circumstances – primarily hurricanes – this one is the most direct comparison for the situation that the Buccaneers and Dolphins find themselves a quarter century later. Tampa Bay and Miami were set to open their respective 2017 seasons against each other at Hard Rock Stadium in Miami Gardens. However, with Hurricane Irma – like Andrew, a Category Five storm – bearing down on Florida, the game has been rescheduled for Sunday, November 19. Both teams had previously been scheduled for a bye that week.
As was the case in 1992, football has taken a backseat to real-life concerns of safety. Members of the Buccaneers and Dolphins organizations will focus on their families this weekend and, when circumstances permit, get back to football next week. They will then each play 16 straight games, something that has been a rarity since bye weeks were introduced into the NFL schedule in 1990. It's a stretch to call that ideal for either team, but on Wednesday the Buccaneers refused to call it a problem.
"We've got to adjust and we've got to deal with it," said Koetter. "No one's going to feel sorry for us. There is a precedent for teams playing 15 or 16 games in a row and you know what? Most of those teams have done pretty well. This isn't going to affect us one bit until we get to Week 11. Let's just be real about it. We've got a hurricane, we're dealing with it, and then we'll move on."
Koetter's approach is the only practical one the team can take, of course. There's nothing to be gained by complaining, and there are months to go before the potential of added fatigue is an issue. Tucked into the middle of that thought, though, was an interesting note. The Bucs and Dolphins won't be the first NFL teams to play close to four months without a week's break, and history suggests that it doesn't have to be a season's death sentence.
Obviously, this was common before bye weeks were introduced in 1990. The league expanded the schedule to 16 games in 1978, so there were a full dozen years in which every team played 16 games in a row. But even if we only consider the bye-week era, there are enough examples to indicate that teams are able to overcome this obstacle. That's especially true if we include both 15 and 16-game stretches, as Koetter does above.
The Miami-New England example noted above isn't really conclusive. The Dolphins still managed to go 11-5 and make the playoffs, but the Patriots finished 2-14. Of course, New England had only averaged four wins a year during the previous three seasons, so the altered schedule may not have been an issue. The '92 Dolphins rebounded from Hurricane Andrew to win the AFC East after finishing 8-8 the year before.
What spiked the number of instances that fit into this study was the return of the Cleveland Browns in 1999 after a three-year hiatus. That gave the NFL an odd number of teams for three seasons before the addition of the Houston Texans in 2002. With 31 teams in the NFL, at least one of them had to be at rest every week. The NFL minimized this by only putting one team each on a bye in Weeks One, Two, 16 and 17, but that still meant four teams would face stretches of 15 or 16 games in a row.
In addition, the 9/11 terrorist attacks in 2001 disrupted the NFL's schedule. All the games of Week Two were cancelled, and then eventually rescheduled for early January. The league pushed back the entire playoff schedule in order to create an 18th week for all those original September games to land. That meant the two teams that had a bye in Week Three ended up playing 15 in a row, as well.
The Buccaneers were one of those teams. They finished 9-7 and won a Wild Card berth. That was one game worse than their 10-6 mark of the previous year, but their final, rescheduled game against Philadelphia was meaningless and played almost exclusively by reserves. The Eagles had already won the NFC East and the Buccaneers had already been locked into the #6 seed. Philadelphia came back to win the game, 17-13.
By essentially duplicating their record from the year before, the Buccaneers found a common fate with the teams that have played 15 or 16 straight games in a season since the introduction of bye weeks. There are 18 such teams – the 14 that occurred from 1999-01; the Dolphins and Patriots in 1992; and the Ravens and Texans in 2008, also displaced by the effects of a hurricane.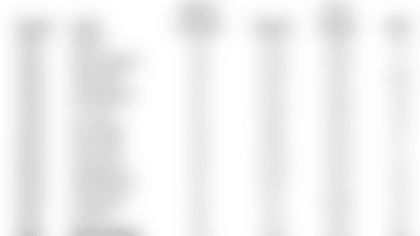 Two-thirds of those 18 teams actually improved from the previous season, while another two broke even. One of the 17 didn't apply; the 1999 Cleveland Browns went 2-14 in their first year back in the league. That means only three got worse. Of those 12 that improved, seven improved by at least four games.
"I'm pretty sure teams have done it before and there's no reason we can't," said Buccaneers guard Ali Marpet. "It's going to be a little bit different. We'll probably have to adjust practices accordingly and Dirk's smart about it, so it really shouldn't be an issue for us."
Comparing how a team did in their long, unbroken season to how they performed the previous year isn't a perfect bit of proof. What is important, of course, is how the team fared compared to how it would have done with a more traditional bye week, but that's impossible to know. Perhaps it's enough to see that plenty of those teams were obviously able to succeed despite that added challenge.
Those teams that succeeded likely did so by figuring out the right way to adjust. That includes managing practices in a manner that effectively balances preparation for the upcoming game with maintaining player stamina. A mid-November bye week would have helped in that regard, clearly, but now the Buccaneers will have to find a different way. That's something that will likely evolve over the next two months.
"When I came in the league, working for Jack Del Rio, former player, his whole deal was, 'Get the players to the game fresh. Get the players to the game fresh,'" said Koetter. "So we always try to do that. We try to do it at training camp and we will try to do it in Week 11. But I'm going to be worried about Week 11 then. Right now I'm worried about Week Two."
Week Two is the new starting point for the Buccaneers' 2017 season. The finish line for the regular season remains December 31, in Week 17. The Bucs will simply have to find a different way to get their than originally planned.