STORY HIGHLIGHTS
As finalists in 2015, Tony Dungy and John Lynch are prime candidates for future induction into the Hall of Fame
Junior Seau and Orlando Pace hit the ballot next year but there might be some room for returning candidates
The potential list of first-year-eligible candidates in 2018, including Ronde Barber, is impressive

The Pro Football Hall of Fame will open its doors for former Tampa Bay Buccaneer Derrick Brooks this summer.  Hopefully, a window of opportunity will stay open for Tony Dungy and John Lynch, as well.
Brooks, Dungy and Lynch – all significant figures in the Buccaneers' franchise turnaround in the 1990s and early 2000s – made up 20% of the 15 finalists for the Class of 2014.  In the end, Brooks got the call as a first-year-eligible candidate, following former Buc teammate and 2013 Class member Warren Sapp into the Hall.  Dungy and Lynch will move on to their second and third years of eligibility, respectively, in 2015, but their shared status as finalists in 2014 mark them as strong candidates for their own bronze busts.
Every year the Hall welcomes new modern-era inductees who had been made to wait for enshrinement.  Brooks and former Seattle Seahawks tackle Walter Jones got in as first-year-eligibles this year, but the remainder of their class was made up of players in their second (Michael Strahan), third (Aeneas Williams) and eighth (Andre Reed) years as finalists, respectively.  In 2013, Sapp was joined by Larry Allen and Jonathan Ogden as first-year selections, but that left room for the Hall voters to finally sweep Cris Carter and Bill Parcells into the Hall.
If we are to side with prevailing opinion and take the optimistic view that both Dungy and Lynch will eventually get in, then the question becomes, how long will they have to wait?  The answer likely lies in one factor that is at once simple and yet very complicating: Who else is coming down the pike?
The members of the Hall of Fame Selection Committee seem eager to reward qualified candidates who have been made to wait, such as Carter and Reed.  However, they can induct a maximum of five modern-era candidates each year, and each year there are new names added to the mix.  The fate of those waiting for the call rests on how many slam-dunk first-ballot candidates emerge each year.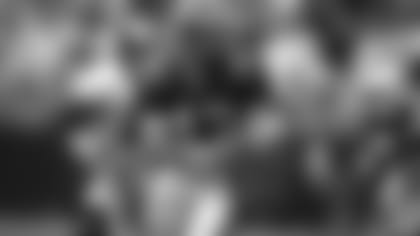 S John Lynch improved from semifinalist to finalist in this year's Hall of Fame selection process, and could make another leap to inductee in 2015
With that in mind, 2015 could be the window that Dungy and/or Lynch need.  Of course, the same could be said for Tim Brown, Marvin Harrison, Will Shields, Jerome Betters, Kevin Greene, Charles Haley, Terrell Davis and others.
Those returning candidates are likely facing competition from at least one hard-to-beat first-year-eligible figure: the late Junior Seau.  The former San Diego Charger was selected to 12 Pro Bowls, was named a first-team All-Pro eight teams and was included on the NFL's All-Decade Team for the 1990s.  He also was the NFL's Man of the Year in 1994.  Basically, Seau's resume looks a lot like Brooks', minus a Super Bowl ring and a Defensive Player of the Year award but plus a few more Pro Bowls and individual honors.
Seau will be joined by a whole mess of former St. Louis Rams from The Greatest Show on Turf days: quarterback Kurt Warner, tackle Orlando Pace and wide receivers Isaac Bruce and Torry Holt.  A few other notable names that will become eligible in 2015 include Kevin Mawae, Ty Law and Edgerrin James.
That's a lot of likely future Hall of Famers, but not necessarily first-ballot selections.  Warner, for instance, has two MVP awards, some of the best single-season performances by a quarterback in league history and trips to the Super Bowl with two different teams.  However, there is a significant gap in the middle of his career (2002-06), where his production lagged due to injuries and his status on the depth chart.  In the end, that didn't stop him from having an incredible overall impact on the game, but first-year-eligible selections usually don't have any significant question marks on their resumes.
Pace will likely follow Jones (Class of 2014), Ogden (2013) and Willie Roaf (2012) into the Hall as the four most decorated offensive tackles of their era.  But will he keep the trend going and make it four in a row for his position?  The careers of Jones, Ogden and Pace overlapped almost perfectly, and their relative merits have been debated for years.  That there remains some disagreement about how to rank the three, and that Ogden and Jones made it in on their first tries, is obviously good news for Pace.  He had a little bit more of an issue with injuries late in his career than did the other two, which might be the only reason he is denied the same first-ballot entrance.
As for Bruce and Holt, they rank seventh and 15th respectively in league history in career receptions, and fourth and 12th respectively in yards.  It's hard to imagine two receivers primarily from the same team and same era getting in at the same time, but the bigger problems for Bruce and Holt are likely named Marvin Harrison and Tim Brown.  The Selection Committee finally started to clear up its logjam at receiver last year with Carter, and picking Reed this year seems to indicate a pattern.  A very strong statistical argument could have been made favoring first-year man Harrison over Reed in 2014; perhaps it seemed fairer to start with the long-delayed Reed and get to Harrison later.  Tim Brown, whose numbers compare favorably to all of those receivers, could make it three in a row from the WR waiting list next year.  All of this would suggest that Bruce and Holt will need to take a seat in the Canton waiting room for a little while.
Would Edgerrin James, the 11th-leading rusher in NFL history, show up next year and immediately leap-frog Bettis, number six on that list.  Some Hall voters are surely waiting for an opportunity to give Davis a nod, too; Davis' abbreviated career is clearly holding him back, but few backs peaked higher than the former Bronco, and nobody was better in the postseason.  Law (five Pro Bowls) and Mawae (eight) were star players but they seem unlikely to overcome a stacked ballot right away.
The best-case scenario for returning Hall of Fame finalists is probably that two spots are taken in 2015 by new names on the ballot, leaving (up to) three for those who have just missed in recent years.  Expect one of those three to be taken by a receiver, whether it be Harrison or Bruce, as the voters continue to work on that logjam.  Hopefully, at least one of those other two spots could be taken by another former Buccaneer, Dungy and/or Lynch.
It should be noted that the Selection Committee began last week's final voting process with 15 finalists and, as the first step, found a way to eliminate five of them from consideration.  Both Dungy and Lynch were among those five.  Does that indicate that they have one more hurdle to clear, perhaps making the final 10 next year and then getting the call a year or two later?  Actually, that's not necessarily the pattern.  In 2013, the first five people cut on the final day of selection were Brown, Greene and Shields and former owners Eddie DeBartolo and Art Modell.  All of them had been finalists previously  This year, Greene and Shields did make it into the top 10, but Brown and DeBartolo once again were eliminated in the first vote.
For those who don't take one of those anticipated open spots next February, things could start to get tougher.  The list of first-year-eligibles in 2016 will include Brett Favre, an absolute no-doubt choice, and Terrell Owens, who won't have to wait long either.  Depending upon one's opinions of LaDainian Tomlinson (the fifth-leading rusher of all time), Jason Taylor, Brian Dawkins and Brian Waters, there could be some room in 2017.  The 2018 group is going to make things exceedingly complicated, however, as it includes Ray Lewis, Ronde Barber, Randy Moss, Steve Hutchinson and Brian Urlacher.
Next year could prove to be one of the best opportunities for a returning candidate such as Tony Dungy or John Lynch to make it into the Hall of Fame.  If the doors to Canton don't open for either man in 2015, they may face a wait of a length that is difficult to predict.  Chances are, however, that the window of opportunity will stay open long enough for both men to get in.