STORY HIGHLIGHTS
Gerald McCoy wants to win a championship, and he specifically wants to win it in Tampa
McCoy signed a seven-year contract extension with the Buccaneers on Saturday
Head Coach Lovie Smith is fortunate to have a leader in the locker room who works as hard as anyone on the team

The Tampa Bay Buccaneers were 1-5 in the 2014 season when Gerald McCoy signed the piece of paper that would potentially make him a "Buccaneer for Life." A day later, the Buccaneers were 1-6, having lost in overtime to Minnesota about 24 hours after McCoy and the team agreed on a seven-year contract extension.
Neither that disappointing win-loss record as of Saturday or the slightly worse one of a day later would have changed McCoy's mind when he chose to re-up in his original NFL home rather than explore what would surely be a lucrative free agency market. In fact, if anything, the league standings made his desire to stay in Tampa even stronger.
Gerald McCoy, you see, does not run from a fight.
"I didn't see a better situation," he said. "A lot of people you see run from situations like this. They feel like, 'Oh, well they're not winning right now,' or it's not going the way they planned – so what? The best feeling in the world is going to be when we turn this thing around and to know you were a part of it and you didn't run from a challenge, you didn't run from the fight.
"I love a fight. I don't like fighting, but I love this fight. It's going to be the greatest feeling in the world to be able to hold that [Super Bowl] trophy in the air and know that you went through all the hard times and you didn't run from it – you stuck in there, you hung in there, and you fought together as an organization and got back to exactly where [Lovie Smith and Jason Licht] said we'll be. And I believe them, I trust them and we're going to do it together and that's why I signed that paper."
Smith was to McCoy's right during this heartfelt speech, and he was as stoic and unruffled throughout the press conference as usual. He had just finished his own briefing, the usual day-after-game meeting with the press, and that obviously was not a very upbeat conversation. He probably had more tape review and game-planning for the Cleveland Browns on his mind. But as McCoy talked about his desire to lead the Buccaneers, specifically, to another title, Smith watched his best player intently. Certainly, these were words any coach would love to hear.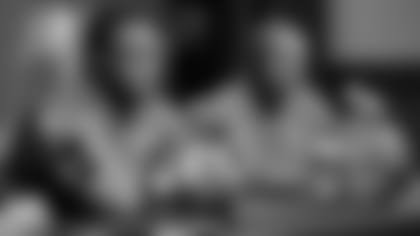 Buccaneers Head Coach Lovie Smith (right) liked what he heard from DT Gerald McCoy during Monday's press conference to discuss McCoy's new contract
"It's one thing to be the face of the franchise, guys kind of look at how you do things and Gerald is, as Jason said earlier, just everything you want a leader to do, work harder than everybody to be a great player, say the right things, be a great teammate and that's exactly who he is," said Smith. "It's easy to make a commitment the way we've made; these are the type of guys you make a commitment to and we couldn't be happier to have Gerald here for many years to come. It is about winning championships and we realize where we are now, but there are better days ahead."
McCoy could have tested the free agency waters and almost undoubtedly would have found a suitor or three willing to give him a similarly big contract. He also might have let his contract play out and wait to see if the Buccaneers would use their franchise tag on him. What he wanted to do was stay in Tampa and win a title as a Buccaneer. There's no guarantee that will happen, of course. The Bucs have just one Super Bowl championship in 39 years; some teams still have yet to taste that glory. Only 12 of the current 32 teams have held up the Lombardi Trophy more than once so far.
It doesn't matter how hard it is, however. In McCoy's mind, that's the only goal there is. That he wants to pursue it in Tampa, and believes it can happen, is fantastic news for the Buccaneers.
"I'm passionate about this sport and I love the team I'm on and I play for the guys around me and that's the only reason I play," he said. "If you don't play to win championships then I don't know why you're playing. There are some selfish players out there, but I'm not that guy. I do everything in my power to help my team out, I train as hard as I do, I prepare as hard as I do to be at my best so I can help my team out and that's all I want to do is win. That's what I'm here for, I just want to win."